Knights Defeat Sweets On Walkoff Home Run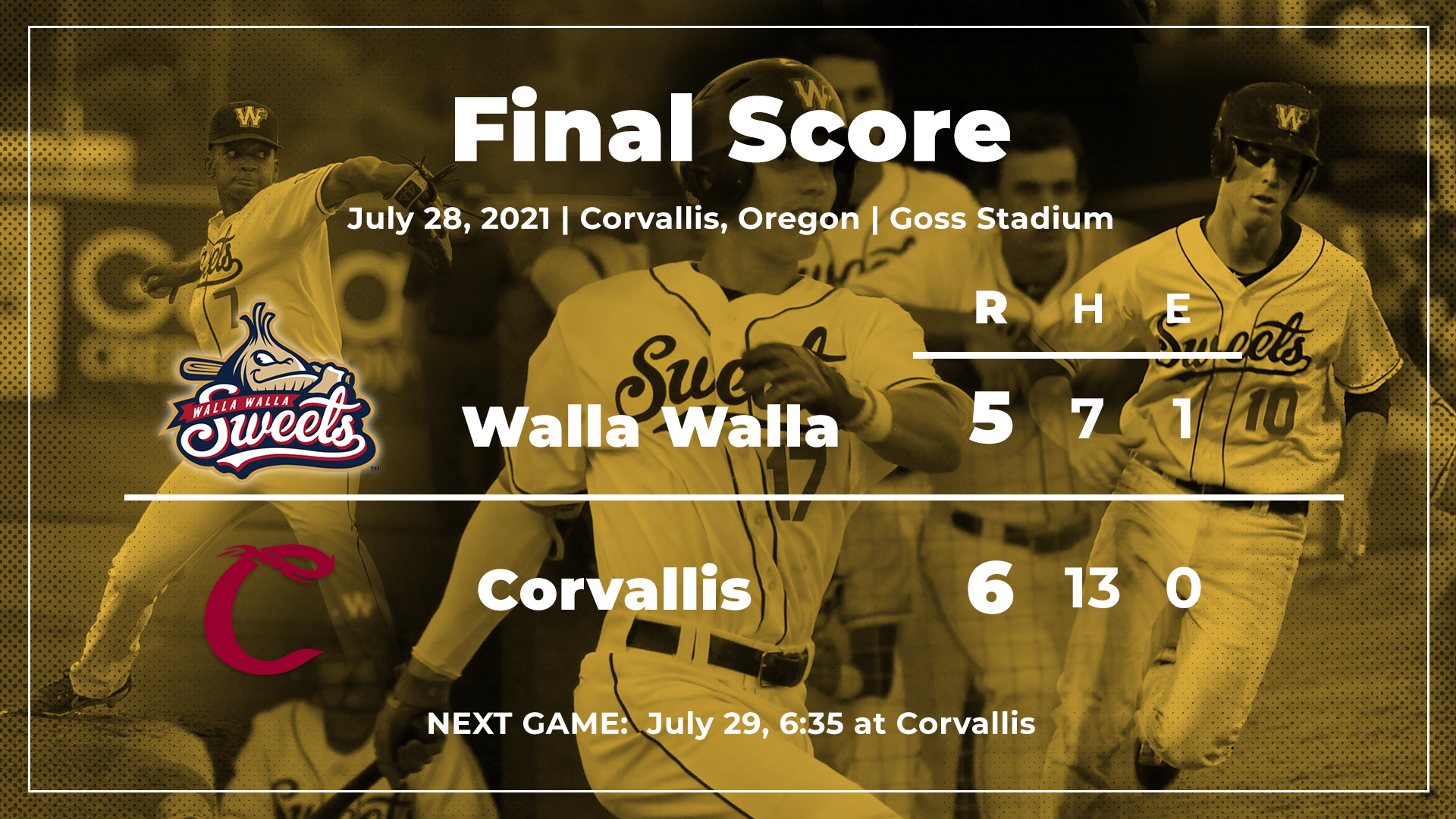 Taison Corio hit a walkoff solo home run with two outs in the bottom of the ninth Wednesday to give the Corvallis Knights a 6-5 win over the Walla Walla Sweets.
Corio capped off a three-hit performance with a line drive home run just out of the reach of right fielder Seth Ryberg. The Knights took the series with the win after taking the series opener 6-3 Tuesday.
The Corvallis Knights improved to 27-8 overall with the win, while the Sweets fell to 14-24 overall and have now dropped four in a row.
Outside of Corio, Travis Bazzana led the way for the Knights offense. The Corvallis second baseman finished the game 4-for-4 to raise his league-leading average to .442. Bazzana doubled twice in the game and is now 7-for-8 in the series with three doubles and five runs scored.
Chris Conniff highlighted the offense for the Sweets. The second baseman from St. John's hit his first home run of the summer on a two-run shot to right field in the fifth inning. Conniff is the 10th different Sweet to leave the yard this summer.
Eli Paton led the Sweets with two hits in the game. Walla Walla tied the game in the top of the ninth at five off of four walks between Nathaniel Mendoza and Ben Kibbe, but scored just once off of the Ryberg RBI base on balls. A line drive hit by Colin Wetterau resulted in a double play to end the inning.
Starting pitcher Andrew Baughn went four innings and allowed two earned runs on two strikeouts in his second start with the Sweets. Kibbe earned the win for Corvallis, while Nick Irwin was hit with the loss.
The two teams will meet for the final game of the series Thursday. Brock Townsend will start for the Knights, while Travis Craven takes the mound for the Sweets. First pitch is set for 6:35 PST.