Corvallis Rallies Early in Win Over Sweets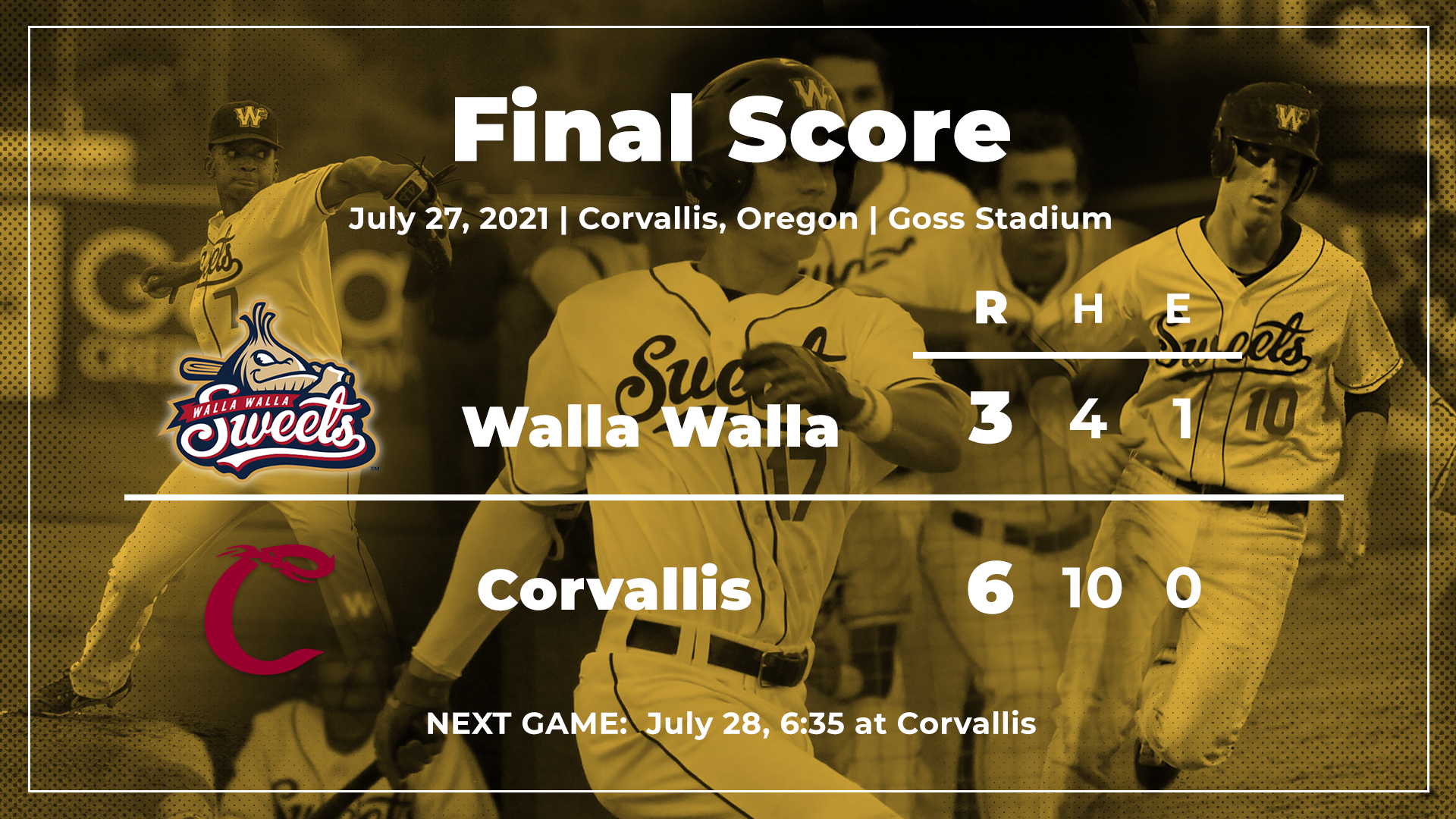 The Walla Walla Sweets were unable  to overcome an early run from the Corvallis Knights Tuesday in a 6-3 defeat.
Travis Bazzana, the current WCL leader in batting average and hits, went 3-for-4 to lead the charge for the Knights. Bazzana, along with number two hitter Kyler Stancato, delivered a combined six hits at the top of the lineup to pace the Knights in the win.
Bazzana, who leads the WCL with a .425 batting average, put together a three-hit, three RBI effort with a double and two singles. Stancato added three hits of his own, going 3-for-4 on the game.
The KnightS attacked early in the bottom of the first. Bazzana and Stancato both reached on a single and a double to setup an RBI groundout by Tanner Smith.
Bazzana would drive in two more in the second on a double as part of a three-run inning. Tanner Smith would single in two runs in the seventh to make it a 6-2 game. The first three hitters in the Knights lineup accounted for all of the runs batted in in the game for Corvallis.
Mason Kokodynski ran into trouble early, but found his rhythm in the middle innings. The right-hander from LMU pitched five innings and allowed four earned runs and recorded three strikeouts.
The Sweets scored two in the seventh to cut into a 4-0 deficit. Two walks and a groundout led to a Paul Myro IV run scored on a wild pitch. An Eli Paton RBI single cut the deficit to two runs.
Despite the late comeback effort, the Sweets fell short and dropped to 14-23 overall. The Sweets are four games out of a playoff  spot in both the overall West Coast League and second half standings.
The Sweets will square off against the Corvallis Knights at 6:35 PST at Goss Stadium Wednesday in game two of a three-game series.