Elks Fend Off Late-Game Run from Sweets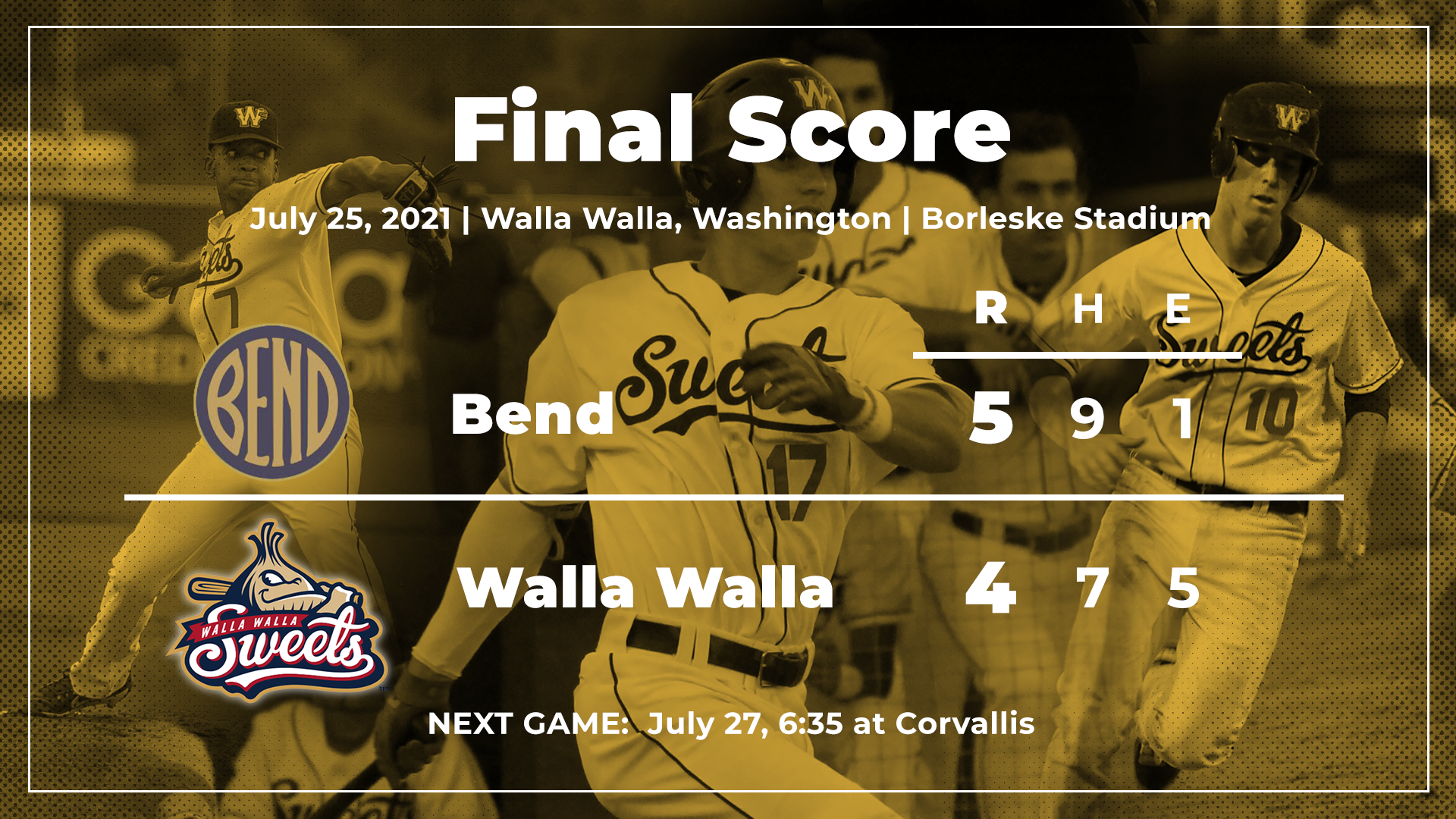 The Bend Elks squeezed out a 5-4 win over the Walla Walla Sweets Sunday evening.
After trailing 5-0 in the third, the Sweets put together two rallies in the late innings to cut the deficit to one. Despite this, the Elks were able to hang on and pick up their 14th victory of the season while taking the series two games to one.
The Elks broke things open with a big inning in the top of the third against Sweets starter Jacob Dahlstrom. Bend plated all five of their runs in the third on six hits and two errors from the Sweets. The Elks got the first two batters of the inning aboard on a Bryce Tweedt walk and a single from Bryce Boettcher.
After a groundout from Greg Fuchs, the Elks put their next seven hitters on base on five singles, a hit by pitch and a walk. Bend got their runs on a two-run single by Aidan Welch and three one-run singles by Chase Matheny, Omar Veloz and Gavin Logan.
The Sweets would score their first run on a bases-loaded error by the first baseman Fuchs. The Sweets forced the bases loaded on two walks and a hit by pitch before a groundball by Chris Conniff brought home Seth Ryberg.
Walla Walla pushed across two more in the seventh to cut the lead in half. After Ryberg reached on a one out walk, Conniff singled and advanced to second on a throw third. Parker Price delivered his seventh hit of the series on an RBI grounder off the third baseman Boettcher. Conniff would then score from third after a throw to second to catch Price stealing was unsuccessful.
The Sweets were mostly held in check through seven innings by Elks starter Kade Morris. Morris allowed three runs and struck out seven in seven innings, his longest start of the season.
The Sweets would score one more run in the bottom of the eighth on a Matthew Clark double off Elks reliever Cameron Smith. The Elks then turned the ball over to Gabe Smith, who inherited a second and third, nobody out situation and struck out three batters in a row. Smith would set down the Sweets in the ninth to earn a two-inning save.
The Sweets bullpen kept them in the game late. Travis Craven, Logan Hurd, Caden Kaelber and Eric Romo combined for 6 1/3 scoreless innings and struck out 10 batters. Kaelber highlighted the relievers, matching a season high six strikeouts in three innings.
The Sweets have the day off Monday before they begin a nine-game road trip Tuesday with a three-game series against the Corvallis Knights. First pitch is set for 6:35 PST.