Sweets Pick Up Big Win Over AppleSox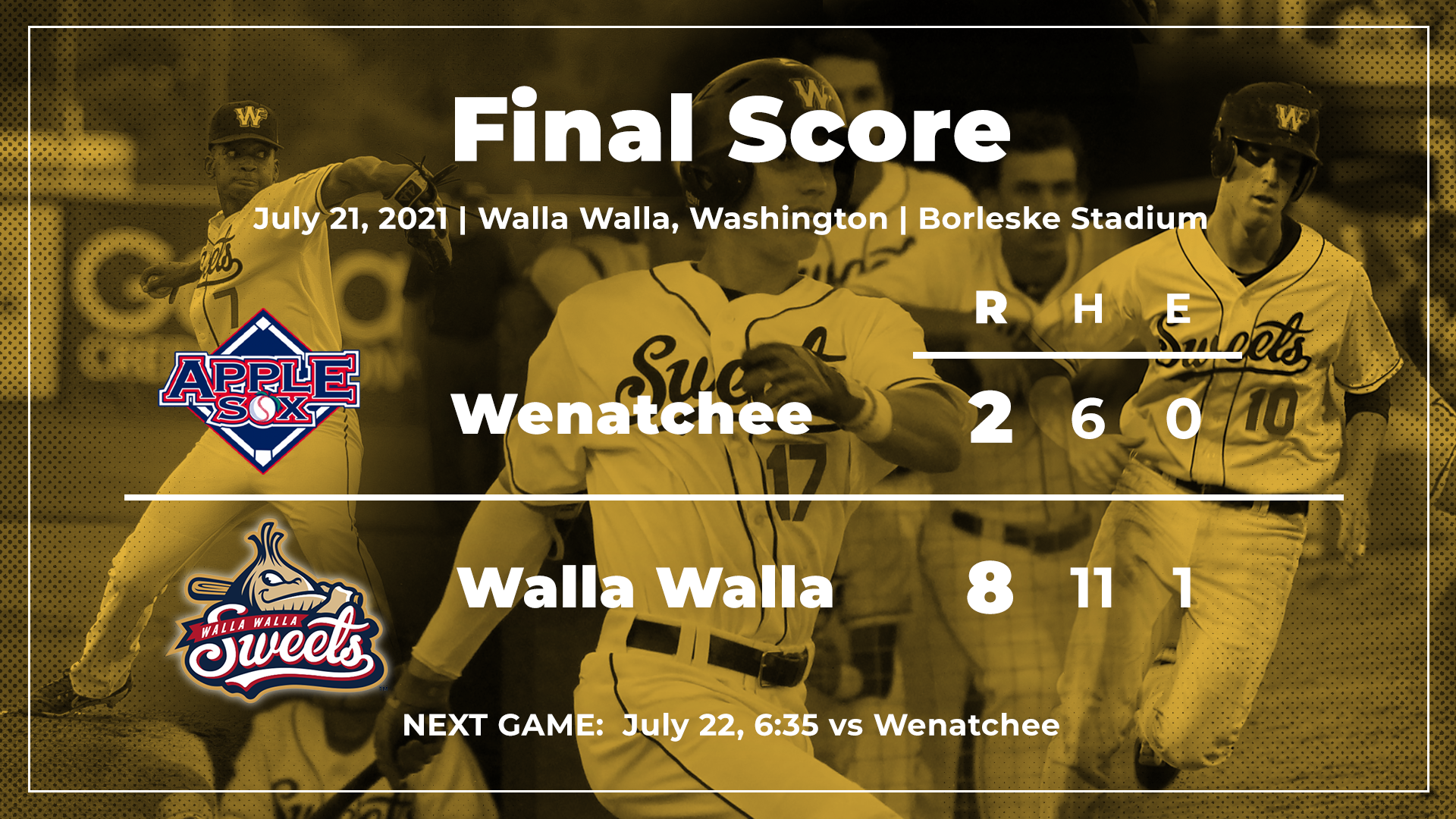 The Walla Walla Sweets put forth one of their best team efforts of the season Wednesday in an 8-2 victory over the Wenatchee AppleSox.
The Sweets used a combination of effective pitching, timely hitting and slick fielding to secure their 13th victory in league play and even the three-game series at one apiece.
Jack Sheward, who set a new season high with three runs batted in, drove in two runs in the bottom of the second on a triple to left center field. Sheward recorded multiple RBIs in a game for the first time this season.
For the first 5 1/3 innings, the AppleSox were unable to get a man aboard thanks to dominant pitching from Andrew Baughn. The right-hander made quite the first impression in his Sweets debut, throwing four perfect innings while striking out five batters on just 48 pitches.
Wenatchee tied the game on a two-run double to center by Michael O'Hara off Sweets releiver Jacob Dahlstrom. O'Hara picked up his second double of the series and scored Enzo Apodaca and Aidan Selfridge after they reached on a double and an error, respectively. Selfridge was the first man to reach base for Wenatchee after the first 16 batters were set down in order.
From that point on, the Sweets took full control of the game. Walla Walla would post two, three-run innings in the bottom of the seventh and eighth to run away with the win.
In the seventh, the Sweets got their first two men on base on back-to-back singles by Sheward and Chris Conniff. After a Paul Myro IV sacrifice bunt, Seth Ryberg hit a flyball over Apodaca's head in left to score two on a double. Justin Folz would drive in Ryberg two batters later, giving Folz his 10th RBI of the summer.
In the eighth, the Sweets added some insurance runs. After a Sheward sacrifice fly, Myro IV blasted a two run home run over the left center field fence off AppleSox reliever Alex Brady.
Myro IV now has two home runs on the season. He finished the game 2-for-3 with two RBIs and picked up his fourth mulit hit game in his last seven contests. Sheward led the team with three RBIs while going 2-for-3.
Nick Irwin threw two scoreless innings of relief to pick up his first win of the season. After earning his first win of the summer against Walla Walla June 10, Jared Engman was charged with his first loss.
The rubber match of this three-game series begins tomorrow at 6:35 PST. Tickets are available at www.sweetstickets.com.