Sweets Use Big Performance from Kirchoff to Move Into First Place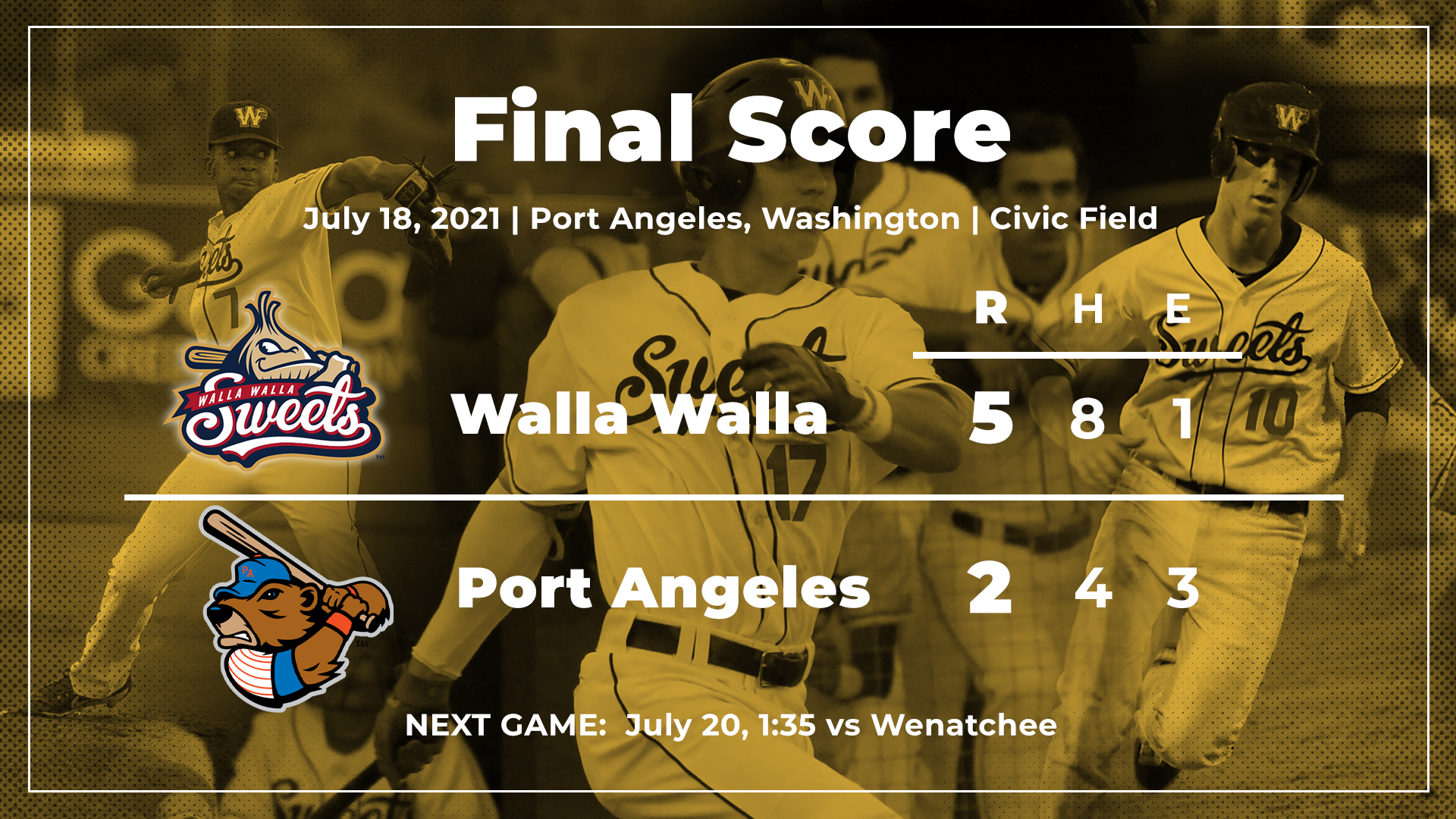 The Walla Walla Sweets moved into first place in the North Division standings Saturday with a 5-2 win over the Port Angeles Lefties.
The Sweets are now 12-17 overall and 3-2 in the second half. Walla Walla leads the Yakima Valley Pippins by one game in the division.
Sweets starter Calvin Kirchoff turned in one of the best performances of the season by a Sweets pitcher. The right hander from Bellevue Community College set a new single game high for a Sweets pitcher with 11 strikeouts in 5 2/3 innings.
Kirchoff has 19 strikeouts in two starts to begin his Sweets career. For the second start in a row, the Sammamish, Washington, native allowed just two hits.
Offensively, the Sweets got all the runs they would need in the first inning. With two outs, Colin Wetterau picked up a single. Lefties third baseman Carson Crawford committed a costly error on the next play after dropping a popup on the infield. With runners at first and second, Eli Paton blasted a three run home run to give the Sweets a lead they wouldn't relinquish.
The Sweets scored two more times in the top of the fifth off Lefties starter Luke Jewett. A walk and two singles by Paul Myro IV, Parker Price and Wetterau loaded the bases for Folz. The Sweets right fielder drove in a run on a sacrific fly, with Paton quick to follow with another one batter later.
Paton finished the game 1-4 with four runs batted in, tying Cameron Butler for the most by a Sweet this season in a single game.
The Lefties scored once in the bottom of the third on a sacrifice fly by Javy Espinosa. Their only other run of the game came on a throwing error back to Kirchoff by catcher Jack Sheward.
The Sweets got 3 1/3 scoreless innings out of their bullpen. Caden Kaelber appeared for the second night in a row and threw 2 1/3 scoreless innings. Kaelber is now tied for third in the league in strikeouts with 38.
Eric Romo entered in the ninth and struck out the side. Romo recorded his fifth save of the year, which is second in the WCL.
The Sweets and Lefties play their series finale Sunday at 1:35 from Civic Field.