Pickles Complete Three Game Sweep of Sweets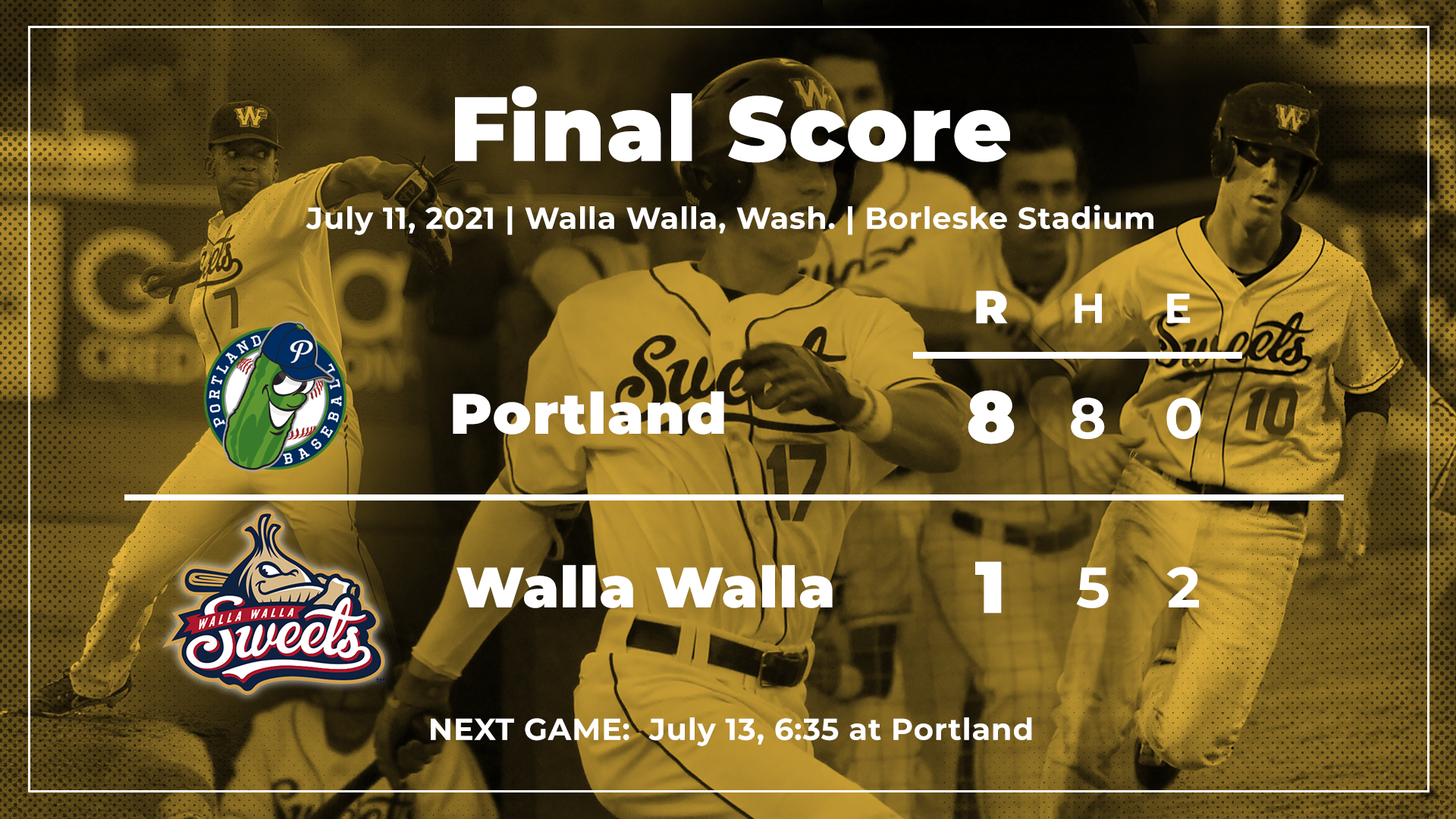 The Portland Pickles defeated the Walla Walla Sweets Sunday 8-1, completing a weekend series sweep for Portland.
The Pickles finish the first half of the West Coast League season 15-9, while the Sweets fall to 9-15 after one half of play. The Sweets have now lost their last four games.
The game started off tightly contested and low scoring through five innings. The Sweets got a solid performance from starting pitcher Calvin Kirchoff, who just arrived in Walla Walla 24 hours prior to first pitch. The right-hander from Bellevue Community College went five innings and struck out eight batters while allowing one earned run.
The Pickles scored the first run of the game in the top of the second inning. After an error at second by Paul Myro IV with two outs, a stolen base and a wild pitch, Jacob Jablonski drove in Leo Mosby on a single to right.
The Sweets tied the game in the bottom of the third off a leadoff walk to Nation Wood and an RBI triple to right center by Seth Ryberg. Ryberg picked up his first triple of the year while driving in his 11th run of the year.
The Pickles would score the next seven runs of the game starting in the fifth. Eamonn Lance launched a solo home run to left field to start the inning, his second homer of the season. The home run was just one of two hits allowed by Kirchoff.
The Pickles broke the game open in the seventh inning with six runs. The Pickles posted a six spot with five hits, all of which came with two outs. The inning was highlighted by a two-run single by Ivan Luna, an RBI double by Ryan Guardino, and an RBI single by Leo Mosby.
Nick Brink, the first reliever for Portland, picked up the victory on the mound. The Pickles threw a scoreless outing for the second straight game, as four different pitchers combined to go six innings while striking out seven batters.
The Sweets have the day off Monday before traveling to Portland on Tuesday for three more games against the Pickles.