Sweets Fall in Series Opener to Portland Pickles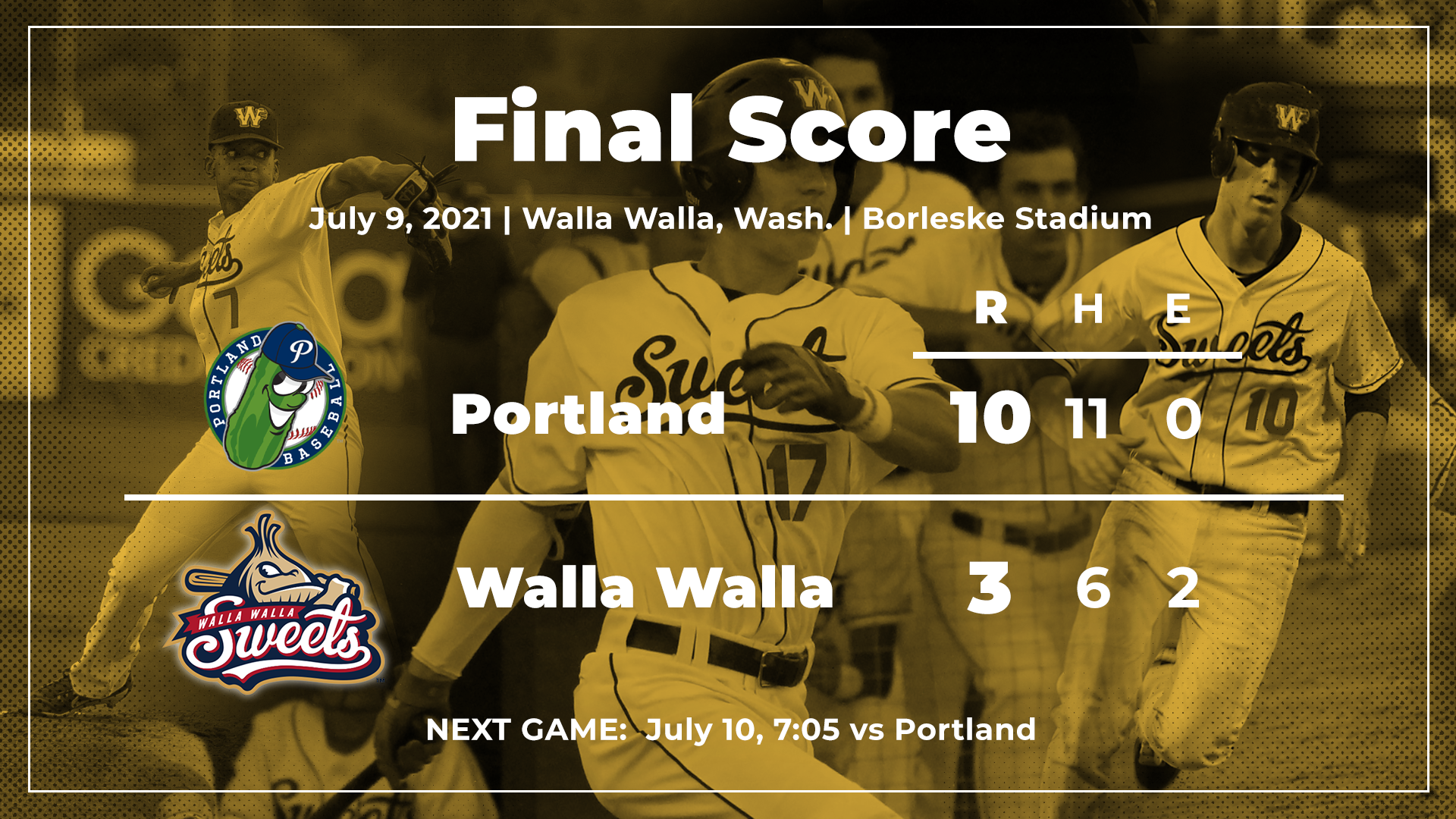 The Walla Walla Sweets dropped their first of six consecutive games against the Portland Pickles Friday by a score of 10-3.
The Pickles took control in the second inning and didn't look back. Portland has now won eight of its last 11 games and improved to 13-9 with the win. The Sweets fall to 9-13 with the loss.
Two Pickles hitters stood out in this contest. Leo Mosby got things started with a solo home run to left in the second off Sweets starter Jacob Dahlstrom. Matt Jew then doubled in two runs in the top of the third to give Portland a 3-0 lead.
The Sweets responded with an RBI single by Parker Price in the bottom half of the third. Price poked a ground ball between third and short into left field to score Nation Wood.
From there, the Pickles scored seven consecutive runs. Justin DeCriscio grounded in a run off Dylan Schwartz after Dahlstrom was removed one batter into the third. Schwartz finished his outing with three scoreless innings and five strikeouts. He has not allowed a run in each of his last seven innings of work.
Neither team would score again until the eighth, where the Pickles would put up four runs. Jew picked up another RBI double to finish the night with two hits and three runs driven in. A wild pitch, RBI double by Mosby and an error brought in the other three runs of the half inning.
Mosby highlighted the offensive attack for Portland. He finished with three hits, two runs and two RBIs.
Justin Folz and Eli Paton both picked up RBIs for the Sweets in the bottom of the ninth, but the deficit was too large to overcome. Folz drove his fifth run in on a groundout, while Paton singled in a run to right center.
The Pickles got a solid effort from four pitchers in this game. The combination of Alonzo Treadwell, Scott Wright, Chris Baytosh and Ian Lawson combined for 11 strikeouts, with Wright picking up the victory.
Both teams meet again tomorrow night starting at 7:05 PST at Borleske Stadium. Tickets are available at www.sweetstickets.com.