Sweets Defeat Pippins, Set Season High in Runs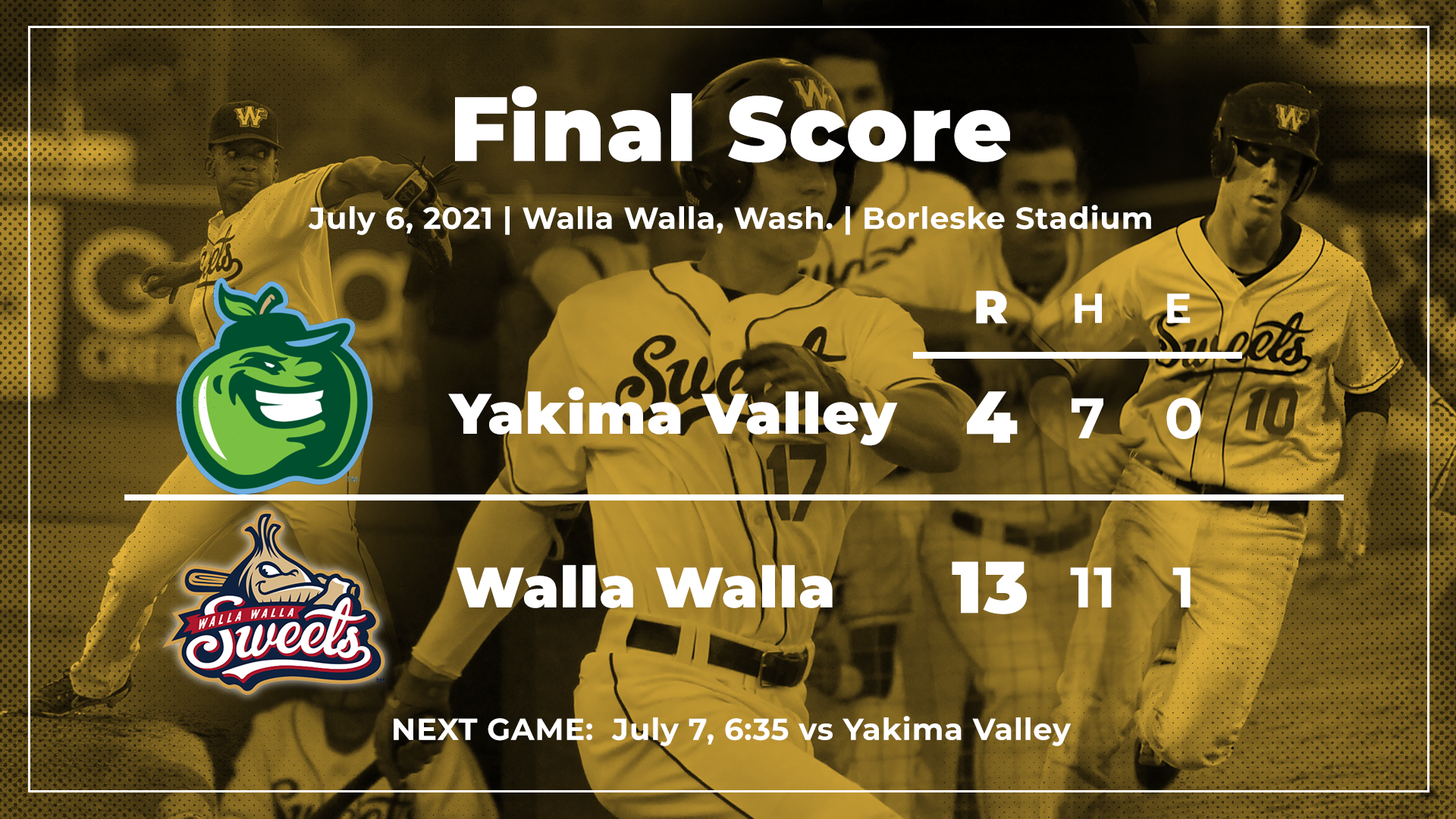 It was a night of two big innings for the Walla Walla Sweets, who prevailed over the Yakima Valley Pippins by a score of 13-4.
The Sweets posted new season highs in runs (13), runs in a single inning (eight), and margin of victory (nine).
The Pippins put up the first three runs of the ballgame in the top of the third inning off Sweets starter Mason Kokodynski. Leadoff hitter Chaz Myers doubled to score Alex Fernandes, an unearned run as Fernades reached on an error. Bryce Martin-Grudzielanek then drove in two runs on a single for his multi-RBI game of the year.
From there, it was all Sweets. The next 13 runs of the contest were scored by the Sweets, the most unanswered runs the Sweets have posted this season.
The Sweets started the run with five runs off Pippins starter Kirby Robertson in the fifth inning. After a Paul Myro IV walk and a Parker Price single, Seth Ryberg drove in his team leading 10th RBI on a base hit. After a Colin Wetterau RBI single, Cameron Butler broke things open with a three-run home run into left center field, the first three-run home run of the year for Walla Walla.
In the bottom of the seventh, the Sweets ran away with the game thanks to timely hitting and several walks from the Pippins pitching staff. The Sweets posted eight runs in the inning on just three hits, as three Pippins pitchers walked seven hitters.
Chris Conniff got the scoring started with a fielders choice. Butler then drove in his fourth run of the night on a single, a new season high for a Sweet in a single game. A Nation Wood sacrifice fly, Myro IV two-run single, a wild pitch to score Connor Cirillo, and a two-run single by Wetterau rounded out the scoring for the Sweets in the seventh.
Pitching wise, the Sweets got five solid innings from Kokodynski. The right-hander struck out a season high eight batters while allowing just two earned runs and four hits. Dylan Schwartz relieved Kokodynski and set down six straight batters in two innings, striking out three in the process.
Evan Harmon closed the game for the Sweets with two innings of work, allowing zero earned runs while striking out two.
Kokodynski picked up his second win of the year in two decisions, while Robertson was hit with the loss. The Pippins pitching staff walked ten batters, tying the season high for most walks to the Sweets lineup.
The Sweets  improve to 9-11 with the win, while the Pippins fall to 14-9. The two teams meet for the rubber match of a three-game set tomorrow starting at 6:35 PST.