Pippins Prevail Over Sweets, Clinch North Division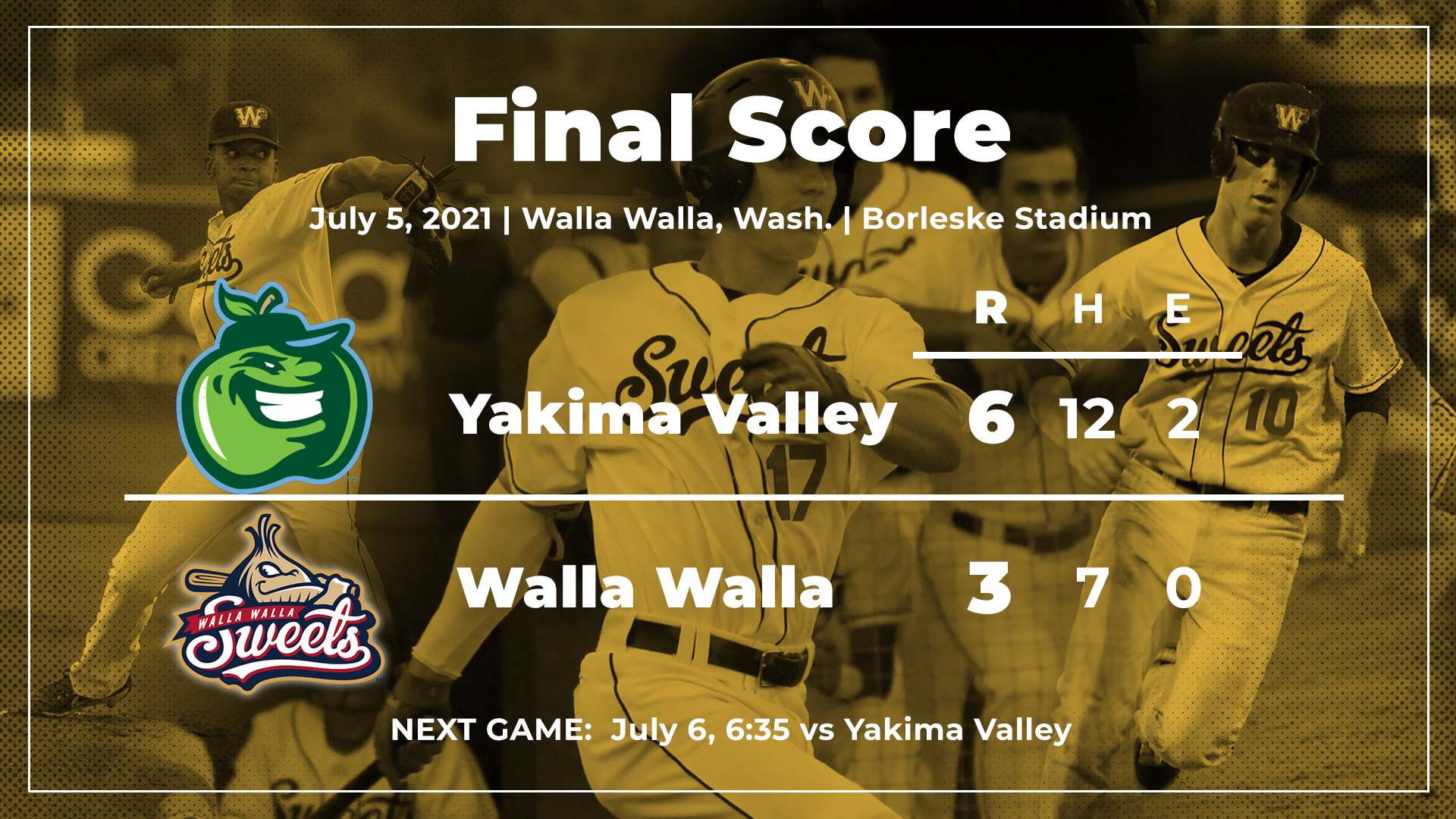 The Yakima Valley Pippins defeated the Walla Walla Sweets Monday by a score of 6-3.
With the win, the Pippins clinched the first half North Division title and their first playoff berth since 2017, a year in which they also won the first half.
The Pippins started off the scoring with an RBI single by Blake Dickman in the first. Dickman finished the night with a season high three runs batted in.
Seth Ryberg responded for the Sweets in a big way in the bottom half of the inning. The Point Loma Nazarene outfielder launched a two-run homer over the fence in right field to give the Sweets a one-run lead. Ryberg's home run was his third of the year, which leads the team.
Neither team would score again until the fourth, when Alex Shanks hit his first home run of the year on a two-run shot to left off Sweets starter Jacob Dahlstrom.
The Sweets were quick to answer once again via the long ball, this time courtesy of Will Grimm. The Loyola Marymount product launched a solo shot to right to tie the game at three. For Grimm, this was his first home run of the year, as he became the seventh different Sweet to leave the yard in league games.
Both teams would go scoreless from the fifth to the seventh until the middle of the Pippins order came through in the top of the eighth. After a leadoff double by Noah Williamson that got stuck in the wall in left-center field, Dickman hit his first two-run home run of the year on a fly ball that barely tucked its way inside the left field foul pole.
The Pippins added one more run in the top of the ninth to make it 6-3. Seth Kuykendall, who threw seven innings of three-run baseball and struck out a season high seven batters, picked up his first win of the year. Logan Hurd was hit the loss while Pippins closer Landon Schirer earned his third save in as many attempts.
Outside of the home runs, Parker Price highlighted the offense for the Sweets with two hits. On the pitching side, James Hepp threw three scoreless innings in relief of Dahlstorm.
The Sweets and Pippins meet again Tuesday night starting at 6:35 p.m. Tickets are still available at www.sweetstickets.com.