Sweets Split Two Game Set with Win Over Nighthawks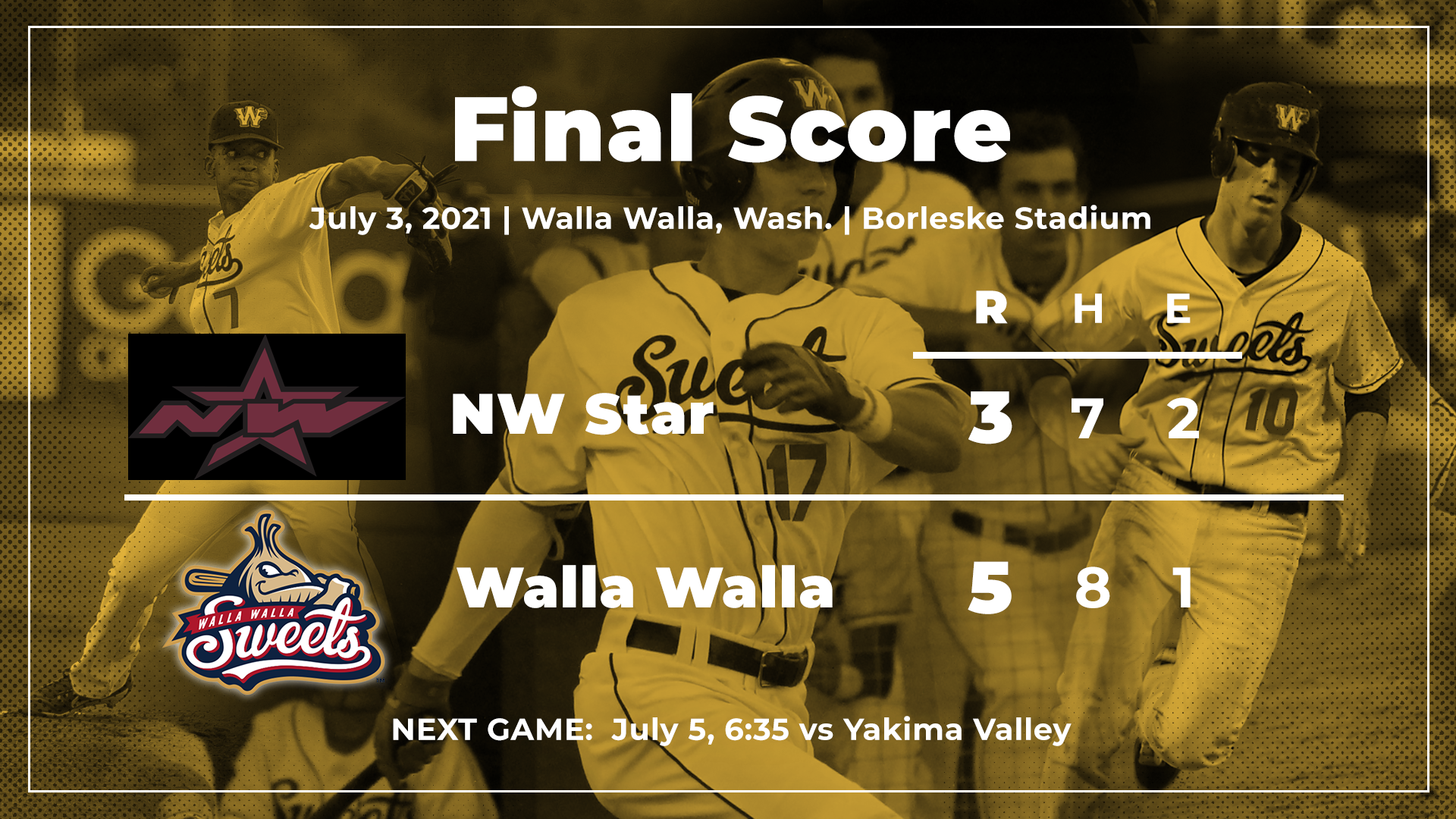 A three-run eighth inning propelled the Sweets to a 5-3 win over the NW Star Nighthawks Saturday.
The Sweets, playing in front of their largest crowd of over 1,000 spectators, earned a comeback victory on their "Super Saturday" promotion night.
Sweets catcher Colin Wetterau, who tallied two hits and extended his hit streak to 10 games, was one of many players who enjoyed the Borleske Stadium atmosphere.
"The crowd tonight was awesome and its great to play in front of so many fans," Wetterau said. "The crowd was electric tonight and you could feel it on the field."
The Nighthawks jumped out to the early lead in the first with two runs. From there, three position players held the Nighthawks scoreless until the ninth inning.
Connor Cirillo started for Walla Walla in his second pitching appearance of the season.  He went four innings and allowed two runs and two strikeouts, while holding the Nighthawks scoreless for his final three innings of work.
Chris Conniff took over after Cirillo and threw scoreless innings, striking out two and allowing just two hits. Parker Price then put two zeros on the board in the seventh and eighth innings without allowing a hit.
Hitting wise, the Sweets got on the board in the third inning on a Paul Myro IV sacrifice fly. Wetterau later drove in a run in the fifth to tie the game at two.
In the eighth, the Sweets pulled away. After a Wetterau leadoff single and two bunts from Myro IV and Price to load the bases, Will Grimm drove in the lead run on a sacrifice fly. Cameron Butler then singled and reached second on an error that drove in two runs.
Dylan Schwartz closed the game in the ninth, stranding two runners in scoring position. With the victory, the Sweets improve to 13-13 overall including non-league games.
The Sweets have the Fourth of July off before hosting the Yakima Valley Pippins on Monday back at Borleske Stadium.