Sweets Use Balanced Hitting to Defeat Cowlitz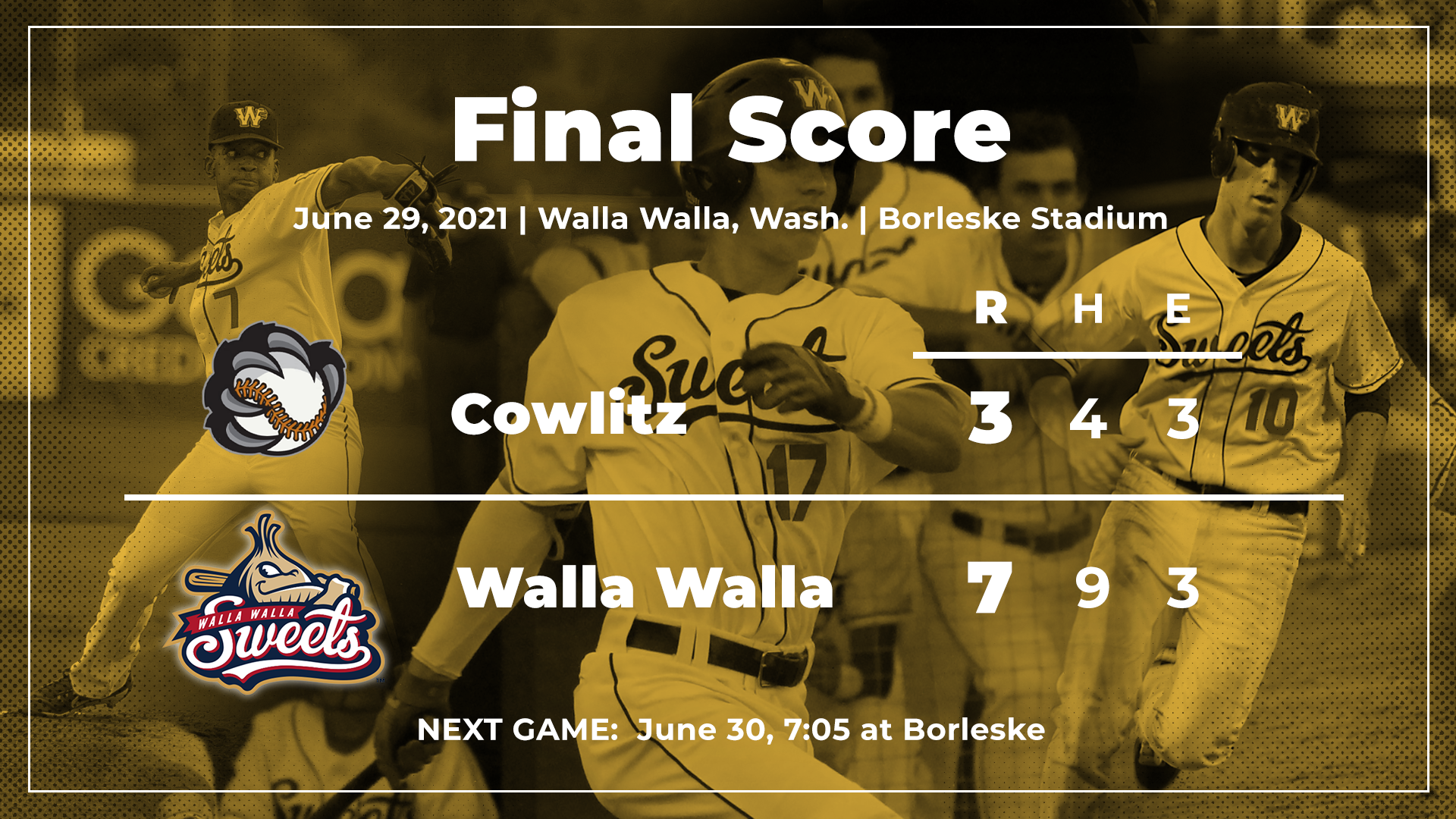 There was never a doubt in the outcome of Tuesday's contest between the Sweets and Cowlitz Black Bears.
The Sweets timely hitting and balanced hitting to get back to .500 and win their third game in four tries this year against the Cowlitz Black Bears.
After a much needed day off to relax following their 16-inning game on Sunday, the longest game in team history, the Sweets looked recharged out of the gate Tuesday. Walla Walla took the lead early in the ballgame and never relinquished it, as the Sweets remain in second place and are now 8-8 in league games in 2021.
The Sweets have been getting off to much faster starts offensively in recent games, and that trend continued Tuesday. The Sweets scored in the first inning for the fourth game in a row thanks to a solo home run from Seth Ryberg, a double by Justin Folz, and an RBI single from Eli Paton.
"We've been taking a lot better approaches at the plate lately and have been seeing the ball a lot better," Ryberg said. "Sunday's game was a big turning point for our season. We are really starting to gel as a team and get some timely hits."
Seven different hitters picked up a base hit for Walla Walla Tuesday. The Sweets used three two-run innings and one more in the seventh to pick up the 7-3 victory.
On the pitching side, the Sweets used four different arms to pick up the victory. Jacob Dahlstrom started the game and went 3.2 innings, striking out three and walking three while allowing just one earned run in his first league start.
The most impressive pitcher of the night was Logan Hurd. The southpaw accomplished something no other Sweet has done in a game this year, striking out the side twice in one outing. He set a new season high six strikeouts in three innings of work.
Travis Craven picked up his league-leading third win of the year. The Sweets held Cowlitz to just four hits, as the Black Bears fell to 6-10 and fifth in the South Division.
The Sweets and Black Bears meet again Wednesday night starting at 7:05 from Borleske Stadium.