Sweets Bats Strike Early in Win Over CCL All-Stars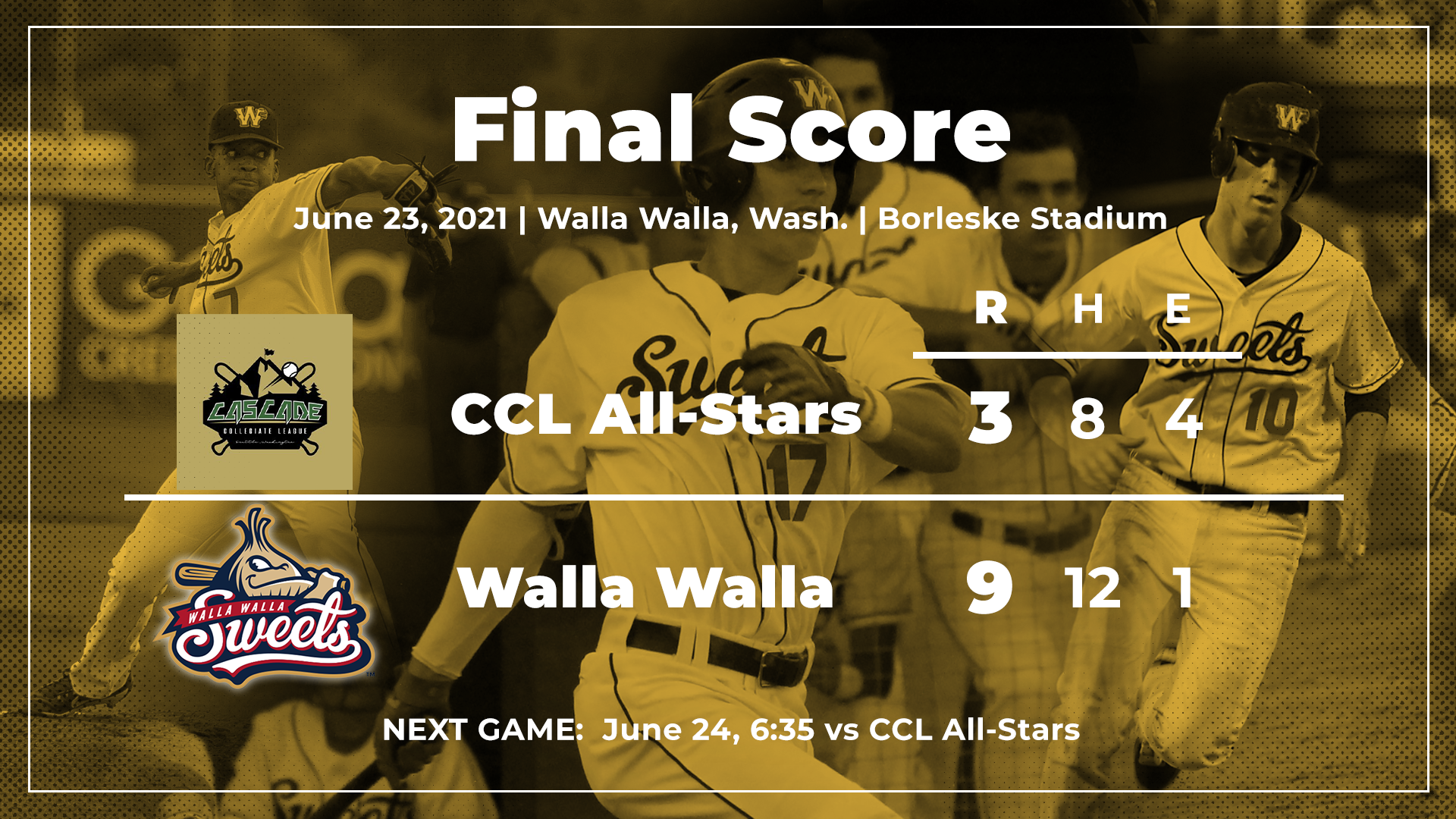 After six consecutive games that were decided by fewer than two runs, the Sweets left no doubt Wednesday in their matchup against the CCL All-Stars.
The Sweets picked up three runs in the bottom of the first inning and one more in the second on their way to a 9-3 victory.
Parker Price started the offensive attack early for Walla Walla with a solo blast to left field. With a one-run lead two at-bats into the game, the Sweets continued the rally in the first frame. After an Eli Paton walk, Justin Folz and Colin Wetterau hit back-to-back doubles, with Wetterau driving in two to complete a three-run first inning.
The Sweets totaled 12 hits in the ballgame, with Seth Ryberg leading the way with three base hits. Eli Paton had his best game as a Sweet thus far, collecting two doubles and an RBI.
The Sweets never trailed throughout the game after a back-and-forth first game of the series. Jacob Dahlstrom threw four innings of two-run ball as the starter for the Sweets, while the bullpen of Noah Serna, James Hepp, Mason Kokodynski and Will Grimm combined for five innings, one run and nine strikeouts. Serna picked up the win in his Sweets debut.
CCL cut the deficit to 4-2 on a two-run shot by Zane Skansi, but the Sweets put the game out of reach with five runs between the seventh and eighth innings. Wetterau added another RBI for three total on the evening, while Justin Folz, Cameron Butler and Paul Myro each drove in a run late to seal the game.
The Sweets go for a three-game sweep tomorrow at 6:35 against the CCL All-Stars. Tickets are available at www.sweetstickets.com