Sweets Pull Out Victory Over Highline Bears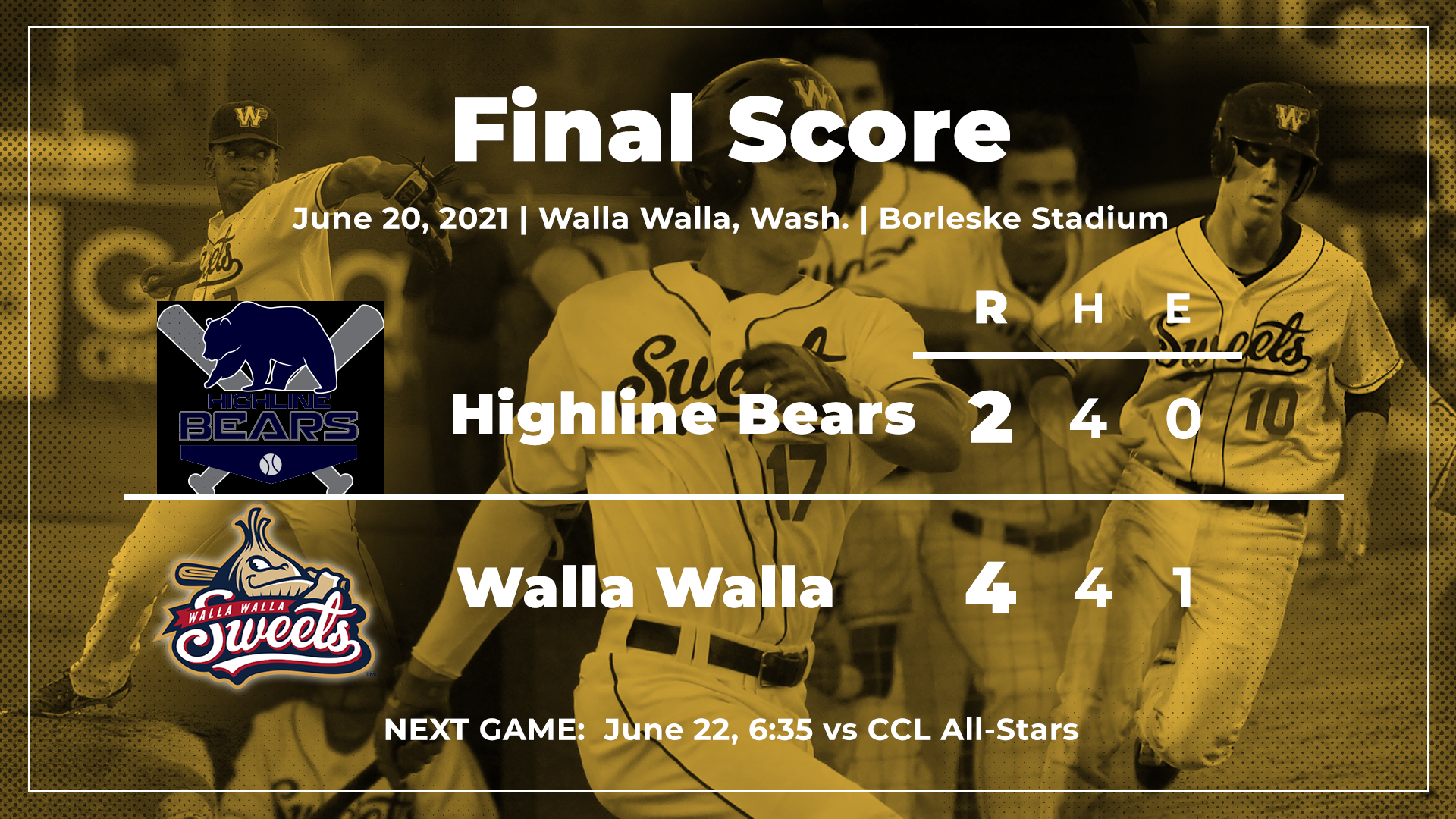 Strikeouts have been a strength of the Walla Walla Sweets pitching staff all year, and they put it on full display again Sunday in a 4-2 win over the Highline Bears.
The Sweets matched their season high with 18 strikeouts, with four pitchers combining to achieve the feat. The Sweets have recorded at least ten strikeouts in all but one of their games in 2021.
Dylan Schwartz cruised through the first three innings for Walla Walla. The Sweets starter retired the first nine hitters he faced and struck out six of them.
The Sweets got the first runs of the game in the bottom of the third. Following a leadoff walk from Colin Wetterau, Niko Khoury drove a triple to right center to make it a 1-0 game. Cameron Butler picked up an RBI on a sacrifice fly one plate appearance later.
After drawing three walks in the fourth, the Bears tied the game on a two-run single by Kyle Casperson. Schwartz was relived after 3.1 innings by Logan Hurd, who tossed 2.2 innings and picked up the win while striking out four. He worked his way out of bases loaded jam in the fourth and a second and third base spot in the fifth.
James Hepp entered the game in the sixth and was dialed in from his first pitch on. He struck our four consecutive batters to start his appearance and finished the night with five punchouts in two innings of one-hit, no-run pitching.
Niko Khoury delivered again in the fourth with a sacrifice fly to right as part of a two RBI game. The final run of the game came on a groundball single to right by Connor Cirillo to score Wetterau.
The crowd and both benches came to life in the eighth inning due to a controversial double play call. After Nation Wood was called out on a bases loaded lineout by Cameron Butler, the Bears threw the ball to each base after the play was dead and the hit was ruled a ground ball. When only two outs were recorded instead of three and with runners still at first and second, Bears manager Ben Reindel came out to argue the call and was ejected, riling up the Sweets dugout and crowd on his way out of the park.
Caden Kaelber picked up the save for the Sweets, who took the series finale and the series. Both teams were hurt by walks in this contest, with each squad surrendering eight free passes.
The Sweets are off Monday before hosting the Cascade Collegiate League All-Stars Tuesday at 6:35 PST. Tickets can be purchased at www.wallawallasweets.com.