Sweets Notch Close Win Over Corvallis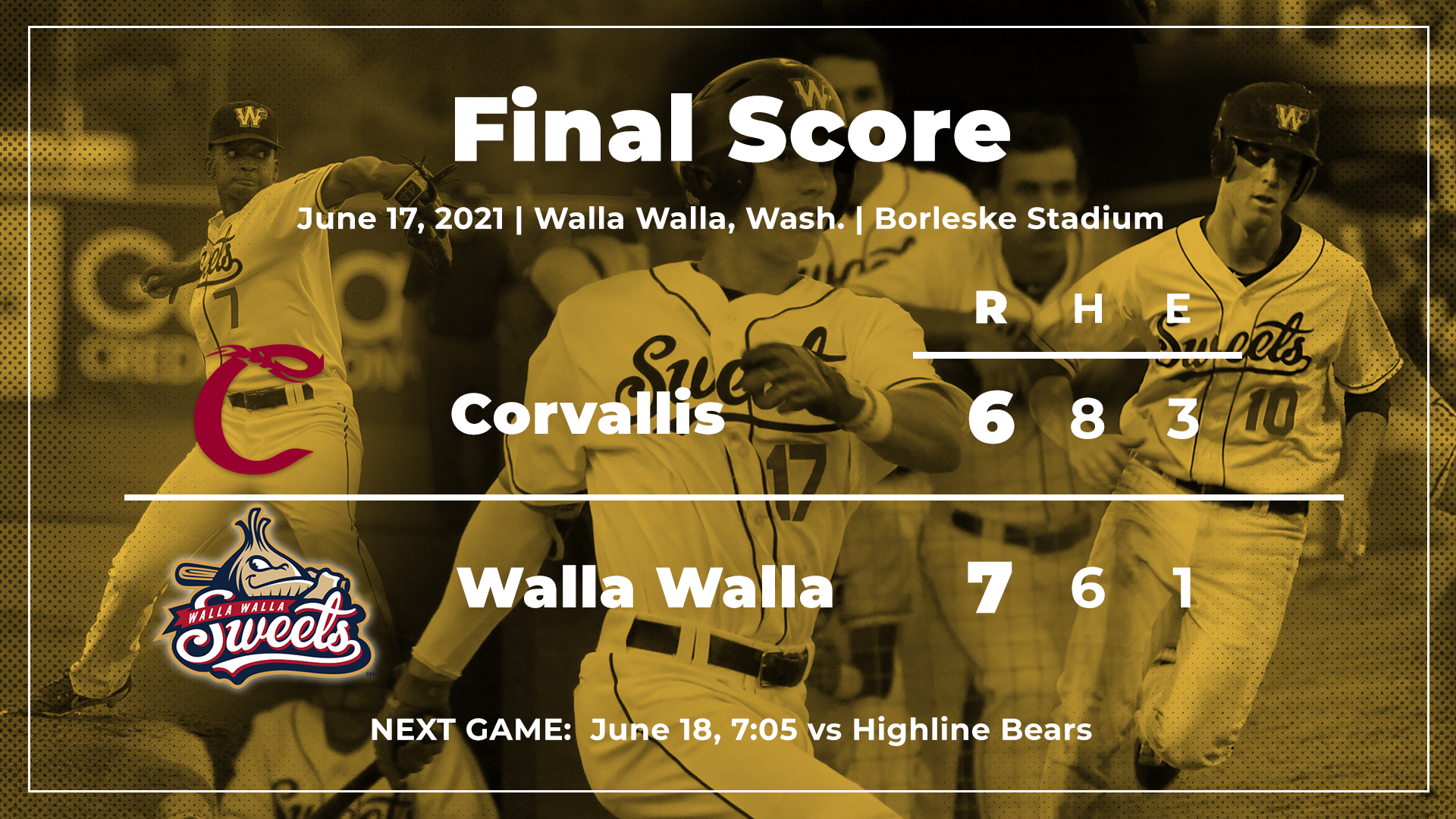 The Walla Walla Sweets edged out a close victory over the Corvallis Knights Thursday by a score of 7-6.
The Sweets now sit at an even 6-6 going into the second half of their 12-game homestand. The win also snaps a five-game winning streak for Corvallis.
Corvallis got things started in this ballgame with two runs in the first, but Walla Wall was quick to answer. The Sweets responded with two runs of their own in the bottom of the first inning thanks to two errors from Corvallis.
The Sweets then put together a four-run second inning to lead it 6-2. Parker Price and Quentin Ayers started things off after  reaching base on a walk and a single. With two outs, the Sweets got two clutch hits on an RBI single from Paul Myro and a two-run triple from Chris Conniff. Conniff later scored on a wild pitch to cap off the inning.
Travis Craven picked up the win for Walla Walla in what was a strong night for the Sweets bullpen. He posted three innings and five strikeouts while allowing no earned runs on three hits.
Caden Kaelber picked up his first save of the year, recording the final six outs of the game. The Knights got a run in the ninth off an RBI single from Nick Vogt, but Kaelber bounced back to bring the Sweets a win. He recorded three strikeouts in two innings and allowed just one hit.
Cameron Butler recorded two hits to lead the way offensively for Walla Walla, including his first double. Conniff and Myro combined to score four runs and picked up three runs batted in as well.
Vogt led the way for Corvallis with two hits and two RBIs.
The Sweets begin a stretch of six non-league games Friday when they host the Highline Bears. First pitch is set for 7:05 at Borleske Stadium.