Sweets Drop Series Finale to Cowlitz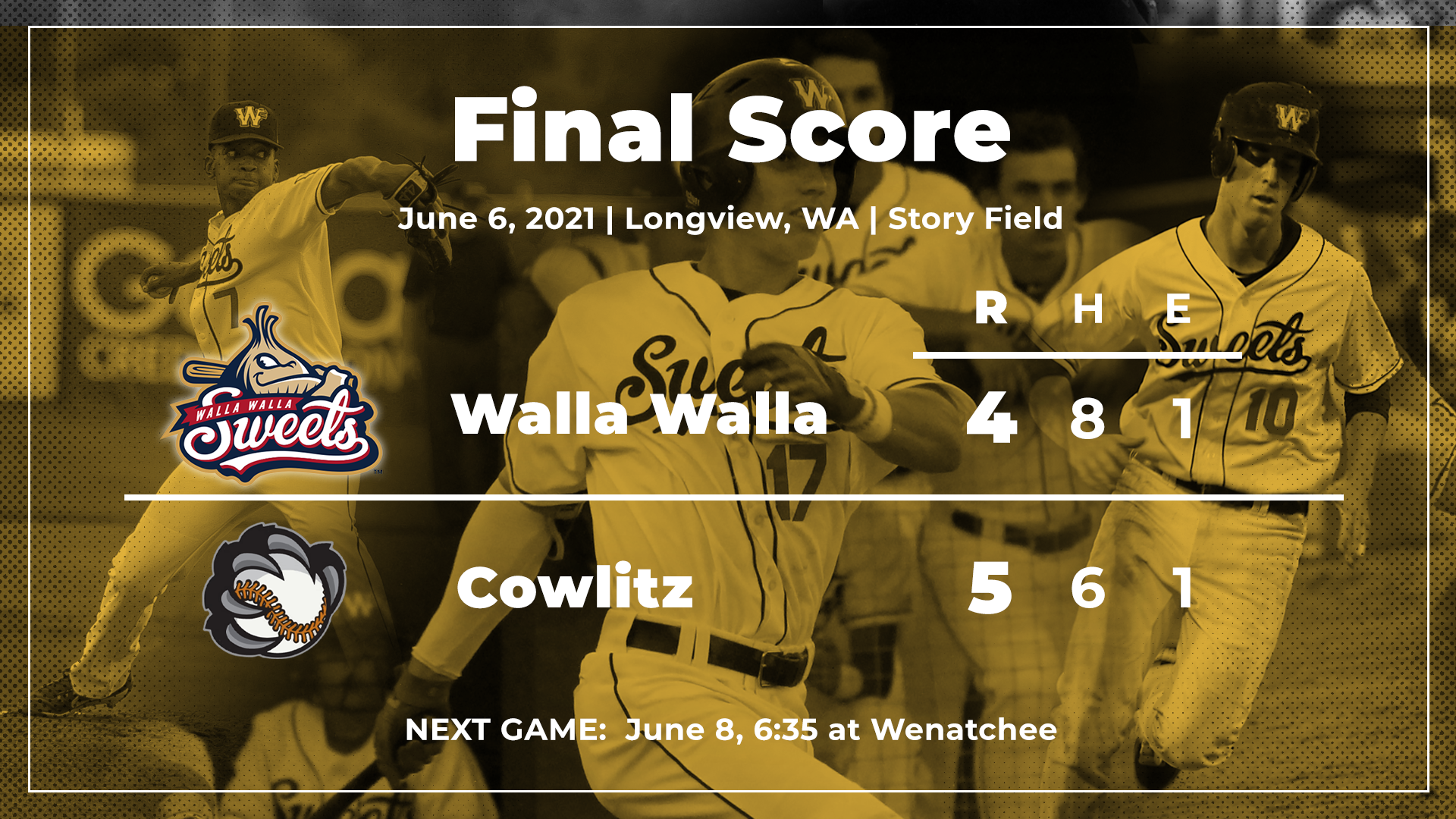 A two-run single by Jaden Sheppard propelled the Cowlitz Black Bears to a 5-4 victory over the Sweets Sunday.
Sheppard, who had just arrived in Longview, Washington, hours before the game, made an excellent first impression. Along with his go-ahead hit, he ripped a double to right center in his second at-bat.
The Black Bears got good production from the bottom third of their lineup. Cowlitz struck first on the strength of three straight singles from Torreahno Sweet, Henry Muench and Matthew Schwarz. The Black Bears scored the first three runs of the game and cashed in on their opportunities with runners in scoring position after going 1-for-17 with men on second and third Saturday.
For the Sweets, William Grimm looked impressive in his second start at first base. After throwing a scoreless inning of relief Saturday, Grimm returned to the plate Sunday and delivered two hits, including a double down the left field line as part of a three-run top of the sixth. Seth Ryberg was the only other Sweet with multiple hits, and made several terrific plays in right field including a diving catch.
Travis Craven got the start for the Sweets and forced many swings and misses. He threw five innings and allowed three runs while striking out six.
"It was good to be back on the mound after a month off," Craven said. "I'm looking forward to the rest of the season and getting back to it consistently."
Cowlitz starter Kyle Sandstrom and Craven combined for 12 strikeouts (six each) as it was once again a close, pitchers duel. All three games of the series were decided by one run, with just 19 total runs coming across to score in the three games.
Keegan Wright picked up the win for Cowlitz as the Black Bears moved to 1-2. The Sweets fall to 2-1 but are still tied for the North Division lead.
The Sweets are off Monday before hitting the road once again for a three-game series against the Wenatchee AppleSox. The Sweets play game one of that series Tuesday, June 8, with first set for 6:35 PST. You can tune in to the game at www.mixlr.com/sweetsbaseball.