Sweets Shut Out Cowlitz, Win Sixth Straight Opener
Sweets silence Cowlitz offense to start season 1-0.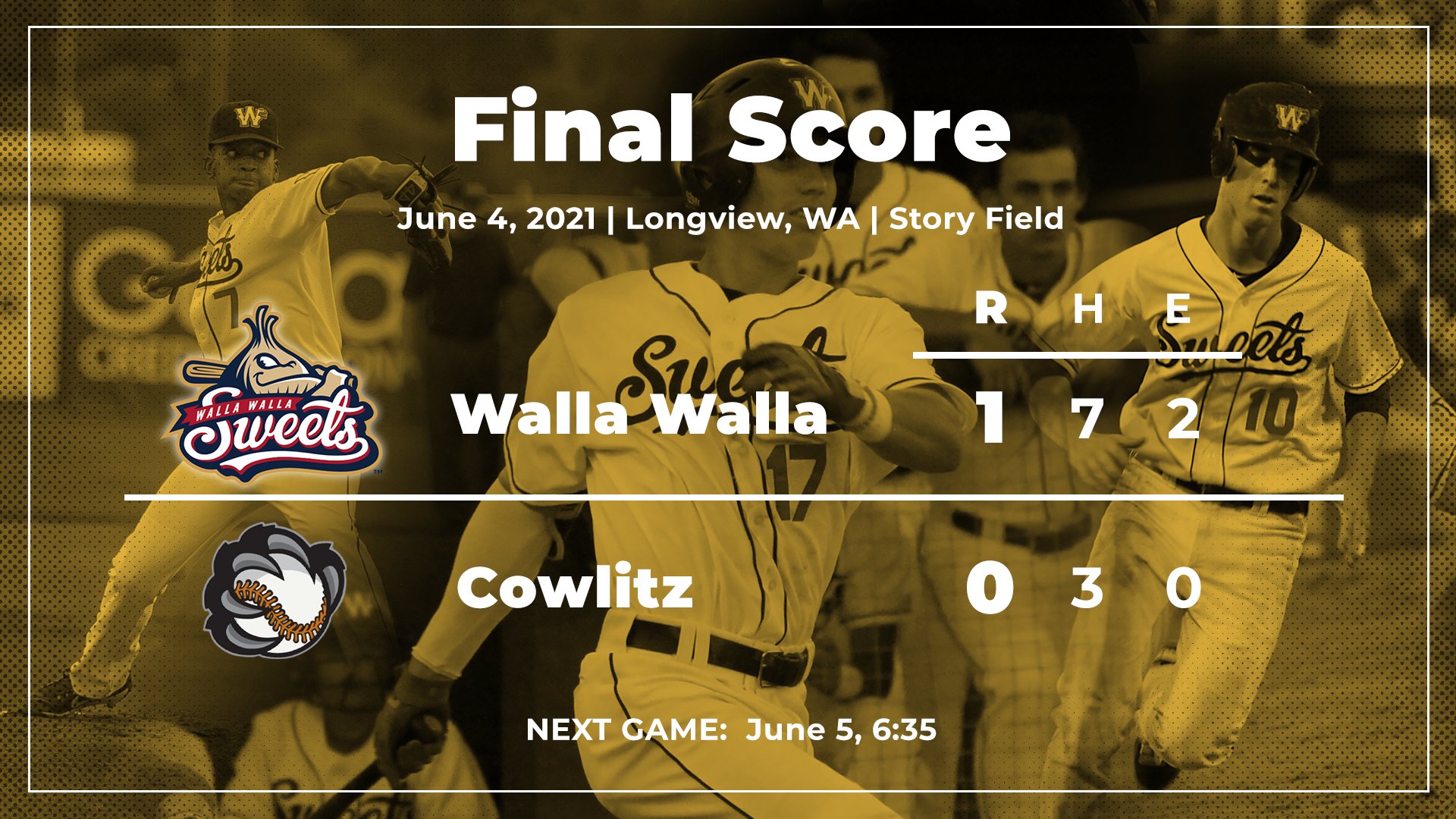 Four different Walla Walla pitchers combined for a three-hit shoutout Friday, as the Sweets defeated the Cowlitz Black Bears, 1-0 on opening night.
Jake Dahle got the start for Walla Walla and looked impressive in four innings of work. The Dixie State commit established the zone early and showed great command, throwing 43 of his 61 pitches for strikes.
From there, second year Sweet Mason Kokodynski took over and held the Black Bears at bay. The Loyola Marymount pitcher shrugged off some early command struggles and worked his way out of two jams in two innings.
Kokodynski then handed the ball to fellow LMU teammate Logan Hurd, who struck out three batters in two innings and allowed just one baserunner via walk. Cal Poly Pomona reliever Eric Romo shut the door in the ninth to earn his first save since 2020.
Hitting wise, the Sweets did most of their work in the seventh inning. Leadoff man Seth Ryberg singled to left, and was followed by a line drive to right center field from Chris Conniff, his second hit of the night.
From there, Justin Folz took matters into his own hands. With runners at first and third, Folz ripped a first-pitch fastball to right field to score Ryberg and plate the only run of the game.
After delivering arguably the biggest hit in Sweets history in the 2019 postseason, Folz came through in the clutch yet again to start off 2021.
Conniff was the only player in the game to record multiple hits. Connor Cirillo also delivered the only extra-base hit of the evening on a pinch-hit double in the ninth. In total, the Sweets tallied seven hits.
Cowlitz was unable to produce much offensively past the third inning. The Black Bears were held hitless from the third inning on , and while they did put the tying runner on base in the eight and ninth inning via a walk and error, they could not cash in on either opportunity.
The highlight of the night for the Black Bears was starting pitcher Myles Davis. The right-hander from Feather River College delivered strong six innings of scoreless baseball, striking out six Sweets while allowing just three hits.
The Sweets and Black Bears play game two of a three-game set Saturday from Story Field in Longview, Washington. First pitch is set for 6:35, with the game available for audio stream at www.mixlr.com/sweetsbaseball.