Sweets Add Two Pitchers, Infielder to Finalize Roster
Walla Walla's Roster is Ready for Baseball with Three More Additions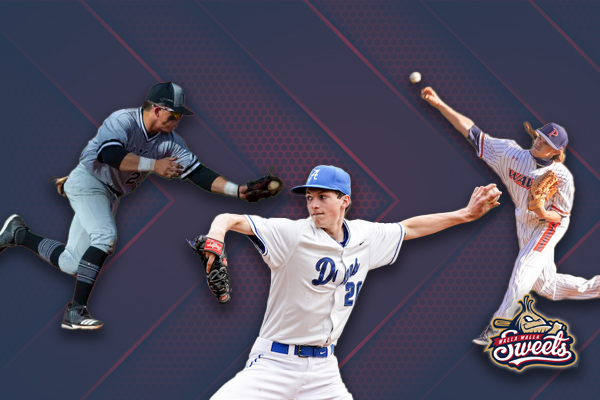 The Walla Walla Sweets announced their final roster moves ahead of the 2021 season Thursday.
The Sweets welcome three more Division-I players to their squad this season, with the final roster now sitting at 35 players. Pitchers Brandon Llewellyn and Logan Hurd, along with infielder Paul Myro IV, are set to join the team.
Myro, currently a freshman at Oregon State, said he has learned a lot playing for a strong program like Oregon State.
"My first year has been a year for growth," Myro said. "I have gotten much stronger and have been critiquing the little things in my game."
The freshman outfielder graduated from Palo Verde High School last year and is from Las Vegas. He was a second-team all-state selection following his junior season, hitting .340 with eight doubles, six home runs, 27 RBI and 15 stolen bases.
For Myro, playing for the Sweets presents another opportunity to work on his craft and develop as a player.
"I'm looking forward to getting on the field, playing hard, helping my new teammates win some ball games this summer, and getting even more prepared for my second year at Oregon State," Myro said.
Moving to the mound, the Sweets picked up two West Coast Conference pitchers in Llewellyn and Hurd. The former attends Pepperdine and is in his first season with the Waves, while Hurd throws for Loyola Marymount University.
Llewellyn is well-traveled in his baseball career. Originally from Colleyville, Texas, the right-handed pitcher attended IMG Academy in Florida and showcased enough skills to earn offers from several big schools across the country. After originally committing to Notre Dame, he ultimately decided on Pepperdine as his school of choice.
At IMG Academy, he threw 47.2 innings and had a 3-1 record. He also collected 12 saves, struck out 57 batters and walked just 10, and had a 1.93 ERA and 1.20 ERA in his two seasons at IMG.
Rounding out the additions is Logan Hurd, who becomes the third pitcher from LMU to join the Sweets roster (Mason Kokodynski, William Grimm).
Hurd has pitched 9 2/3 innings so far in his freshman season for the Lions, striking out ten batters in the process. He was named both a First Team All-League DAL and the Acalanes Varsity Pitcher of the Year in 2019. He chose LMU because he felt it was the perfect size.