Price Father-Son Duo Back in Walla Walla
Parker Price Returns to Sweets for his Fourth WCL Season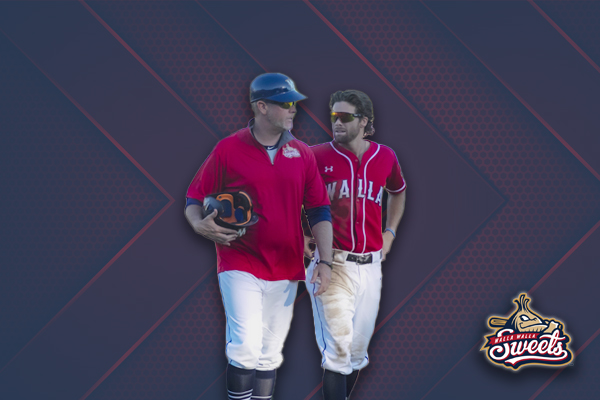 Sweets Manager Larry Price takes pride in what his son, Parker, has accomplished on and off the baseball field.
The duo has shared plenty of special moments on the diamond together, and are prepared to do so again in 2021 at Borleske Stadium. This time around, however, the elder Price will be the skipper.
While the position for Larry Price changes from assistant coach to manager, the excitement to be back with Parker remains the same.
"I am very excited to have a three-year veteran returning to the WCL," Price said. "Other players and opposing coaches have shared with me that his leadership on the field is as good as it gets."
Parker's on-field production and leadership have been on full display his whole career. He was a two-time Gatorade Player of the Year in the state of Idaho at Timberline High School. He was a first-team all-conference infielder and pitcher during his high school days.
In four years at Northwest Nazarene University, he owns a lifetime average of .308 while driving in 64 runs and stealing 25 bases. He stepped right in as a freshman in 2018 and impressed early, playing 50 games and hitting .324.
While the numbers are impressive, his aggressive playstyle and hard-working, positive attitude are the two things that stand out the most to his father.
"Parker is as tough as nails," Price said. "He fits the mindset of our team's philosophy of grit and mental toughness. His strengths are that he is savvy, has good athleticism and brings energy to the team. His desire to win is contagious."
Parker Price is familiar with other areas of the West Coast League. He spent two seasons with the Wenatchee AppleSox before making his way to Borleske Stadium to sport the red and blue uniforms of Walla Walla. The energy and enthusiasm of the Sweets' crowd was enough for him to make a change of scenery.
While Larry feels excited about coaching Parker, he emphasized the importance of treating everyone fairly.
"As far as how I will feel coaching him, he will be like any other guy," Price said. "Every player I will coach I consider like a son. This team will be like a family."