Sweets Sign West Coast Pitcher, East Coast Catcher
Sweets Bolster Roster with Players from LMU and St. John's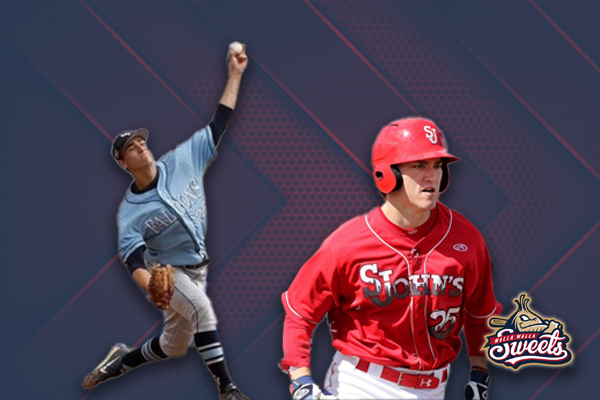 With the first Sweets game at Borleske Stadium since 2019 coming up in 50 days, the red and blue are putting the final touches on their 2021 roster.
The Sweets announced Thursday that they have signed pitcher Will Grimm and catcher Colin Wetterau for the 2021 campaign. This season will be the first in the West Coast League for both players.
Grimm, a freshman at Loyola Marymount University out of the West Coast Conference, gives the Sweets an effective southpaw in the pitching staff.
While he is listed as a pitcher, the Lions have primarily used him as a hitter in his first collegiate season. The California product launched a home run in his latest game on April 20, against USC.  This season, Grimm is hitting .263 with four RBI's and six runs.
Prior to LMU, Grimm attended Crescenta Valley High School and was a four-year starter under manager Phil Torres. He was recognized  as CIF SS Div. II, All CIF Baseball First Team, and First Team All-League Baseball for Spring 2019. He was well on his way to earning those feats in 2020 as well before the season was cut short, as he threw 24 consecutive scoreless innings to begin the year.
Grimm is the second pitcher from LMU to join the Sweets, along with right-hander Mason Kokodynski.
Moving over to the east coast, Colin Wetterau becomes the third catcher to join the Sweets roster along with Jack Sheward and Quentin Ayers.
Wetterau is in his third season at St. John's and is listed as a redshirt sophomore. The New Jersey native got off to a hot start for the Red Storm this season, picking up a hit in six of his first seven games.
Wetterau brings another efficient bat to the Sweets lineup and is an effective hitting catcher. He is hitting .280 this year for the Red Storm with 6 RBI's and has displayed a good eye at the dish, drawing six walks.
Wetterau is the second member of the Red Storm to head out west for collegiate summer baseball, joining teammate Justin Folz. The Medford, New Jersey, product was a top-five catcher in New Jersey out of high school and was an all-conference selection in football as well.
Outside of baseball, Wetterau majors in business and lists Chase Utley as his favorite athlete.