Six New Players Set to Join Sweets
Four Pitchers, Two Position Players Added to the 2021 Roster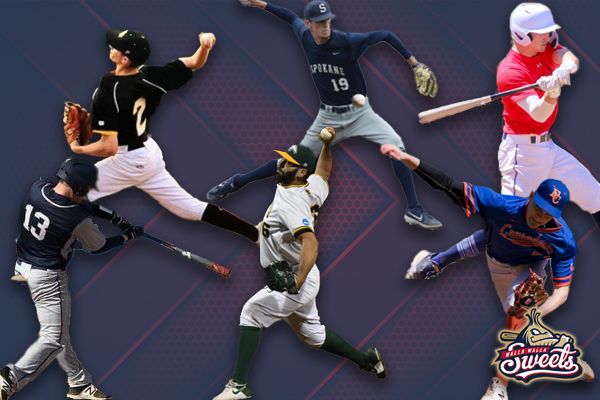 Two more position players and four pitchers will be sporting the red and blue this summer for the Sweets.
Quentin Ayers, Cameron Butler, Jacob Dahlstrom, Dylan Schwartz, Caden Kaelber and Eric Romo will be spending their summer in Walla Walla. This will the first year in Walla Walla for all six players.
Ayers, a catcher by of Northwest Nazarene University, will play his first season in Walla Walla. The incoming Nighthawks freshman and Spokane, Washington, product was a 3-time All-League selection at Mt. Spokane High School. He will major in mechanical engineering.
Cameron Butler is the other position player coming in. Butler is the epitome of a utility player and showed the ability to hit and pitch at Big Valley Christian High School. Butler is a senior in high school and has committed to play for Cal Poly.
Butler primarily serves as a middle infielder, but has also played the other infield spots, outfield, and pitched. In the 2019 season, Butler hit .427 with 25 RBI's and 33 runs scored.
Jacob Dahlstrom gives the Sweets an elite right-handed pitcher. The 6-foot-7 from Renton, Washington, was the 19th best player out of Washington and sixth best pitcher in his class. Dahlstrom comes from Bellevue College, where he made 11 appearances during the 2020 season. He pitched the most innings of any player on the Bulldogs and went 2-0 with a 1.54 ERA. He struck out 10 batters in 11.2 innings.
Dylan Schwartz adds another right-handed arm to the Sweets rotation. Schwartz hails from Chino, California. Schwartz is currently in his first season at Pepperdine after showing great improvement in his final high school season. He upped his fastball velocity to over 90 and improved steadily over four seasons at Ontario Christian High School.
Schwartz chose Pepperdine because it is a good Christian university with good sports, as well as the closeness to home. His favorite player is Nolan Ryan and his favorite team is the Los Angeles Angels.
Caden Kaelbar has already made two appearances in his first season at Washington State. In his last outing of relief against UC Davis, the 6-foot-7 right hander struck out three batters in two innings. The Cougars took their first series of the seasons three games to one against the Aggies.
Prior to Washington State, Kaelber played in junior college at Spokane Falls Community College in Washington. Washington State is back in action for a four-game set beginning today against Dixie State.
Rounding out the additions  is Eric Romo, a senior at Cal Poly Pomona. Romo began his career at Golden West College where he played two seasons. In those two years he struck out 89 batters and made the All-Orange Empire Conference Second Team in his sophomore season.
In a shortened 2020 season, Romo was effective as the closer for the Broncos. He recorded two saves and opponents hit just 6 of 25 against him. Romo was 1-2 in seven appearances with an ERA of 1.29. He struck out seven batters across seven innings.