Outfielder Cesar Lopez Back for Round Three in Walla Walla
Outfielder returns for his third season with the Sweets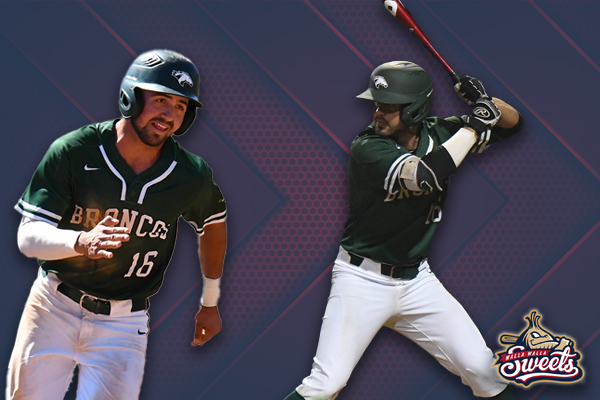 California native Cesar Lopez has called Walla Walla his summer baseball home for two seasons.
In 2021, the talented outfielder will return to the Sweets for his third season. For the senior out of Cal Poly Pomona, it's another chance to add to what's already been a memorable career in the West Coast League.
"A lot of my favorite memories have to do with the comradery that you get with the players and coaches," Lopez said. "It was also a great experience to go on a nice winning streak to begin the year in the 2019 season."
Lopez has seen success both in the WCL and at his home college. In 2019, the Downey, California, native hit .313 with 39 RBI's and 25 runs scored. In last year's shortened spring season, Lopez played and started in all 21 games for the Broncos and hit .309 with 11 runs, three doubles, 10 RBI, 10 walks and one steal. Lopez has shown an excellent ability to get on base and was the fourth toughest player in the California Community College Athletic Association to strike out.
Lopez has improved year by year in college. He credits part of that improvement to the Sweets and their coaching staff.
"The Sweets have helped me develop as a player because of the great coaching staff that will help you out with anything that you're struggling with," Lopez said. "The Sweets also provide an outlet to get plenty of reps and that is very important to me as a young player."
Lopez has been one of the more consistent hitters for the Broncos and Sweets over the past few seasons. He sports a career average of over .300 with both teams and can play any of the outfield positions.
Lopez's best season came in 2019, his sophomore campaign with the Broncos. That season, he batted .323 , good for second on the team, with .354 slugging percentage and .385 on-base percentage. He also produced 28 runs, five doubles, 22 RBI, 15 walks, five sacrifice hits, seven steals on 10 tries and a 10-game hitting streak.
With graduation coming soon, Lopez wants to pursue a career in professional baseball or law enforcement after college. He also has several other interests beside baseball.
"Outside of baseball, I like to train boxing as well as watching shows on Netflix," Lopez said. "I also play video games every once in a while, although I'm not very good at them."