Sweets Bring Back Three Position Players to Shore Up Infield
New position players on their way to Walla Walla for summer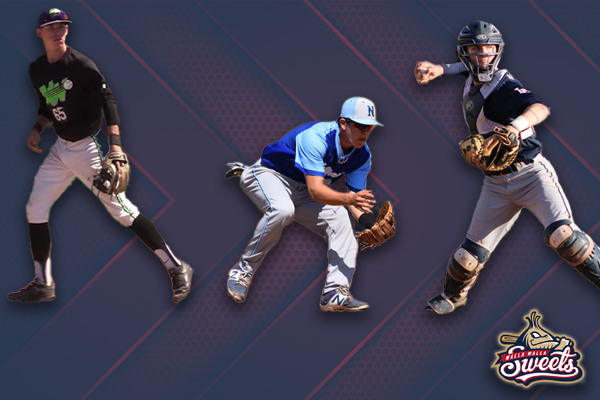 Two new infielders and a catcher will hit the field in Walla Walla for the first time in 2021.
Middle infielders Seth Ryberg and Chris Conniff, along with catcher Jack Sheward, have officially signed with the Sweets for the upcoming season.
Ryberg, a shortstop  by way of Point Loma Nazarene University, was an PacWest All-Academic Team selection in his freshman season. On the field he appeared in six games, starting in one for the Sea Lions.
Outside of baseball, Ryberg is a physics major at PLNU and wants to become an architect. His favorite athlete is Cubs' infielder Javy Baez and his favorite food is sushi.
Ryberg has set the bar high for his second season and is anxious to return to the field.
"My goals for this upcoming season with Point Loma is to execute my role as an on base hitter," Ryberg said. "For the summer with the Sweets my goal is to contribute as a great teammate and win ball games!"
Jack Sheward will suit behind the plate for the Sweets this summer. The Arlington High School product plays his collegiate baseball at Lewis-Stark College. Last season, he made 11 appearances with six starts in the shortened season. In those six appearances, he had six hits including a triple, knocked in six runs and scored one, hit .316 and slugged .421 with an on-base percentage of .480. He also threw out one runner.
Sheward, a redshirt freshman, was a standout athlete at Arlington and hopes to use that athleticism to his advantage behind the plate. The 6-foot catcher hit over .350 in three seasons at Arlington while also playing football. On the diamond, he was a four-year letterman who earned all-league honors 2017-2019 and all-state honors in 2018 and 2019 for the Eagles.
Sheward has been in the batting cages religiously over the last year preparing for baseball to return. While his hitting has progressed nicely due to his constant work on mechanics, Sheward wants to prioritize defense moving forward.
"Some goals of mine this season are to start at catcher the first game of the year and continue to improve my hitting," Sheward said. "I also want to improve my blocking and defense at catcher."
Sheward majors in kinesiology at LCSU. His uncle, Brian Traxler, played in the majors for the Los Angeles Dodgers.
Rounding out the additions is middle infielder Chris Conniff. The 5-foot-10 infielder recently graduated from Norco High School in California and currently attends St. John's.
Conniff brings quick hands to speed to the Sweets lineup and defense. The California product is a versatile hitter that can hit to all fields as a lefty. His biggest strength may be his defense, however, as he attacks the ball effectively and has good arm speed and instincts at the shortstop position.
Conniff had a decorated career at Norco High School. Last year he earned male student-athlete of the year honors and was ranked the 36th best shortstop in the California. He lettered three times at Norco and was honorable mention all-region by Perfect Game.
Conniff is the second infielder from St. John's to sign with the Sweets, joining fellow Red Storm teammate Justin Folz.