Sweets Add Pair of Returners to Boost Pitching Rotation
Lefty Duo Craven and Schwehr return for 2021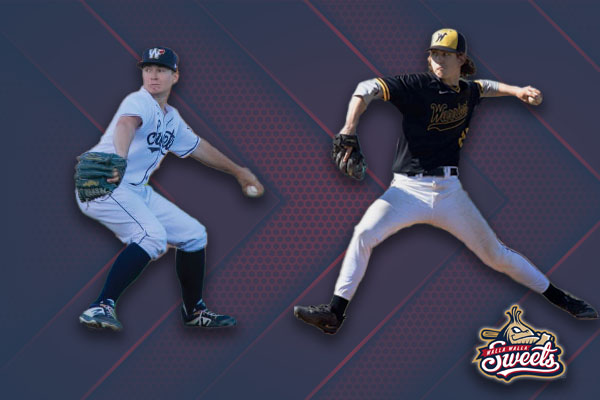 The Walla Walla Sweets continued to shore up their 2021 roster Tuesday, signing two familiar faces in pitchers Spencer Schwehr and Travis Craven to join the team once again.
The Sweets will return two arms who both contributed to the team's pitching staff in 2019. Schwehr pitched four games for the Sweets in the 2019 season and allowed just three earned runs in 9 1/3 innings pitched. Hailing from Boise, Idaho, Schwehr enters his third collegiate season as a member of Northwest Nazarene University after beginning his career at Walla Walla Community College. The southpaw locates his pitches well, has a solid fastball-curveball combination, and thrives at producing groundballs.
For Schwehr, returning to the Sweets means another opportunity to be involved with a tight-knit group of players and coaches.
"One of the biggest things I noticed in Walla Walla was the culture of the team," Schwehr said. "It was a lot of fun to be around."
Also back for his second season in a Sweets uniform is Craven, who is looking to build off a very successful 2019 West Coast League season.  The left-hander from Goleta, California posted an impressive 1.99 ERA across 13 starts while holding opposing hitters to a batting average just north of .200.
Having played baseball since the age of five, Craven's passion for the game is undeniable. While the COVID-19 pandemic has caused Craven and all players to make adjustments, the Whitman College pitcher has embraced staying disciplined and keeping his skills polished.
"COVID has given me a lot of time to prioritize my development as a baseball player and I am very excited to see how it transfers back to the mound," Craven said. "I can't stress enough how special it is to get the opportunity to compete on the field again and have fun playing the game we all love."
Craven has enjoyed great success at Division III Whitman College. In 2019, he posted an 8-6 record – after a 1-4 beginning – with a 3.08 earned average in 16 appearances, 14 of which were starts. He logged 102.1 innings and allowed 98 hits, and 35 earned runs. He struck out 81 and walked 37. Opponents hit just .252 against him.
Outside of baseball, Craven is a biology major at Whitman and plans on attending medical school.
Like Schwehr, Craven was taken back by how embraced the Sweets were by the Walla Walla community and how much positive character the team had.
"Walla Walla has become my second home," Craven said. "The Sweets are an incredibly run organization that really cares about the experience and development of its players. The guys they recruit are not just high-level baseball players  but also excellent people."