Sweets Begin Re-Signings for 2021
Nine members from the 2019 Sweets playoff team return for 2021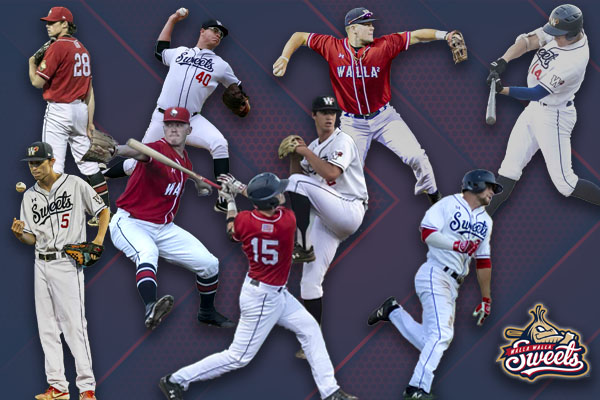 As the Sweets anxiously await the start of the 2021 season, the Walla Walla coaching staff is wasting no time bringing back many of the players that would've comprised the 2020 roster.
The first batch of new players return includes a well-rounded group of talent spanning the entire country. Justin Folz, Caleb Farmer, Mason Kokodynski, Nick Irwin, Chazz Martinez, Jake Dahle, Nate Dahle, Brayde Hirai and Jordan Stubbings are all set to return.
While these players present many unique skillsets and positions, they all share the anxiousness to return to the field after the cancellation of most spring and summer college baseball seasons. Despite adverse circumstances, players have found a way to push through and keep their games sharp.
Stubbings, a first baseman from Colorado-Mesa, used his love for the game as motivation to push through. Having a batting cage at home and an accessible weight room in his hometown of Parker, Colorado,  helped as well.
"The last eight months have been a roller coaster but the biggest thing was keeping my game sharp," Stubbings said. "You really just have to love the game to grind as hard as you had to for the last eight months."
Some players, like Stubbing's teammate Farmer, were able to find other leagues this past summer. The catcher and San Jacinto, California, native found another home in the Sunflower League in Kansas. With fall workouts now back in full swing as well, Farmer said he has been grateful to have the opportunities to keep his skills and in-game experience fresh.
"I was very fortunate that my school didn't shut down during the fall semester so we were able to go through our regular fall schedule," Farmer said.
Outside of baseball, Farmer said he's enjoyed activities such as mountain biking, off-roading in his Jeep and fishing during the shutdowns.
Rounding out the position players are Folz and Martinez. Folz, a member of the St. John's Red Storm, hit .294 in his 14-game shortened season. The Northwest Nazarene transfer also tied for the team lead in RBI's (12) and paced the club with six multi-hit games.
Martinez, listed as both a position player and pitcher, is another versatile weapon for the Sweets. A sophomore at Orange Coast College, Martinez started his collegiate career at UCSB. Before that, he enjoyed a decorated career at Corona Del Mar High School where he was first-team Pacific Coast League twice.
Hirai, the Dahle brothers, Kokodynski and Irwin bring depth to a strong pitching rotation. Hirai spent the 2018 and 2019 seasons at Walla Walla Community College and will be playing in his third season with the Sweets. He posted a 1.94 ERA with the Sweets across 18 appearances in 2019.
Kokodynski returns for year number two at Borleske Stadium. The LMU freshman recorded five strikeouts in six appearances in his freshman year with the Lions. Outside of baseball, "Koko" says his favorite songs are Brandy by Looking Glass and Tom Petty and the Heartbreakers' American Girl.
Irwin, who was also a member of the 2019 squad, comes from Northwest Nazarene University.  He is once again excited for the opportunity to return to the competitive WCL.
"It (the Sweets) gives me an environment filled with teammates that strive for success in a league that is filled with competition," Irwin said.
Rounding out the new additions are the Dahle brothers, Jake and Nathan. Both players are Utah natives, with Jake pitching for the University of Utah and Nathan hurling for the College of Southern Idaho.  Jake redshirted his sophomore campaign after pitching four games his freshman year. He posted a 4.00 ERA with the Sweets in 2019.
After traveling to Mexico City for a two-year mission trip, Nathan has smoothly transitioned back into baseball over the past few years.  He posted a 2.87 ERA with 31 strikeouts across 14 appearances in 2019 and is excited to be back in 2021.
"I am highly anticipating my return to Walla Walla," Dahle said. "I can't wait to play in a competitive league such as the WCL."