Sweets Announce Coaching Staff for 2020 Season
Price Returns, Molnaa added as new Pitching Coach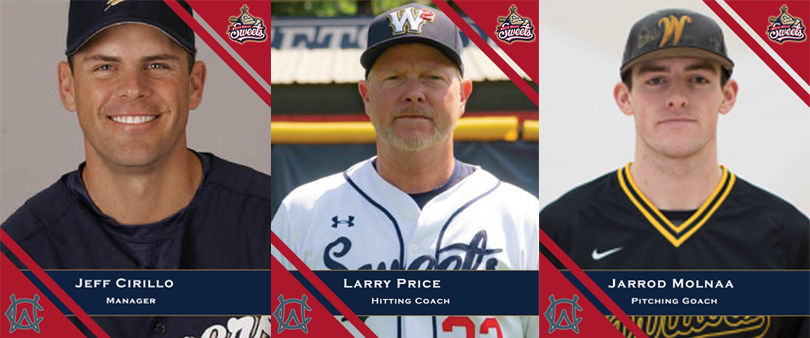 The Sweets are set to welcome a new manager and pitching coach for the 2020 season, along with the return of an assistant coach.
Jeff Cirillo, a two-time MLB All-Star who hit .296 across 14 seasons, will take over as manager. The former major leaguer played over 1,600 games in his career and was an All-Star for Milwaukee in 1997 and Colorado in 2000.
"Being manager of the Sweets has always been of interest to me," Cirillo said. "I believe I have a responsibility to the players, coaches and Walla Walla to provide a winning culture for all."
Since retiring from the show in 2007, Cirillo has been involved in numerous activities. He currently works as a scout for the Los Angeles Angels and has also been involved with TV broadcasts for the Milwaukee Brewers. Outside of baseball, he has three sons and is active in his community.
One of his sons, Connor, played for the Sweets last season and will return in 2020.
"I have coached Connor for several years and I give him his freedom," Cirillo said. "He knows that results matter and guys who play well in all areas get rewarded with playing time."
Also joining the staff as a first-year pitching coach is Jarrod Molnaa. A Montana State Billings graduate, Molnaa recorded 8 wins last season for the Yellowjackets, a single-season program record. Prior to MSUB, Molnaa spent one season at Bellevue University and two years at Walla Walla Community College, where he was a two-time NWAC second-team selection.
After playing for the Sweets in 2017, Molnaa says he is excited to return to the team as a coach.
"I loved my time as a Sweet in 2017," Molnaa said. "I think that experience is going to help me be a guiding voice to all the guys that come in for the summer as we work our way through the schedule."
Rounding out the coaching staff is assistant Larry Price. A Boise, Idaho, native, Price has served as an associate scout with the Atlanta Braves since 2010 and held the same position with the Red Sox from 1995 to 2003.
"I am counting the days down to get back to Walla Walla," Price said. I'm also privileged to work alongside Jeff Cirillo. He will bring a vast array of knowledge and he relates well with our ball players."
With many players returning from last season, Price said the team should hit the ground running.
"I'm very excited to get back with the 10 to 12 of our returners," Price said. "I felt we had a phenomenal chemistry last summer, and to get a great nucleus back is going to be a great advantage for our success."