Dahle Brothers will Toe the Rubber Again for Sweets
Sweets now at nine returning players from the 2019 Squad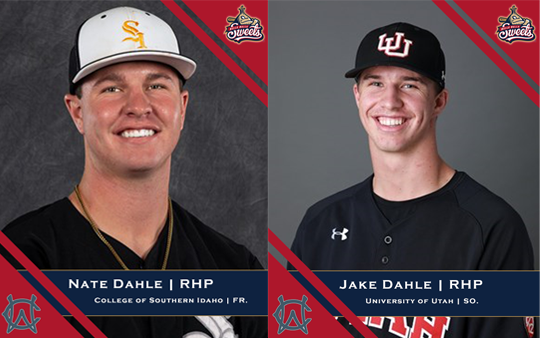 The Sweets announced the signing of two-right handed pitchers Thursday, as brothers Jake and Nathan Dahle will return to the team in 2020. With these additions, the Sweets roster now sits at nine players, six of whom are pitchers.
Jake, a Tremonton, Utah, native and University of Utah sophomore, pitched in four games for the Sweets last season and posted a 4.00 ERA with seven strikeouts. As he enters his second season, Jake has his goals set out.
"I want to keep getting stronger and gain a greater consistency in all aspects of pitching," Dahle said. "I also want to improve my velocity, curveball command and just overall consistency."
After pitching one season in both leagues, Jake said the Pac-12 and West Coast League draw a lot of similarities.
"A lot of guys I play against in the WCL are guys I face in the spring," Dahle said. "The atmospheres, fans and places to play are great in both leagues as well."
While they are brothers, Jake and Nathan have gone down different paths in college. Nathan, a freshman at College of Southern Idaho, left the game for two years before returning for the Sweets last summer. The 6-foot-6 right-hander went on a full-time, two-year mission trip to Mexico City starting in 2016 that stretched to December 2018.
Nathan's transition back onto the diamond was not easy.
"I was grateful for the opportunity I had to serve, but the comeback was extremely hard," Dahle said. "Dedication in the weight room, running and throwing helped me catch my rhythm that I needed to be ready for Walla Walla."
Nathan turned in an impressive campaign last year for Walla Walla. He posted a 2.87 ERA with 31 strikeouts across 14 appearances.
With the 2020 season looming, Nathan looks to build off his success and hit the ground running this year.
"I am highly anticipating my return to Walla Walla," Dahle said. "I can't wait to play in a competitive league such as the WCL."