Versatile Duo from Colorado-Mesa Set To Return For Sweets
Farmer and Stubbings each return for their second seasons in Walla Walla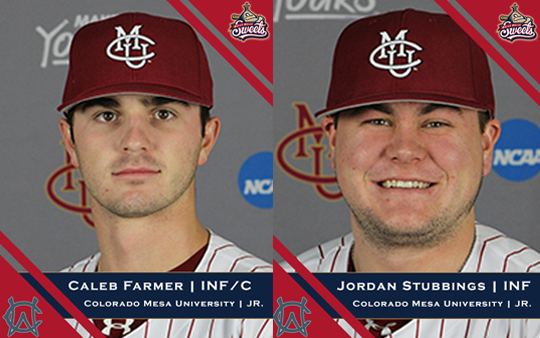 The Walla Walla Sweets continue to shore up their lineup for the 2020 season, as Jordan Stubbings and Caleb Farmer will return to the team this summer.
Both juniors at Division II Colorado-Mesa, Stubbings and Farmer have enjoyed successful collegiate campaigns from both individual and team perspectives.  Their efforts helped lead the Mavericks to a 53-12 record, a 26th Rocky Mountain Athletic Conference title (sixth consecutive), and an appearance in the Division II National Championship last season. Their quest for a national title in 2020 begins today with a match-up against Nova Southeastern.
With Stubbings back in the fold, the Sweets have a dangerous power threat in the middle of the lineup. The 6-foot-1 junior from Parker, Colorado, hit .359 with 24 home runs and 108 runs batted in in his first two seasons as a Maverick. He was named First Team All-RMAC last season and was Second Team All-RMAC after leading the Mavericks in home runs, RBI's, slugging percentage and fielding percentage his freshman season.
Sweets Assistant Coach Larry Price is excited to have the 2018 RMAC Freshman Position Player of the Year back on board.
"Jordan brings with him a great bat," Price said. "He's a middle of the order hitter who can hit the ball well to all fields. He never stops working and strives to be the best hitter he can be."
Stubbings is happy to return to Walla Walla for many reasons, including getting to play in front of family members from the area.
"The added factor of some of my family members being in the area helps make up for the time that I don't get to spend with them when I'm in Colorado," Stubbings said. "I love seeing my little cousins at games and seeing their faces light up."
Like Stubbings, Farmer also earned First Team All-RMAC honors in the 2019 season.  That selection was the second for Farmer in two years, as he finished last season with a .328 average, seven home runs and 46 RBI's. The San Jacinto, California, native is a versatile player defensively as well as he can catch and play around the infield.
Farmer's experience at the national championship last year has him hungry for more this go-around .
"I still get chills thinking about it," Farmer said. "It was something we were very proud to be apart of and it was neat to put our mark in the history book. Our goal is to get back there this year."
While they are both great individual talents, what stands out the most to Price about the two players is their selflessness.
"They both put the Sweets club before themselves and are top notch teammates," Price said. "They come from a college program that prepares them extremely well not just on the field, but off of it as well. I'm so excited to have both quality young men back in the program."