Sweets offense explodes with 13 runs and a Grand Slam.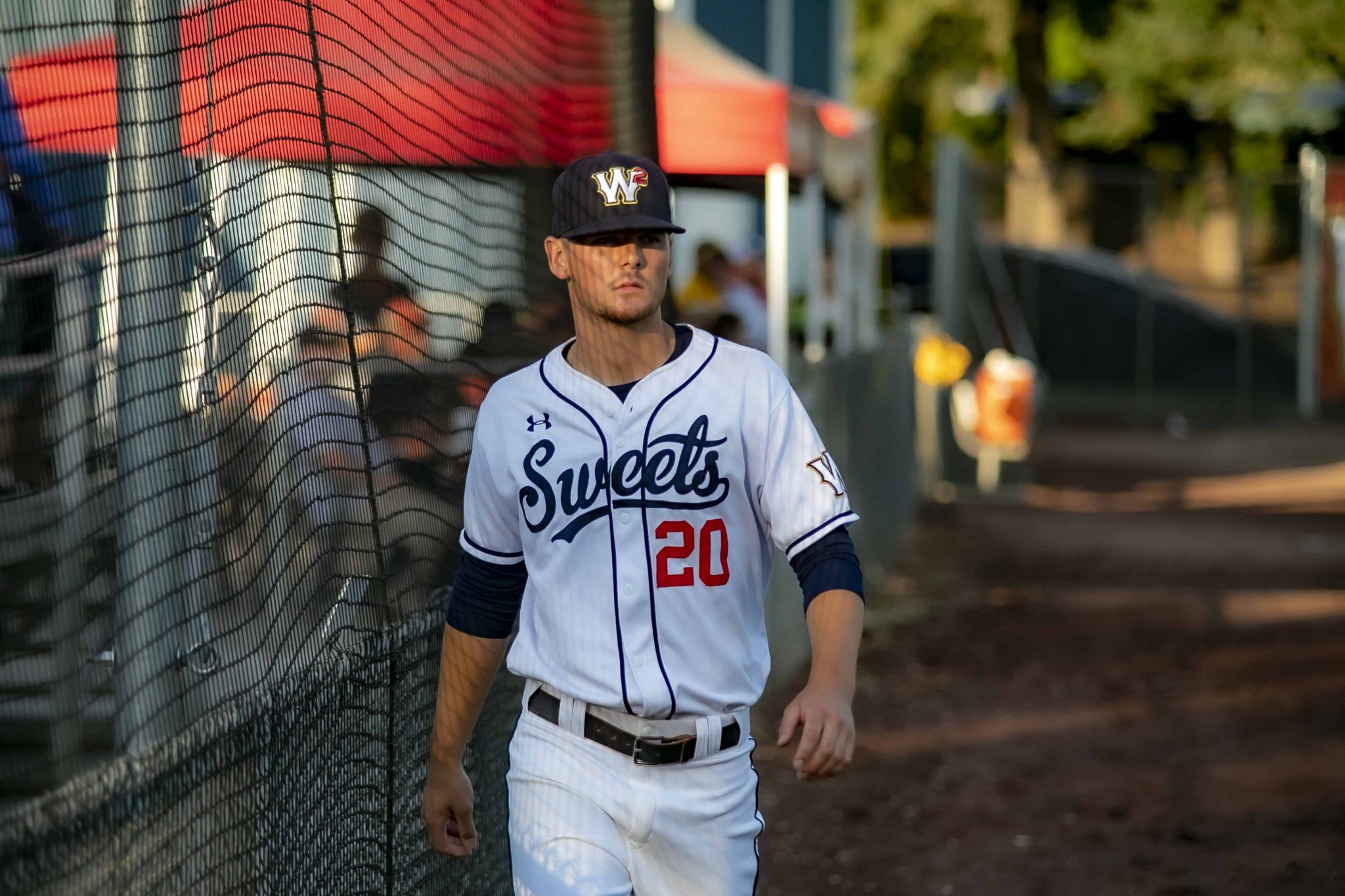 The Walla Walla Sweets spotted the Cowlitz Black Bears a 2-0 lead in the first inning of their West Coast League baseball game Tuesday night at Borleske Stadium.
But over the next five-and-a-half innings, deuces were wild on the Sweets side of the score book. Walla Walla scored twice in the first, third, fifth, and sixth innings, then rolled a five in the seventh on its way to a series-opening, 13-4 victory.
The Sweets are still tied with the sizzling Corvallis Knights at the top of the WCL South Division standings with a 16-6 record.
The Black Bears' first-inning runs were unearned. Cowlitz scored a pair on one hit and were helped along the way by a walk and two Walla Walla errors.
Patrick Caulfield was hit by a pitch to start the home first. He stole second and Justin Folz followed with a walk. Chazz Martinez loaded the bases with a lined single to center field. A wild pitch scored Caulfield and advanced Folz to third and Martinez to second. Cesar Lopez brought in Folz with a sacrifice fly to center that tied the score at 2-2.
Sweets starting pitcher Landon Boeneke retired Cowlitz 1-2-3 in the second inning and got out of a first-and-third, two-out quagmire in the third by getting Brian Cromwell to fly out to center.
Walla Walla started its half of the third with three consecutive singles by Folz, Martinez, and Lopez. The latter base knock produced a run and put the Sweets up 3-2. One out later, Jordan Stubbings lifted a sacrifice fly to left that made it 4-2.
Ty Hueckman took the mound for the Sweets in the fourth inning. He registered two strikeouts and allowed one hit in the frame. Hueckman escaped a three-walk fifth inning in part by picking the Black Bears' Austin Bell off of second base for out No. 2 and threw a perfect sixth.
"All four of my pitches were working, then I lost the fastball," Hueckman said. "I had to adjust and work off-speed early in the count. Their guys were really selective. They watched a lot of pitches early which (allowed) me to get ahead in the count."
Ben Fariss started the two-run rally in the fifth with a one-out walk and advanced to second on a Stubbings' single. Parker Price singled to load the sacks and the runners moved up 90 feet on a passed ball. Brock Ephan and Caden Cortese were issued back-to-back walks to force in a run that increased the Sweets lead to 6-2.
"I've made little adjustments here and there and it seems to be working," Price said.
Martinez walked leading off the Sweets sixth. Lopez moved him to second with a fly to center. Martinez then went to third on a wild pitch, and scored on a Fariss sac fly to left. Stubbings was next and worked the count to 3-and-0 before unloading a 367-foot home run to left against James Sashin that brought the tally to 8-2.
"I was given the green light," Stubbings said. "It felt really good to finally get one. I've been hitting the ball hard."
Cortese picked up his first hit of the summer to start the Walla Walla seventh and drew a chorus of cheers from his teammates in the third-base dugout. He stole second and scored on a Caulfield knock. Caulfield recorded his 15th stolen base and Folz walked. The runners moved up on a Martinez grounder to first and Lopez walked. Fariss concluded the Walla Walla scoring for the night by taking a 1-0 pitch from Black Bears' reliever Dale Takalo and sending it over the left-field wall for a grand slam home run.
"He threw a ball and their coach came out," Fariss said. "I've been in this situation before. Then he threw a fastball right down the middle."
POST GAME INTERVIEW WITH BEN FARISS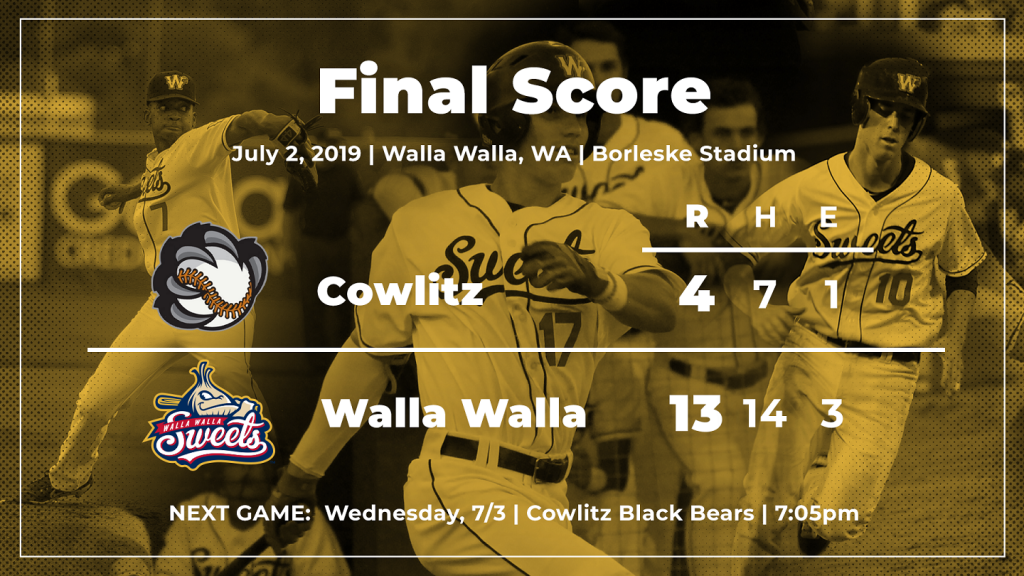 The middle game of the three-game series is Wednesday night at 7:05.