Sweets Drop Series Opener in Bend
Bend Elks take the opener of the 3 game series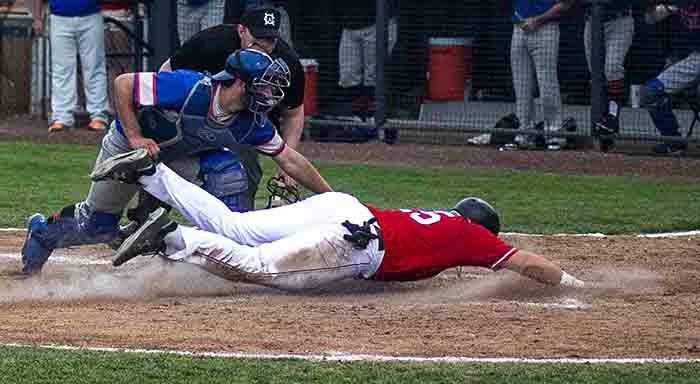 The Bend Elks used timely hitting and defensive breakdowns by the Walla Walla Sweets to post a 4-2 victory in game one of a three-game West Coast League baseball series at Vince Genna Stadium.
Bend improved its record to 7-9 while the Sweets, the leaders in the WCL's South Division by a two-game margin over both three-time defending WCL champion Corvallis and expansion Ridgefield, fell to 12-4.
The Elks pushed a run across in the bottom of the first inning. Vinny Zavolta singled with one out and advanced to second on an outfield error – the first of five committed by the Sweets in the game. Chase Fernlund followed with a double off the left-field wall that scored Zavolta.
Walla Walla equalized in the guest portion of the second inning. Jordan Stubbings lifted a one-out double into the right-center field gap and scored on a two-out two-bagger to straight-away center off the bat of Chazz Martinez.
Sweets starting pitcher Landon Boeneke threw a scoreless second inning before being relieved by fellow right-hander Ty Hueckman – who wiggled out of a second-and-third, one-out situation in the third by retiring Dante DeNiro on a fly to right and Zach Needham on a ball hit in the air to center.
Hueckman pitched a three-up, three-down fourth and faced the minimum number of hitters in the fifth inning thanks in part to catcher Caleb Farmer throwing out Nico Burgarello – who attempted to steal second – for the final out.
Reliever Nick Irwin got Fernlund and DeNiro to pop out to left to start the seventh, but Needham doubled to right and Justin Parsons singled him home. Two defensive miscues and an infield hit later, the Elks had three runs in the frame.
Lefty Brayde Hirai sent Bend down in order in the last of the eighth to keep it a three-run spread. Burgarello flew out to left, Zavolta struck out looking, and Fernlund skied to right.
Stubbings slapped a one-out single in the ninth. Carson Green came in as a pinch runner and moved to second with two out by way of a stolen base. Green scored on a Martinez hit to center that brought the potential tying run  to the plate. But Farmer bounced into a 5-4 fielder's choice to end the game.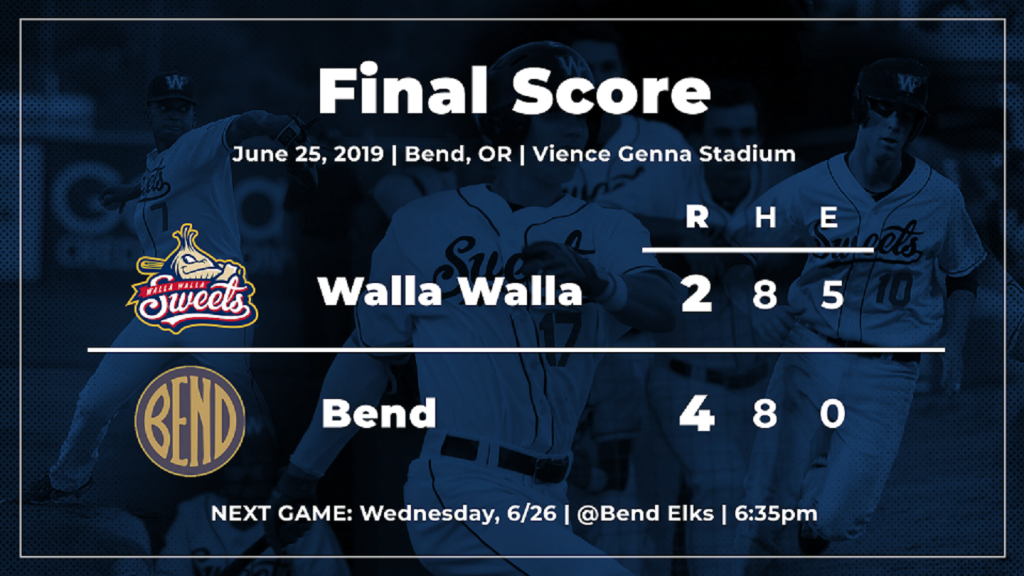 The middle game of the three-game series is Wednesday night at 6:35.