Sweets win a close game against the visiting Port Angeles Lefties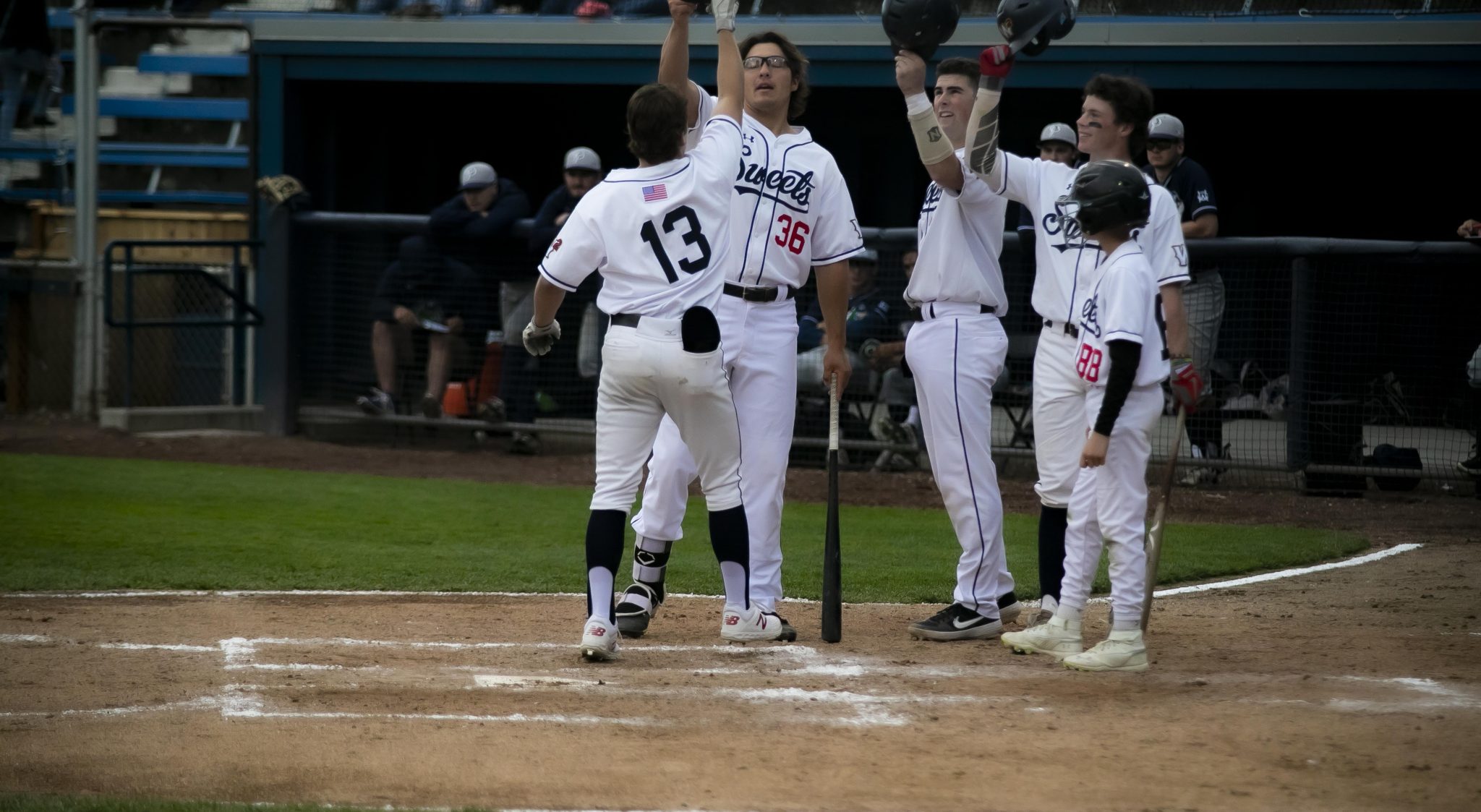 The Walla Walla Sweets baseball club improved their West Coast League South Division-best record to 11-2 on Friday night with a 4-3 victory over the hard-luck Port Angeles Lefties in game one of a three-game weekend series at historic Borleske Stadium.
Walla Walla, which is now 3-1 on its current six-game homestand, will have an opportunity to clinch its fifth straight series to begin the 2019 season when the two teams hook up Saturday night at 7:05.
Port Angeles slipped to 6-10 after suffering its sixth straight loss.
Sweets starting pitcher Chazz Martinez struck out the side in the first inning and fanned Matthew Christian to begin inning two. But the Lefties scrapped for two runs without the benefit of a hit in the frame and benefited from five walks. Reliever Landon Boeneke replaced Martinez and retired Ronnie Rust on a fly ball to right field to end the inning.
Boeneke retired Ethan Groff on a grounder to third to begin the top of inning three, got Matthew Christian to fly out to center field and, after surrendering a hit to Baxter Halligan, got Damiano Palmegiani to pop out to third for the final out.
The Sweets wrestled the lead away from the visitors in the last of the third. Connor Cirillo started the festivities with a one-out hit and Patrick Caulfield followed with a bunt single. Cesar Lopez loaded the bases with a single of his own. The runners moved up on a passed ball and Jordan Stubbings brought in Caulfield and advanced Lopez to third base with a bouncer to third. Emanuel Dean knocked in Lopez with a single to break the tie.
"It felt good to help the team," Dean said. "I was doing my part with (a runner) in scoring position."
Boeneke kept the lead intact with a three-up, three-down fourth inning. He sat Charlie Nasuti down after a fly to right, got Tommy Takayoshi to ground to second, and struck out Trevor Rosenberg swinging.
"I just tried to fill up the strike zone," Boeneke said. "I know our offense is pretty good. I just wanted to keep it (Port Angeles' score) to as little as possible and give us a chance to win."
Brock Ephan began the Walla Walla fourth inning with a single. Ephan moved to second on a passed ball, rumbled to third on a Brandon Wagstaff single, and crossed the plate on an infield knock by Cirillo.
Relief pitcher Ty Hueckman did his part to keep it a two-run game. He K'd Justin Fugitt and Rust to start the fifth inning. Groff then got a hold of a 2-1 pitch from Hueckman and drove it to straight-away center, only to have his bid for extra bases thwarted on a wide-receiver-like diving catch by Caulfield.
Port Angeles scored its final run in the seventh against the Sweets Nick Irwin. Groff hit into a 5-4 fielder's choice that plated Rosenberg – who led off the inning with a single.
Palmegiani started the eighth against Irwin with a walk. He was later erased when pinch-hitter Connor Denning lined into a 4-3 double play. Irwin retired the side on an infield fly.
Reid Sebby took the hill in the top of the ninth and started the inning in fine fashion by striking out Alexander Marco and getting Evan Hurn to ground to short. Nick Berry got on with an infield hit, went to second on an error and stole third before Sebby struck out Groff on a 1-2 breaking ball to end the game.
"This team has something in their hat every night," Walla Walla coach Larry Price said. "They don't get flustered no matter what the scoreboard says. They approach things very professionally.
"They have a lot of calmness and courage," Price said. "They have great mind sets. Courage is poise under pressure."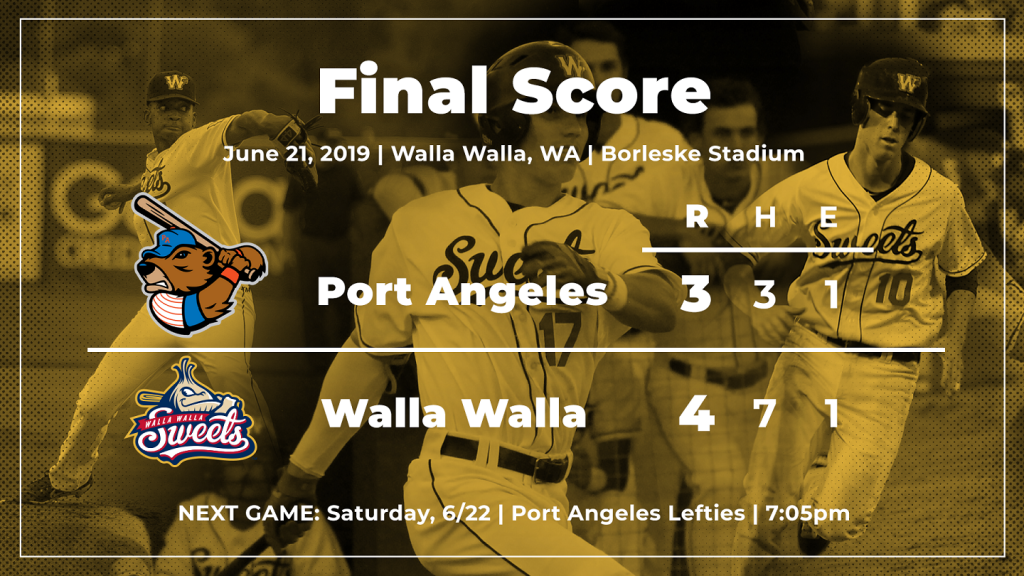 The Sweets and Lefties will face each other again on Saturday night in game 2 of the three game series. Game 2 is slated to start at 7:05 PM