The Sweets win it 3-1 off of a homerun from Carson Green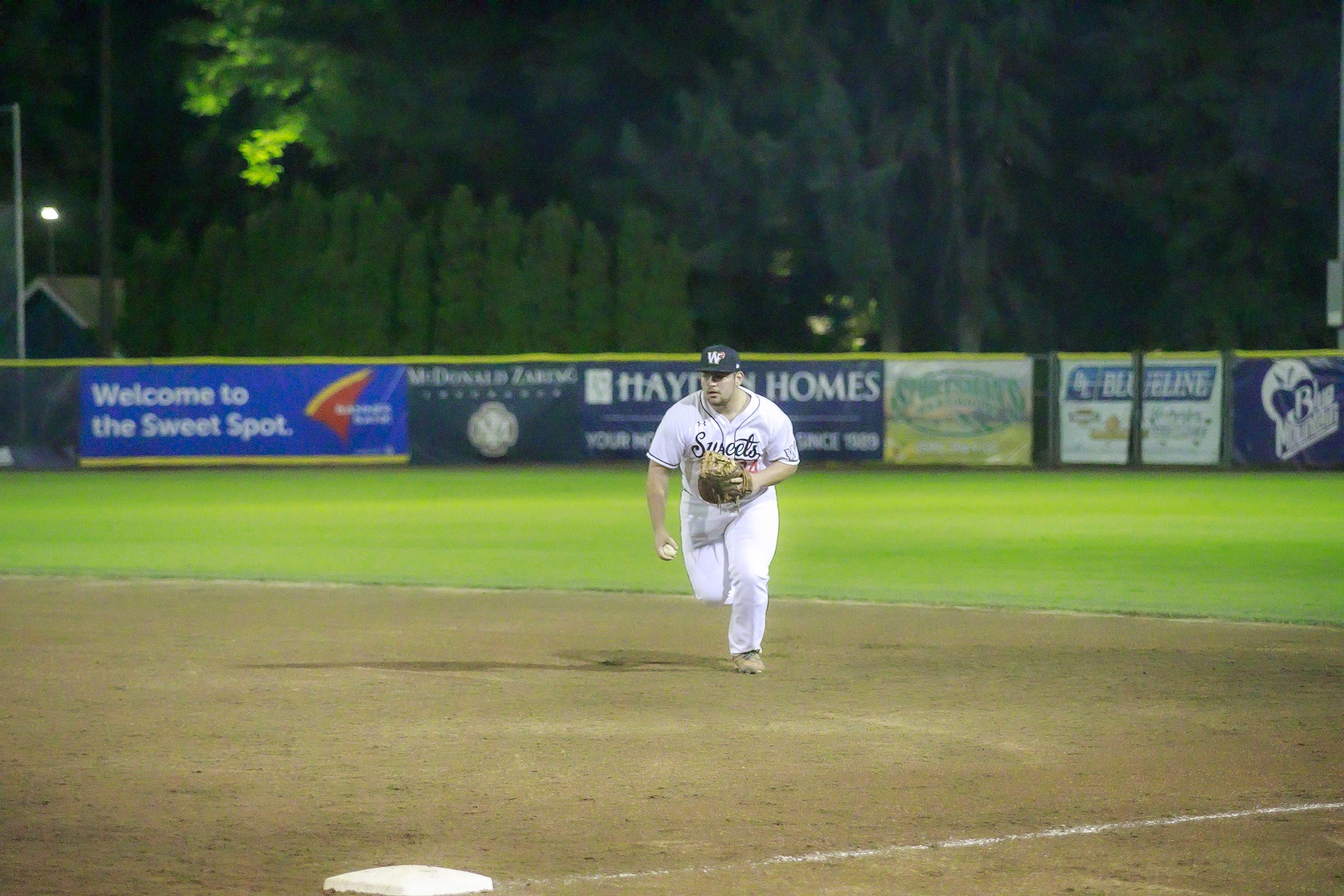 Leftfielder Carson Green belted a two-out, two-run home run in the top of the ninth inning Friday night to lift the undefeated Walla Walla Sweets to a 3-1 victory over the Wenatchee AppleSox in the opening game of a three-game West Coast League baseball series at breezy Paul Thomas Sr. Field.
Walla Walla improved to a franchise and WCL South Division-best 7-0 with Friday's triumph while the gallant and hard-luck AppleSox slipped to 3-7.
Designated hitter David Le Bioda reached base after being hit by a pitch with one out in the ninth. Connor Coballes replaced Le Bioda as a pinch runner, but was forced out at second base when Ben Johnson hit into a 6-4 fielder's choice. Mason Kokodynski entered for Johnson and, two pitches later, Green lifted a 1-0 pitch from Wenatchee reliever Logan Chase into the jet stream and over the right-field wall.
The AppleSox threatened in the bottom half of the final frame versus Reid Sebby. After a Brett Gillis strikeout, Kody Darcy walked and Dylan Ohlsen singled. But Sebby, the last of five pitchers utilized by manager Frank Mutz, assumed the role of bulldog and fanned both Quinn Ayers and pinch-hitter Blake Klassen looking to end the game. In all, Sweets pitchers Travis Craven (two innings), Landon Boeneke (two), Andrew Mosiello (three), Nick Irwin (one), and Sebby combined for 10 punchouts against a Wenatchee team that put up 22 runs in its previous two games – 14-7 and 8-3 victories over Port Angeles.
The Sweets, who managed just five hits on the night, tallied in the top of the first. Patrick Caulfield led off with a four-pitch walk against Wenatchee starting pitcher Gavin Gorrell, stole second, took third on a Cesar Lopez infield hit, and scored on a wild pitch.
Wenatchee equalized in the home half of inning four. Cole McKenzie led off by reaching base on an error, ran to second on a one-out single by Gillis, went to third on an infield hit by Darcy, and scored on a two-out single by Ayers. On the play, however, the AppleSox were denied the go-ahead run when Green cut down Gillis at the plate.
Gorrell (five innings) and fellow AppleSox hurler Sam Wyatt allowed just four hits over the first eight innings before the dramatic final stanza.
Both teams struggled throughout the game with runners in scoring position, going a combined 3-for-17.
Walla Walla, which took season series from Wenatchee four victories to two in both 2017 and 2018, improved the franchise record to 35-30 against the AppleSox.
Game two of the three-game series is Saturday night at 6:35. The final act of the weekend diamond theater is Sunday at 5:35.