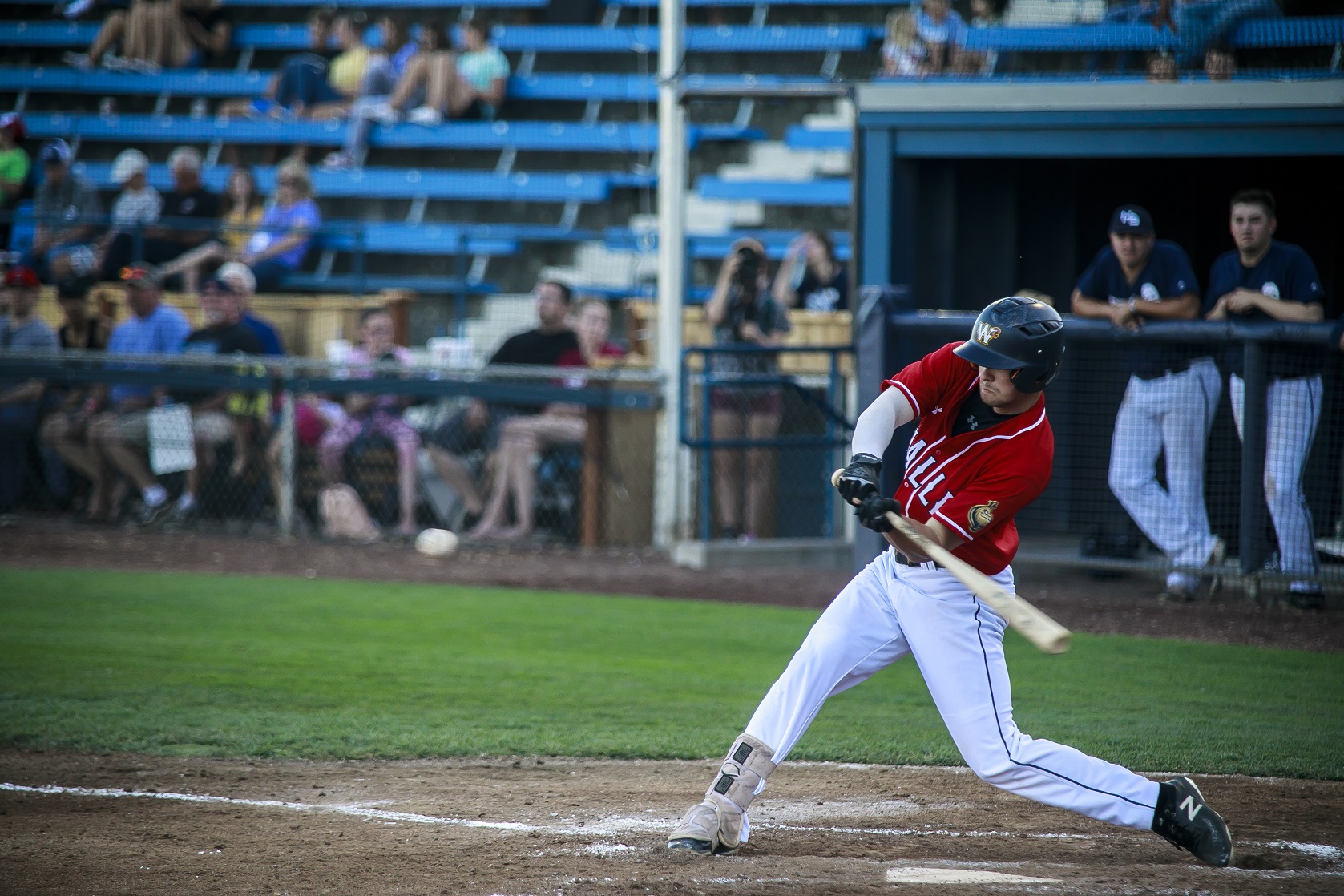 Opportunism was on full display Wednesday night when the Walla Walla Sweets closed out a season-opening, eight-game homestand with the finale of a two-game series with the Highline Bears of the Pacific International League at Borleske Stadium.
The West Coast League's Sweets managed just seven hits, but also drew seven walks and had an equal number of batters hit by a pitch in a 9-2 victory over the Bears.
After an uneventful first inning in which both teams had batters reach base,  Walla Walla broke through for a run in the home half of the second inning. With one out, catcher Tristan King was plunked by a delivery from Highline starting pitcher Matt Franceschina, moved to second base on a passed ball and, after a two-out walk was issued to Carson Green, scored on a looped single to right field by Mason Kokodynski.
The Bears threatened to equalized in the third. Tori Doten singled with one out and advanced to second on a passed ball. Cole Chambers delivered a two-out single to right, but Doten was cit down at home plate on a one-hop throw uncorked by Cesar Lopez.
Brandon Wagstaff kept the Sweets third alive when he was hit by a pitch with two out. He stole second and moved to third on a wild pitch before King sent him across the plate with a grounded single to left.
Lopez, who went 2-for-6 on the night, grounded a two-out RBI single to right-center in the fourth inning to grow Walla Walla's lead to 3-0.
Highline broke through in the sixth. Zach Spradlin led off with a walk, raced to second on a wild pitch, hit the next station on a one-out grounder to first by Kealen Martin, and tallied on a single Cole Trotignon.
The Sweets used three hit batsmen and two walks to plate five runs in the home half of the sixth. Runs three and four of the inning came about on a single to center off the bat of David Le Bioda. Wagstaff (HBP), King (BB), and Patrick Caulfield (BB) earned an RBI apiece in the inning.
Walla Walla's final run crossed in the eight inning. Green walked, negotiated to second on a wild pitch, maneuvered to third on a Caulfield infield grounder, and scored on a Highline error.
Six Sweets pitchers combined on a five-hitter and 11 strikeouts. Nathan Dahle, Ty Hueckman, and Charles Harrison threw two innings each while Wyatt Boone, Landon Boeneke, and Nick Irwin logged one frame apiece.
"We had some timely hitting and took advantage of their walks," Sweets coach Larry Price said. "They were erratic and we capitalized on it. We got a little flat with the walks and hit batters, but stayed focused on what we had to do."
Walla Walla ventures on the road this weekend for a three-game West Coast League series with the Wenatchee AppleSox. Games Friday and Saturday are scheduled for 6:35 and Sunday's contest is set for 5:05.