Chuck-a-ball Promotion Back for 2018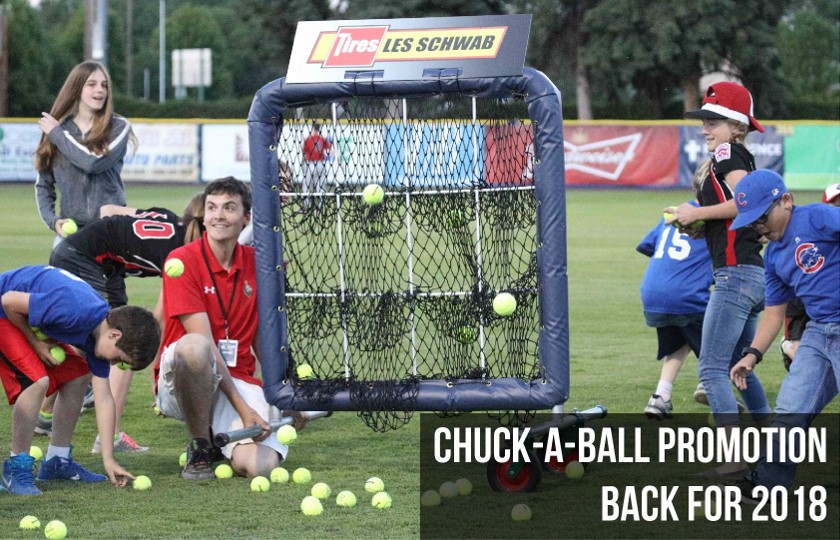 Walla Walla, Wash. – Over $10,000. That's a lot of money for good in the Walla Walla Valley.
That is the combined total amount raised since 2016 by area non-profits who have participated in the Walla Walla Sweets Chuck-A-Ball, presented by your local Les Schwab Tire Centers.
The good news? It's back for the 2018 season.
Fans will once again have the chance to purchase – and than "chuck" – a tennis ball through designated targets down the right field line for the chance to win great prizes while benefiting some of the many non-profits in the Walla Walla Valley that support youth development.
"We're proud of our long-standing relationship with our local Les Schwab Tire Centers to provide fun ways to engage with our fans and community," said Sweets president Zachary Fraser. "They jumped at the chance to tie their name to our launch of Chuck-A-Ball in 2016 because it aligned with their goals of not only marketing with the team, but engaging in improving our communities.
"We're excited that it's back for this season."
You've seen the spectacle on the field, the hats around the community – you may even be wondering how your non-profit can participate to help raise needed funds. Here are some FAQs to help answer those questions:
What is Chuck-a-ball?
Chuck-A-ball is an in-stadium fundraising opportunity for local non-profit organizations, organizations focused on youth, or local youth teams.
Who does Chuck-a-ball benefit?
The proceeds stay with the organization that is taking part in the fundraiser for that individual game.
How do I win prizes for Chuck-a-ball?
Sweets fans purchase numbered tennis balls during the game from said organization/team, and during the 6th inning come down to the field and try and throw them into targets. Whoever makes it into the net wins a prize! The prizes vary from smaller, immediate prizes available that night (such as the sweet caps) to larger opportunities such as Sweets Season tickets, gift certificates to Les Schwab, and other prizes.
Why should I get my organization involved with Chuck-a-ball?
Organizations are restricting fund availability for groups/non-profits, making it difficult to continue their programming. This leads to cut-backs of either staff, programs, or resources such as uniforms, trips to regionals/nationals, etc. The Chuck-a-Ball opportunity puts them right in front of a captive and supportive audience who are passionate about helping local organizations.
How do I get my organization involved with Chuck-a-ball?
Contact Sweets General Manager Dan Ferguson to coordinate your organization's ability to bring your group to the ballpark for the evening to raise money for your organization.
Dan Ferguson
509-522-2255
dan@wallawallasweets-com.securec43.ezhostingserver.com