Walk-On Outfielder Determined to Contribute to the Sweets' 2018 Season
Lopez brings talent and exceptional work ethic to Walla Walla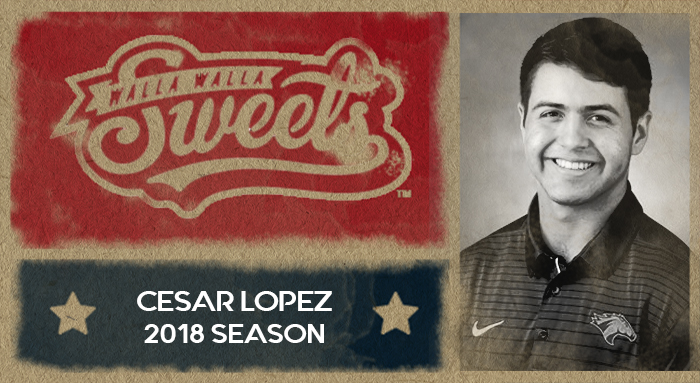 Walla Walla, Wash. – Everybody loves a good underdog story, a story about hard work, determination and dedication paying off. Such is the story of the Sweets latest signing of freshman walk-on Cesar Lopez (OF) from Cal Poly Pomona.
"I felt like it was a great opportunity and that I could contribute to the team," Lopez said of joining the Sweets. "It's the kind of experience where I can develop my game around some older guys, see what they do, how they go about their business and learn from them."
A native of Downey, California, Lopez went to St. John Bosco High School and was a solid player for the baseball team. He finished his senior season with a .304 batting average, 16 runs scored, 10 RBI and five doubles.
"It was a really good experience at Bosco, we had a really close-knit group," Lopez said. "My sophomore year we got a new head coach for the team, Don Barbara. He could get emotional at times, but you could tell he was passionate about the game. He was a great hitter when he played at Long Beach State, so he was just a great teacher to have."
Coming out of high school, Lopez drew very little interest from the baseball programs that he had eyed as potential suitors. He chose to attend Cal Poly Pomona primarily for the academics, but said he realized that the Broncos had a winning baseball team, a great program and he wanted to be a part of it.
Lopez talked with the coaching staff and attended the walk-on tryout that the team held this past fall. He said there were give or take around 20 players who participated in the tryout, and that out of those 20, Lopez was the only one selected to be a part of the Broncos baseball team.
"It was a little bit nerve wracking, but at some point, you just have to go for it," Lopez said. "I had to put a lot of work in, but the time and effort paid off. I was able to get a spot and an opportunity to get some playing time."
The opportunity for playing time was not always on the table, as the coaching staff had originally planned to redshirt Lopez. However, a last-minute change of heart gave the walk-on outfielder an opportunity to play in the opening series of the season against California State San Marco and he took full advantage.
Over the four-game series, Lopez went 5-for-14 with three runs scored and two walks. After that, the coaching staff felt like he had proven himself to be a more than capable player and Lopez was able to work his way into a starting role for the team. He started 46 games and finished the season with a .291 batting average, 25 runs, 26 RBI, nine doubles and three homeruns.
"Overall it was just a really great season and a good learning experience to have," Lopez said. "The game is a lot faster at this level because everybody is good. The coaching staff was great too, I learned a lot from them and they helped me out a lot when I was struggling a bit."
Sweets team president Zachary Fraser said he is pleased to add yet another quality player to the team's talented roster for the 2018 season, noting that the work ethic and determination Lopez displayed in earning a walk-on spot at Cal Poly Pomona is an invaluable asset to any team.
"We're excited to welcome Cesar to #SweetsCountry," Fraser said. "I am particularly impressed with his back-story, and our coaching staff – Raul especially – was very excited when he saw what he could do during games. Lopez will provide depth and versatility, and most importantly, an attitude of not settling that is important to clubs looking to win titles."