Sweets Add a Stingy Lefty to their Bullpen
Lefty specialist and closer helps to bolster Walla Walla's pitching staff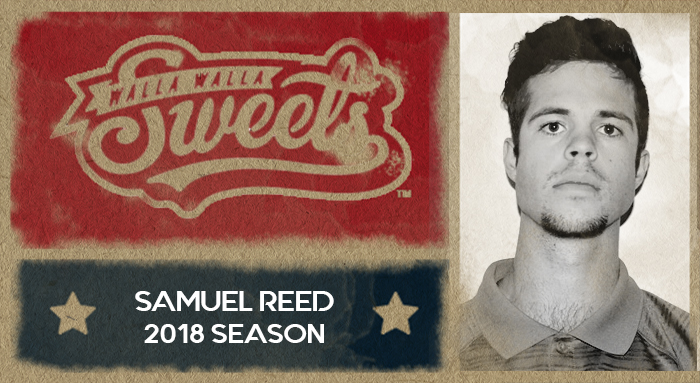 Walla Walla, Wash. – A team can never have enough capable lefties at their disposal out of the bullpen and the Sweets have added another for the 2018 season. Samuel Reed (LHP) from Concordia University Irvine will take to the mound this summer for Walla Walla.
"I'm just so excited for the fan base out in Walla Walla," Reed said. "Having an atmosphere, you can't beat it playing the game. It's all about the fans and having a good time with that. So I couldn't be more excited to come play in an intense environment of want-to-win baseball every single day in one of the best summer collegiate leagues in the nation."
A native of Denver, Colorado, Reed went to Thomas Jefferson High School where he was a standout player for the baseball team. He was a four-year varsity letterman, a three-time All-Denver Public Schools first team selection and was named to the All-Colorado second team his senior year in 2014.
"I went to an inner-city high school, so baseball wise I was pretty quick to make varsity in the freshman stages of things," Reed said. "I was just a leader out there. I developed some characteristics of a leader and it was really great overall."
The first two years of Reed's collegiate career were spent at the Colorado School of Mines where he began to hone his pitching ability out of the bullpen. He finished his sophomore season with a 1-0 record, one save and 23 strikeouts over 27.2 innings pitched.
"My freshman year, we were not a very good team, but my sophomore year we were one game away from winning the conference on the last day," Reed said. "It was very competitive baseball. For the most part in Colorado the ball flies, so it teaches you how to keep the ball down when you pitch – otherwise it's going over the fence."
Reed said he was drawn to Concordia Irvine because of the beautiful southern California weather. Despite having been lightly recruited by the school, Reed was able to convince them to sign him with a single bullpen session.
"Really it was being able to come down to southern California to play baseball; it's one of the best places to play baseball because it's perfect weather every day," Reed said of why he chose to play at CUI. "I didn't really meet many coaches prior to signing, it was just a connection I had. I set up a bullpen for me to throw in front of one of their assistants and they liked what they saw enough to pick me up for the year."
Having recently wrapped up his first year with the Eagles, Reed said he has enjoyed his time there and the role in which he has been used – as a closer and lefty specialist. He appeared in 18 games, earned three saves and racked up 24 strikeouts over 24.1 innings pitched.
"As a team, we are going to finish fourth or fifth out of our eleven-team conference, so as a whole we did okay, Reed said. "But my experience was great. I'm a bullpen guy and they used me for the most part as a lefty specialist and sometimes to close out ball games, as well. I love pitching out of the bullpen and they let me do what I like to do so it was a good deal."