Walla Walla Sweets Sign Two Talented California JUCO Players
Freshman pair to play important roles for the team this summer
Walla Walla, Wash. – The Sweets have added two talented California JUCO players to their roster. Matt Elser (Utility) and Adrian Chaidez (RHP) will be in action at Borleske Stadium for Walla Walla this summer.
"I feel that this will be a great opportunity to go up to Walla Walla for the summer, see what it is really about, travel with the guys, and just have a blast," Elser said. "I treat baseball as having a lot of fun. If you are not having fun, then why play? So, it is a really good opportunity for me."
"When coach Hutting told me about the opportunity and how great the league is, I could not say no," Chaidez said. "I had a couple teammates who played in the West Coast League last year and they said it was one of the best times of their life."
Elser is a native of Santa Clarita, California where he went to Hart High School and was a standout athlete. He finished his senior season with the baseball team hitting .354 with 16 runs scored, 17 RBI and six doubles.
"Looking back on those four years playing at Hart, it really helped me get ready for the future – college-wise and academic-wise," Elser said. "Playing for Jim Ozella, he really showed me how to be a student of the game and really pushed me to reach my goals."
A utility player who can play both catcher and outfield, Elser is now attending Los Angeles Mission College. He said he was drawn to the program because of the school's excellent academics and head coach Joe Cascione's approach to the game.
"Mission really stood out because of Coach Cascione and how he has the drive to make someone better as a person and a baseball player," Elser said. "Going through every-day practice, everything is always 120 percent and that's what I like. I don't take days off; I like to go through the game playing hard and working towards a goal."
Elser just finished his freshman campaign with LA Mission and appeared in all 40 of the team's games this season. He ended the year with a .284 batting average, 22 runs, 26 RBI, 12 doubles and two homeruns.
"Throughout the season, we had our ups and downs," Elser said, "but at the end you can look back and say, 'I had a really fun time and I learned a lot about the sport.' And we will push forward to next season."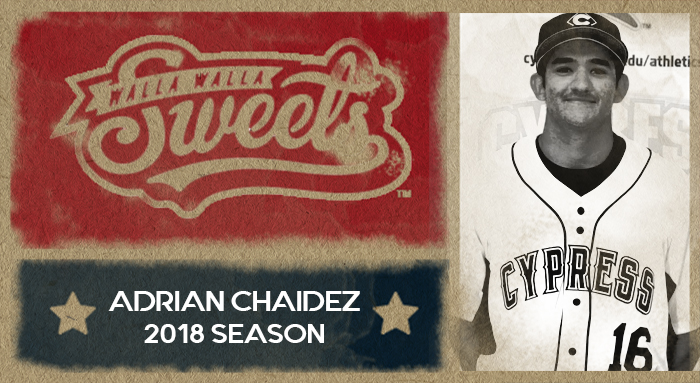 Chaidez is from South Gate, California and went to Warren High School where he excelled for the baseball team.
"I just had such a great time at Warren," Chaidez said. "Everyone there, we were all close. Our coach got on us when he had to, but everything else was laid back, our practices were great. I had a fun time … one of the best times of my life."
The right-handed hurler is currently enrolled at Cypress College. He said he chose to go there because of the school's reputation for developing players and getting them to the Division I level.
"They have such a good background of getting their players to the next level and that's what I wanted to do, get to the next level," Chaidez said. "They have a great coaching staff and that's all you can really ask for."
While he is a pitcher now, Chaidez was recruited as a two-way player after being primarily a catcher in high school and only pitching briefly his senior year. He said that when he got to Cypress they told him that he was going to pitch and the coaching staff helped him a great deal.
"It was a difficult transition because I had just started out and I am competing against guys who had been pitching their whole lives, so I was very far behind," Chaidez said. "I had to learn how to throw my curveball, changeup and cutter. It was difficult but it all paid off with the hard work with the coaches."
In his first collegiate season – his first full season of pitching, Chaidez made great strides throughout the year. He finished with 16 appearances and a 4.01 ERA with 25 strikeouts over 24.2 innings pitched.
"We had a pretty solid season; our baseball program is really solid," Chaidez said. "Most of our returning guys are freshman, so we are going to have an even better team next season."
Sweets head coach Frank Mutz had high praise for both Elser and Chaidez and feels because of his familiarity with both players that he knows these two will be very important to Walla Walla's success this summer.
"We are getting one of the top JUCO catchers in Southern California with Elser," Mutz said. "He is not only an outstanding receiver, he is very capable offensively and will be used as an outfielder and DH when he is not catching. Chaidez will be a welcome addition to our pitching staff this summer. He is a strike thrower who loves to compete and will be of our starters or long relievers."