Sweets Set to Host 2nd Annual Walla Walla Valley High School Showcase Game
Teams will compete to raise money for WWVYBS, raised nearly $5k last year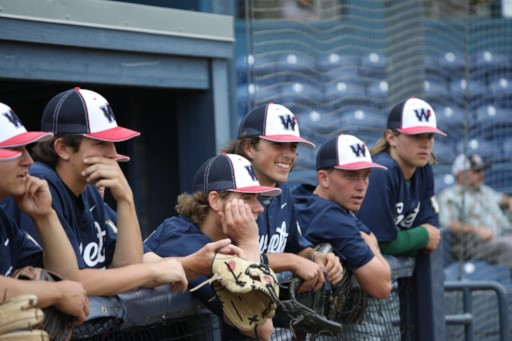 Walla Walla, Wash. – The most talented players in the Walla Walla Valley who have excelled in their high school career will once again have the chance to showcase their talent against the current stars of college baseball getting prepared for their West Coast League season. Walla Walla Valley Youth Baseball & Softball (WWVYBS) and the Walla Walla Sweets have come together again to produce the second annual showcase event for talented Valley-wide high school baseball players for the 2018 season. This event will be hosted at Borleske Stadium on Wednesday, May 30, 2018 with the event starting at 6:35 PM.

The collection of top high school performers will play against the Sweets in a modified showcase-style event. The game will accomplish three goals:

1. Raise funds for youth baseball and softball in the Walla Walla Valley – net proceeds (game revenues less operating expenses) will go to the WWVYBS non-profit organization. These funds are used by area youth teams and programs to fund operations, travel expenses, and other developmental needs associated with providing youth of all backgrounds a chance to play baseball and softball – last year we raised nearly $5,000.

2. Prepare the Sweets for the upcoming WCL season – following the example of Major League Baseball teams that play pre-season exhibitions against area college programs, this game will allow the Sweets coaching staff to evaluate players on the roster in the context of Borleske Stadium – the first time that the baseball operations staff will have a chance to see the team together before the WCL season starts

3. Prepare the Stadium staff for the upcoming season – each year, the Sweets hire more than 75 people for food and beverage and stadium jobs – and for many, it is there first job. With Opening Day 2018 on pace to draw 2,200 people, there isn't an event in town that can prepare the staff for crowds that size. This event will allow stadium operations managers and their staffs to be prepared for 45,000+ fans during the season in a real-time environment.

"After the tremendous success of this event last year, we are thrilled to once again partner with the Sweets in bringing this opportunity for local high school athletes to showcase their baseball skills while also raising funds to support American Legion Baseball, Babe Ruth Baseball, Blue Mountain Girls Softball and travel teams," said Rick Eskil, president of Walla Walla Valley Youth Baseball & Softball. "The Sweets do a great deal for our community and its youth programs and this is yet another example of that."

The roster for the showcase team will be selected by area high school coaches and will feature 15 players on the roster. Each player will wear customized hats and uniforms and will be given a personalized wood bat for the event. The game structure will be slightly different than a traditional baseball game, as showcase games include controlled pitch counts and other features that protect the health and welfare of players on both sides.

The showcase team will once again be managed by Sweets partner Jeff Cirillo. Jeff played 14 years in Major League Baseball, was a 2-time All-Star and played collegiate baseball at USC. He continues to coach amateur baseball in the Seattle area and is also a scout for the Los Angeles Angels.

"We are thrilled to be hosting this game again," said Sweets general manager Dan Ferguson. "It is a fun and unique platform to help develop and raise money for youth baseball talent in the Valley, and the ability to have a former MLB All-Star be able to work with the kids in our community is just a fantastic opportunity overall. We are looking forward to another memorable event and the chance to raise even more money this year for the youth programs affiliated."

How to get tickets for the public: Ticket commitments are available from teams associated with WWVYBS starting April 3rd. They will be selling the tickets to friends and family in the community. For information on how to acquire tickets from these teams, please contact WWYVSB Board member Mike Lemma (mlemma@charter.net). Tickets will be available at the Borleske Stadium Box Office on the day of the game, with the Box Office opening at 4:30 PM, and prior to the event online starting April 30th.

About Walla Walla Valley Youth Baseball & Softball:
Walla Walla Valley Youth Baseball & Softball was founded 34 years ago to raise funds for Babe Ruth Baseball and American Legion Baseball. Over the years, it expanded to provide funds for softball programs. In addition, WWVYB&S sponsors the Batter Up Program, which provides gloves and other equipment for baseball and softball players who cannot otherwise afford the necessary gear.