Walla Walla Sweets Swoop in and Sign Jordan Hovey of the Creighton Bluejays
Sweets add talented, experienced player from Creighton University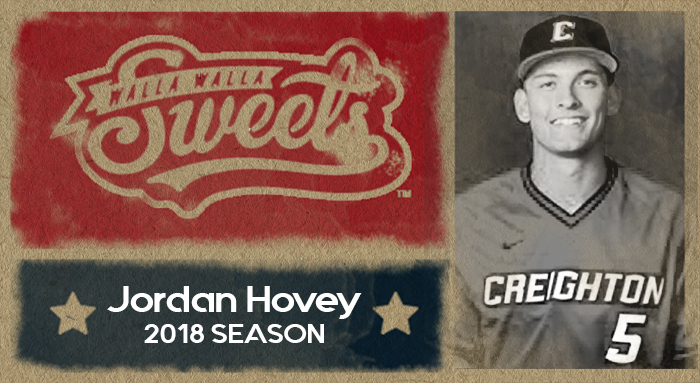 Walla Walla, Wash. – From the home of the College World Series to Borleske Stadium, the Sweets' newest signing represents the first Creighton player in Walla Walla team history. Junior Jordan Hovey (IF) will suit up and be on the diamond for the Sweets this summer.
"I've heard a lot about the Sweets," Hovey said. "He told me it's a great league and a great organization. I played in the Northwoods League the past two years and I wanted to get to a different part of the country and play in a competitive league. So, I thought it would be a great fit, and I'm lucky to have the opportunity."
Hovey is a native of Edwardsville, Illinois where he went to Edwardsville High School and had a great baseball career. His senior year in 2015, he finished the season with a .382 batting average, 32 RBI, 25 extra base hits, was named an All-American, and played in the Illinois All-Star Game.
"I went through some ups and downs in my time at Edwardsville, hitting around .200 my sophomore and junior seasons," Hovey said. "Then my senior year, I was finally able to put it all together and break through. That year, we finished 32-2 and were one of the highest ranked teams in the nation. So I take a lot of pride in having gone to school there and it really helped to prepare me for college baseball."
He played his first year of collegiate baseball with Missouri State but saw limited action, primarily as a pinch hitter. Hovey then transferred to Jefferson College and put up some gaudy numbers for the Vikings. He finished the season with a .335 batting average, 13 doubles, three triples, nine homeruns, 55 RBI, and a 1.066 OPS.
"I really enjoyed Missouri State, but I didn't play to the best of my abilities while there and felt like I needed to go somewhere else to get more playing time and just to play to get better," Hovey said. "So, it worked out in a way where I got to go to Jeff-Co and play for Coach Evers, which was awesome. It was just a really great experience for me [at Jefferson]."
Now attending Creighton University, Hovey said he chose to play there because of the tremendous opportunities he has both athletically and academically with the Bluejays.
"I went to Creighton because I felt like it would put me in a great position to develop, to become the best player I can be, and give me the chance to compete in an NCAA Regional," Hovey said. "Also, the education here is top of the line, so that was another factor. But yeah, the guys are all great, the coaches are awesome, so we're just trying to get better everyday and continue to become more disciplined and organized as a team."
Sweets owner and team president, Zachary Fraser, is ready to have Bluejays in a Sweets uniform and said he hopes to continue to develop a relationship with the Creighton baseball program and Coach Servais.
"We're excited about starting a relationship with Creighton," Fraser said. "Our success with Midwest programs gives us confidence that Bluejay players will be no different. With Hovey, we are getting a mature, developed player and we will count on his experience over the course of a challenging WCL schedule."