Sweets Add Three Versatile Players to Bolster Outfield and Pitching Staff
Experience and versatility abundant with the Sweets newest signings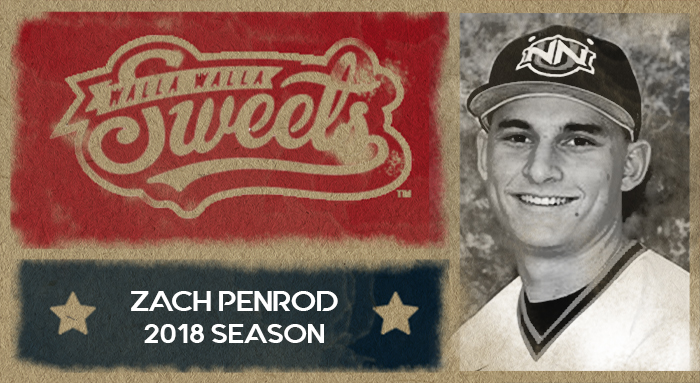 Walla Walla, Wash. – The Sweets have added three players who will help both in the field and on the mound. Sophomore Jeremy Polon (LHP/Moorpark College), junior Tyson Quolas (OF, LHP/Cal State Monterey Bay) and junior Zach Penrod (OF/Northwest Nazarene University) will be in action for the Walla Walla Sweets this summer.
"I've known coach Mutz since I was a freshman in high school," Polon said. "His high school came to play at my junior college earlier this fall in a tournament that we host and I was talking to him and he asked if I wanted to play for the Sweets and my answer was, 'Definitely!'"
"I wanted to join a really competitive league," Quolas said. "The contract was there and everything else fell into place and now I'm really excited to be in Walla Walla."
"Over the last couple years, I knew that the WCL was something that I wanted to be a part of," Penrod said. "When my coach texted me and told me I got a spot with the Walla Walla Sweets, I was super excited. It was like a dream come true to play at this level."
Polon grew up in West Hills, California and had a stellar career at El Camino Real Charter High School. He was a three-year letter winner for baseball and compiled a career record of 30-4 while striking out 224 batters in 210 innings.
He holds two of the five lowest season ERA's in El Camino Real Charter baseball history and helped lead the school to back-to-back Los Angeles City Division I Championships. Polon was a three-time first team Los Angeles City Section Division I selection, the 2015 City Section Division I Co-Player of the Year, two-time West Valley League Pitcher of the Year, and three-time first team West Valley League selection.
Polon played his first year of college ball at San Jose State University, appeared in 13 games, and finished the season with 10 strikeouts in seven innings of work. Last summer he played in the WCL with the Gresham Greywolves and had a 1-2 record with 17 strikeouts over 18 1/3 innings pitched. Having had the chance to play in Borleske Stadium, Polon said he was blown away by the overall experience.
"We showed up there I believe for a Friday, Saturday, Sunday series and all those days it was packed," he said. "The fans were awesome, the facility is beautiful, the playing surface is awesome, I was really impressed."
Now attending Moorpark College, Polon said he is enjoying his time with the baseball program and having campus be so close to home. The school's pitching coach, Tom Vessella, is a former professional baseball player who Polon said has a great approach to the game and has really helped him tremendously.
"Our pitching coach, he's been awesome," Polon said. "He has that pro-ball mentality to get in, get your work in, and then you go home. I like that feel to it; it doesn't have such a robotic feel. This is only my first year [with Moorpark], so I'm still new to the whole system here, but so far it's been a great time."
[vc_row][vc_column width="1/2″][vc_single_image image="2640″ img_size="full" alignment="center"][vc_column_text]Jeremy Polon (LHP)[/vc_column_text][/vc_column][vc_column width="1/2″][vc_single_image image="2636″ img_size="full" alignment="center"][vc_column_text]Tyson Quolas (OF, LHP)[/vc_column_text][/vc_column][/vc_row]
Quolas grew up in Oxnard, California and went to Oaks Christian High School where he had an exceptional baseball career. His senior year in 2014, he finished with a .407 batting average, 20 runs scored, 10 RBI and nine doubles. That year he was named to the MaxPreps All-State second team, All-Southern Section, first team All-Ventura County, first team All-CIF, and first team All-Tri Valley Conference.
Quolas played his first two years of college ball locally with Oxnard College and finished his stint there with a .257 batting average, 11 doubles and 31 RBI. On the mound for the Condors, he finished with a 1-1 record and a 2.81 ERA in 16 innings pitched. He was also honorable mention Western States North Conference in 2015 and second team in 2016.
"It was a big learning experience," Quolas said of his time at Oxnard College. "Steve Hernandez was my pitching coach and he taught me my changeup and I use that pitch a lot now. I'm glad I went to Oxnard and learned that pitch because it's good to rely on when your fastball is not doing too hot."
Quolas transferred to Cal State Monterey Bay in the fall of 2016 and utilized his redshirt season this past year. He said he has enjoyed the change of scenery and that the overall approach to the game by the coaching staff has been great.
"When I came to Cal State Monterey I was expecting something like Oxnard, but Coach White, he coaches a little more freestyle," said Quolas. "You have your own program and you stick to it and have to grind on your own. You go at your own pace, so if you're not feeling great one day you can lighten up your load, but most of the time we like to go out and get after it together and all do different things."
Penrod is a native of Nampa, Idaho, where he went to Columbia High School and was an outstanding athlete. He was a three-year varsity letter winner in baseball and was named as a first team All-Conference outfielder all three years.
Penrod spent his first two years playing collegiately for Corban University. He started 59 games and finished with a .273 batting average, 2 homeruns, 14 doubles, and 17 stolen bases. On the mound for Corban, he appeared in nine games and finished with a 2.03 ERA.
"When I went on my visit to Corban, I just really felt at home," Penrod said. "I really enjoyed the Christian small school aspect. On the baseball side of things, I made a lot of really great relationships with the team. We really bonded my freshman year."
Penrod transferred to Northwest Nazarene University this past fall, which is just a short drive from his hometown of Nampa. He said he was drawn to play for the Nighthawks because of head coach Rocke Musgraves' approach to the game of baseball.
"I really enjoyed the outlook [Musgraves] has on the game," Penrod said. "I felt like it was something I could really get involved in. I'm also looking forward to playing a little closer to home, so my family could come see me more often."
All three talented upperclassmen made a note to mention their excitement to get the chance to play in front of the tremendous Sweets fan base at Borleske Stadium and that they look forward to winning a lot of games this summer.
"Playing there last year and seeing the whole atmosphere really turned me on to the team and how they went about things," Polon said. "I saw how great the fans are, and it's a very talented team, they always get a really good group of guys together every summer."
"I'm looking forward to meeting great players from all across the country because you just don't know who you're going to meet and end up being really close friends with," Quolas said.
"I'm excited to play in a place that I've never been before," Penrod said. "I also understand there's quite a big crowd turnout. I love to play in front of people, it's just something I really enjoy doing so I'm excited for the chance to do it with the Sweets."