Sweets Alum Mark Contreras Called Up by the Minnesota Twins
Contreras is the third former Sweet to debut in 2022; 10th overall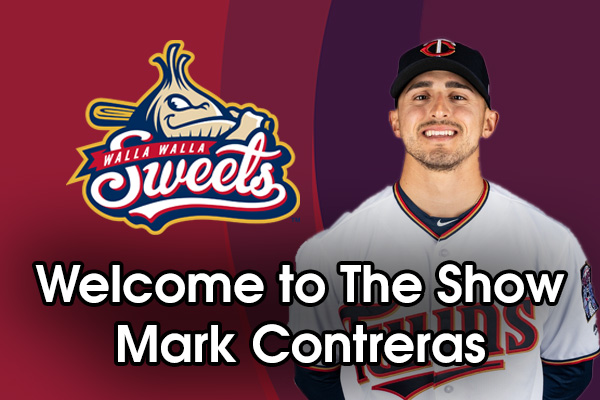 WALLA WALLA, WA – The tenth former Walla Walla Sweet has made it to the big leagues.
Outfielder Mark Contreras got the call this past Tuesday, May 10 by the Minnesota Twins.  Contreras is the third former Sweet to make it to the major league level in 2022, preceded by 2014 Walla Walla teammate Cooper Hummel and 2017 alum Vinny Capra.
Contreras, who attended the University of California Riverside, was selected in the ninth round (256th overall) by the Twins in the 2017 MLB Draft.  He has spent five seasons in the Minnesota farm system prior to his big league call up.
In 2014 with the Sweets, Contreras appeared in 22 games and collected 16 hits, with two doubles, two triples, and a home run.  He also added eight RBI and nine stolen bases on the season.
Contreras, who was an infielder during his time in Walla Walla, follows former Sweets alums Matt Hall, Taylor Jones, Eric Yardley, Cody Poteet, Jay Flaa, Jarren Duran, Justin Bruihl, Hummel, and Capra to make it to the major leagues.
Contreras made his big league debut on Wednesday, May 11 against the Houston Astros in Minnesota as a defensive replacement for Twins centerfielder Byron Buxton in the 4th inning of the game.  He later collected his first major league RBI on a sacrifice fly in the 5th inning of the same game.