Weekend Wrap Up – March Edition
Catching Up With Past and Current Sweets Players in College Baseball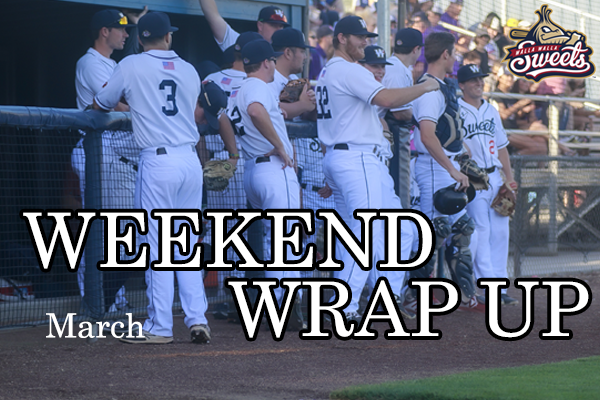 Hey Sweets fans, it's been a while.  
Welcome to a late edition of the Weekend Wrap Up for March!  We've got you covered on all things Sweets, past and present, across the college baseball landscape.
So without further ado, here is who stood out in March (and early April!) in this edition of the wrap up.
Leo Rivera, So Hot Right Now
On fire, en fuego, however you want to say, Leo Rivera is just that right now at the plate.
The incoming Sweet and Whitman College shortstop had a March to remember.  After batting just .158 through the month of February, Rivera has since gone 29 for 80 at the dish for a .363 average over his last 19 games. He also has two homers, seven doubles, two triples, and 19 runs batted in during that time span.
Rivera has also had a flair for the dramatic, delivering in clutch situations for the Blues when they've needed it most.  Against Willamette on March 26, he provided the game winning single to walk off the Bearcats for a 7-6 comeback win.
He provided more heroics this past weekend against in-conference opponent Pacific Lutheran, delivering a walk off two run home run to win the game and clinch the series win for Whitman.  
Rivera and the Blues finish off regular season play in their conference this weekend on the road at University of Puget Sound with a chance to clinch a berth in the Northwest conference tournament
Get Out the Mustard and Rye Bread, Grandma!
The late, great Dave Neihaus would have enjoyed watching Will Fuenning play this past weekend.
Quite simply put, Fuenning put on a show during West Texas A&M's series against Angelo State.  In four games, the incoming Sweets outfielder was 7 for 13 at the plate, driving in 12 runs with one double and four home runs.
Of those four home runs, two were grand slams for Fuenning (yes, TWO grand slams!). 
Fuenning's second grand slam proved to be the eventual game winning hit.  His feat was so…grand…that it left the broadcast booth almost at a loss for words.
The Aggies would win the game 7-3 as they took three of four games on the weekend from the Rams.
Fuenning continues his stellar season, where he is batting .362 with seven home runs, 10 doubles, two triples, and 45 runs batted in for West Texas A&M, who now sit 30-7 on the season.
Richards Among The Best In NWAC
Coby Richards is putting together a very impressive 2022 spring season.
The Yakima Valley College freshman has been the steady hand for the Yaks all year on the mound.  The right hander is 4-0 in seven starts in conference play, striking out 32 batters in 42 ⅓ innings of work and posting an outstanding 1.70 ERA.
His most impressive outing came in a March game against Southwest Oregon, where Richards went six innings, striking out nine while allowing just one run on two hits.  The performance helped Yakima to a 6-2 win on the day.
Richard's 1.70 ERA currently ranks fifth in the Northwest Athletic Conference among eligible pitchers.  He is also ranked in the top 10 in the conference in walks, allowing just eight free passes in conference play.
Richards is solidified as one of the top arms in the rotation for the Yaks, who currently sit at 17-11 on the year.  Conference play continues this week against Walla Walla Community College, where Sweets fans have the chance to see the incoming Sweet on Saturday when Yakima visits the Warriors for a double header on Saturday, April 16.
Around The Diamond
Sweets alum

Nate Dahle

is having a strong first season with the BYU Cougars.  The right hander hasn't allowed an earned run in his last six outings, striking out 15 batters in 8 ⅔ innings of work in that span.
Cal Poly Pomona outfielder

Cesar Lopez

recently picked up Collegiate Baseball National Players of the Week during the week of March 21.  The former Sweet went 10 for 15 at the plate, with seven doubles, 12 RBI and five runs during the four game series against Cal State East Bay.
Sweets alum Zac Berryman continues his great season at Central Washington.  The junior utility man sports a .351 batting average for the Wildcats, including a season high five RBI in a 28-3 win against Montana State Billings on March 31.
College of Idaho right hander Dimick Wood stuck out a season high 10 batters against Bushnell in a 4-3 win for the Yotes.  The former Sweet has a 5-3 record in 12 starts this season.
2019 Sweets alum Caleb Farmer is currently batting .430 for Colorado Mesa this season.  The senior infielder recently posted season highs in hits (4) and runs scored (4) in an 11-2 win against MSU Denver on April 9.
Not to be outdone, Farmer's teammate Jordan Stubbings, who is also a 2019 Sweets alum, is batting .326 on the season with four homers and 23 RBI in 27 games this season.
Former Sweet Connor Coballes has become a regular in the starting lineup for the Gonzaga Bulldogs.  The junior infielder is batting an even .300 with 15 RBI in 28 games this spring.
Lewis-Clark State College right hander Trent Sellers threw a complete game, one hit shutout against Corban College on April 1.  The Sweets alum struck out 14 batters in a 4-0 win for the Warriors.
Sweets alum Patrick Caulfield is currently hitting .364 on the season for the Nevada Wolfpack.  The senior outfielder also has 14 stolen bases in 30 games so far this year.
Pepperdine right hander Brandon Llewellyn had his best outing of the year on March 18 against San Diego.  The 2021 Sweets alum went eight innings of shutout ball, giving up just six hits and striking out four in a 3-0 for the Waves.
Carson Green had a season high five RBI for Montana State Billings on March 26 in a 11-6 win against Northwest Nazarene.  The 2019 Sweets alum is currently batting .324 on the year for the Yellow Jackets in 36 games.
Incoming Sweet

Julian Alvarez

is currently batting .328 for Riverside City College.  The freshman outfielder also has 30 RBI and 18 stolen bases in 31 games this spring
Freshman outfielder Joey Craig is off to an impressive start for Glendale Community College.  The incoming Sweet is hitting .427 with five home runs and 22 RBI on the season, including 15 stolen bases.