Weekend Wrap Up – February Edition
Catching Up with Past and Current Sweets Players in College Baseball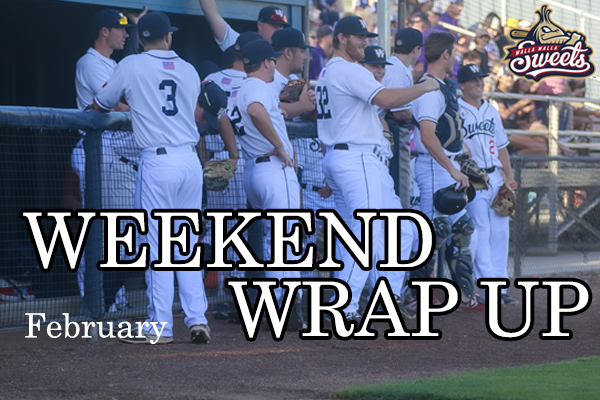 College baseball is back!
This past month, college baseball programs across the country officially started their 2022 seasons.  With that, 50 former Walla Walla Sweets players were on opening day rosters, along with 15 players who will be joining the Sweets this upcoming summer.
Who stood out in February among the bunch?  Find out below in the first edition of this years wrap up.
Martinez Comes Out Firing
Talk about making a good first impression.
2019 Sweets alum and Oklahoma Sooners left hander Chazz Martinez could not have started any better this season.  The redshirt sophomore has begun his 2022 campaign on fire, pitching 11 ⅔ innings in two starts, striking out 19 hitters while only giving up one walk and surrendering just one unearned run.
Martinez is 1-0 on the young season for the Sooners.
His best outing came this past Sunday against Northwestern State.  Martinez went seven innings, allowing just three hits and one walk while striking out an astounding 14 batters!
The southpaw will look to continue his hot start to the season this Friday, when the Sooners take on the LSU Tigers at Minute Maid Park, home of the Houston Astros.
Farmer Shines In February
Continuing the trend with 2019 Sweets alumni..
Former Sweets infielder Caleb Farmer is having a dream start to his senior season.  Through 12 games, the power hitting righty from San Jacinto, California is batting .438, with seven homers, four doubles, two triples, and 21 runs batted in.  He has started all 12 games for Colorado Mesa, helping them to a 9-3 record to start the year.
His best game arguably came in the season opener at Azusa Pacific.  Farmer went three for four, with two home runs and six runs batted in, including a grand slam in the seventh inning.  His big day helped the Mavericks destroy Azusa Pacific 28-4, and eventually sweep the four game series.
Colorado Mesa resumes action this Friday, March 4 at home against Adams State University to open up conference play.
Price Paves the Way
Northwest Nazarene infielder and former Sweet Parker Price is starting to heat up.
The senior, a member of the 2019 and 2021 Walla Walla Sweets teams, is leading the way for the Nighthawks at the plate.  The Boise, Idaho native has steadily improved each game to start the 2022 campaign, finishing the month with a .333 batting average, two home runs, eight doubles, 17 RBIs, and six walks.
His best stretch of games came against the College of Idaho in a four game series, where Price went 7-17 at the plate, with two doubles, nine RBIs, and scored four runs.  His efforts helped the Nighthawks sweep the Yotes in all four games on the weekend.
NNU, who sit 8-8 on the year, open up conference play in the GNAC this Friday at Central Washington in Ellensburg.
Across The Diamond
2021 Sweets alum Evan Harmon finished the month of February with 5 appearances, going 7 ⅓ innings and striking out 12 and sporting a 2.45 ERA.
In two starts, 2021 Sweets alum Jacob Dahlstrom is 1-1 in eight innings of work.  The right hander from Bellevue College has a 2.25 ERA on the year, with 13 strikeouts.
Central Washington left hander Brayde Hirai is back on the mound this year after recovering from Tommy John surgery in 2021.  In four innings of work, the former Sweet has allowed just three hits and one run while striking out three, and has recorded a save in his return this season.
Also with Central Washington, Sweets alum Zac Berryman is batting .308 in 15 games played, with two doubles and two home runs and 10 runs batted in for the Wildcats.
Right hander Trent Sellers is 4-0 to start the 2022 season.  The Sweets alum also has notched a save in his 27 ⅔ innings of work for Lewis-Clark State College, striking out 33 batters against just seven walks and posting a season ERA of 0.98
Staying with LCSC, 2019 alum Bryson Spagnuolo has had a solid start to his junior year.  He is 2-0 with a save in four appearances, striking out eight and walking just one in eight innings of work.
Mason Kokodynski has been solid in relief for Loyola Marymount to start the season.  The junior right hander sports a 1.35 ERA in three relief appearances, with seven strikeouts in 6 ⅔ innings.
Montana State Billings junior infielder Carson Green appeared in 14 games for the Yellow Jackets in February.  The 2019 Sweets alum is batting .275 with three doubles, three triples, a home run, and 10 RBIs.  Green also has two stolen bases on the young season.
Former West Coast League Pitcher of the Week winner Brandon Llewellyn is off to a good start with Pepperdine in 2022.  The right hander has struck out seven hitters in 11 ⅔ innings of work, with a 2.31 ERA in two starts.
2021 Sweets alum Seth Ryberg is now batting .319 on the young season for Point Loma Nazarene.   The sophomore infielder has 10 RBIs, two doubles, and a home run to his name in 14 games this spring.
Former Sweets outfielder Pat Caulfield is now at the University of Nevada, Reno for the 2022 campaign.  The senior is batting .280 with three runs scored and two RBIs in seven games played.
2021 First Team All-WCL member Caden Kaelber has not allowed a run in his 4 ⅓ innings of work on the season.  The lanky right hander has a save and two strikeouts on the season, giving up just one to start the year.
Incoming Sweet and Yakima Valley College right hander Coby Richards impressed in his first start of the season.  The freshman went seven innings in a winning effort this past Sunday, striking out seven and allowing just two hits in the Yaks 8-1 win over Clark.
Infielder Derek Gellos has started his 2022 season off strong as well.  The incoming Sweet and Seattle University sophomore is batting .379 in seven games this season for the Redhawks, with three RBIs.