Sweets Announce 2022 Season Schedule
Sweets 12th season starts on the road; home opener June 10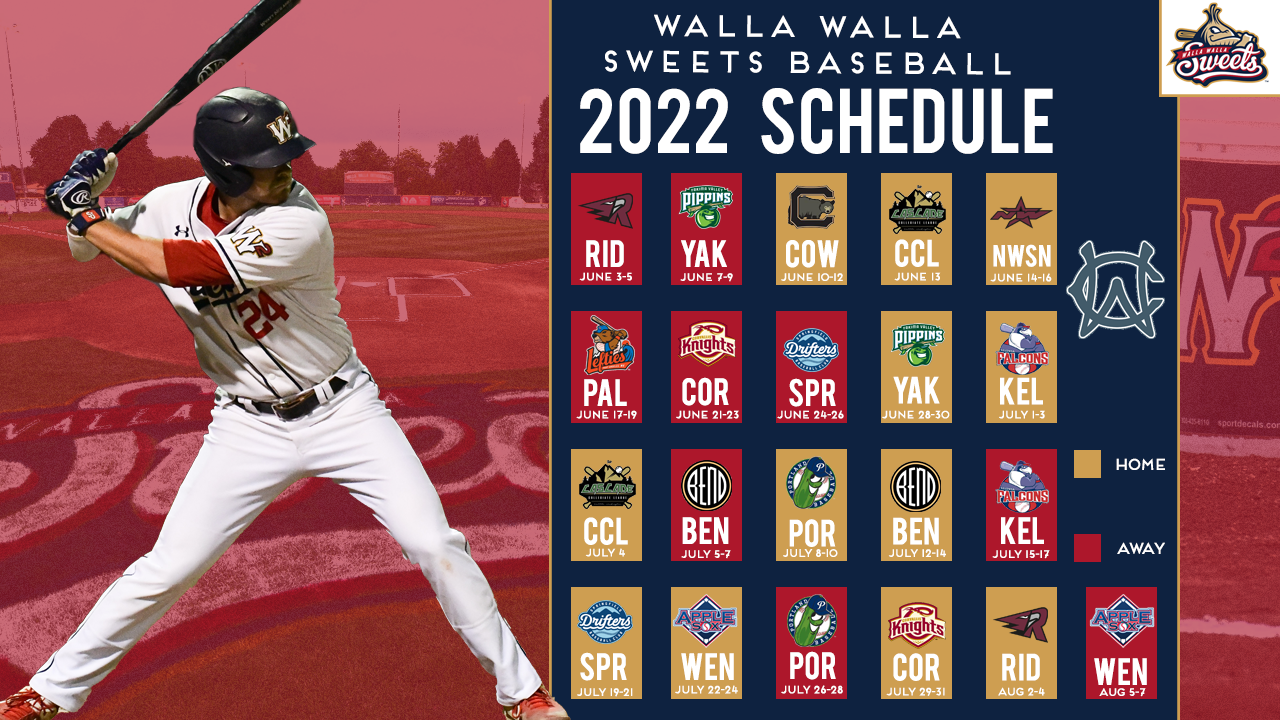 WALLA WALLA, Wash. —  The Sweets return to Borleske Stadium on Friday, June 10 for the 2022 home opener.
This morning, the West Coast League announced the full schedule for the 2022 summer season.  The league will consist of 16 teams next year with the addition of the Springfield Drifters, and the return of the league's five Canadian teams who had to pull out of the 2021 season due to COVID-19.
The Sweets start the season with road trips to Ridgefield and Yakima Valley before their home opener against the Cowlitz Black Bears on Friday, June 10.
Walla Walla will have 32 home games in the 2022 regular season, consisting of 27 league games and five non-league games.  The Sweets will play 10 home games in June, 19 in July, and three in August.  The season finale is scheduled for Thursday, August 4 against Ridgefield.
A full promotional schedule with finalized game times will be released at a later date.  Season tickets, mini plans, and group packages are currently on sale at the Sweets downtown office, or by calling 509-522-2255.
—–
A full list of the 2022 Schedule
(Home Games in BOLD)
June 3-5: Ridgefield Raptors
June 7-9: Yakima Valley Pippins
June 10-12: Cowlitz Black Bears
June 13: Cascade Collegiate League
June 14-16: Northwest Star NightHawks
June 17-19: Port Angeles Lefties
June 21-23: Corvallis Knights
June 24-26: Springfield Drifters
June 28-30: Yakima Valley Pippins
July 1-3: Kelowna Falcons
July 4: Cascade Collegiate League
July 5-7: Bend Elks
July 8-10: Portland Pickles
July 12-14: Bend Elks
July 15-17: Kelowna Falcons
July 19-21: Springfield Drifters
July 22-24: Wenatchee AppleSox
July 26-28: Portland Pickles
July 29-31: Corvallis Knights
August 2-4: Ridgefield Raptors
August 5-7: Wenatchee AppleSox