Sweets Announce Brandon Van Horn as Manager
Current New Mexico State Assistant Coach and former minor leaguer to lead the Sweets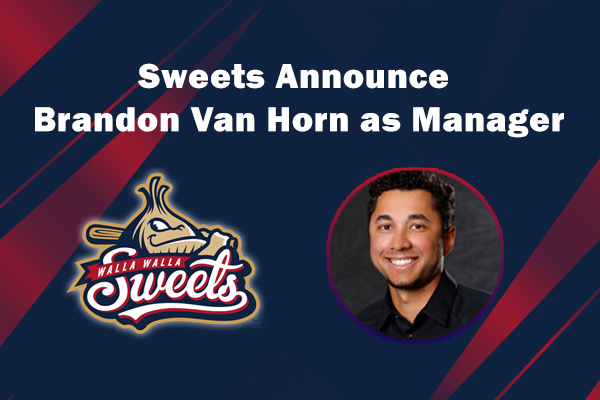 WALLA WALLA, Wash. — Brandon Van Horn, a former San Francisco Giants minor league player, will become the new manager of the Walla Walla Sweets.
"It is a huge honor to lead the Sweets for the upcoming summer.  This is such an exciting time for my wife and I," said Van Horn. "I am extremely grateful to the Sweets for giving me this opportunity to lead the team in 2022."
Sweets general manager Cody Miller is looking forward to having Van Horn as part of the Walla Walla community and is excited about what Van Horn will bring to the field next summer.
"His experience in the minor leagues is something that will be a huge asset for our players," Miller said. "Understanding what it takes every day to prepare, improve, and compete to get to the next level is exactly what the Sweets want to provide our players each summer."
Van Horn, a native of Tujunga, California, will become the fourth manager of the Sweets. He succeeds interim manager Larry Price, who helmed the team in 2021.
"Larry stepped in just a few months before we took the field last summer, and represented the Sweets and the community very well," Miller said. "As an assistant coach in 2019 and head coach in 2021, Larry always put the players and the community first."
Van Horn comes to Walla Walla with more than four years of playing minor league baseball in the Giants organization. After San Francisco drafted him in the 19th round in 2016, Van Horn reached as high as Triple A in the minors.
After his playing career, Van Horn spent a summer in the Competitors Collegiate League as manager of one of four teams during the shortened 2020 season due to the COVID-19 pandemic. In November 2020, Van Horn became a member of the New Mexico State baseball coaching staff as an assistant.  He is starting his second season with the Aggies as they prepare for the 2022 college spring season.
Van Horn is excited about working on the Sweets' roster for next season.
"I am looking forward to building a culture of player development and winning ball games that the community of Walla Walla will be proud of," he said.
"I can't wait to spend summer nights out on a ballfield with the rest of the Sweets family and can't wait to get going," Van Horn added.
Season tickets are on sale now for the 2022 Sweets season.  Call 509-522-BALL or visit the downtown store at 109 E. Main Street for details.