Opening Weekend Single Game Tickets Go on Sale May 24
Ticketing and concessions procedures also announced for 2021 Season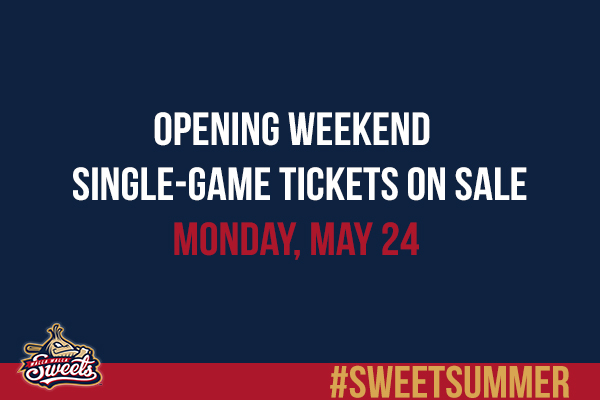 WALLA WALLA, WA – Walla Walla Sweets single game tickets for the  opening home series against the Port Angeles Lefties will go on sale Monday, May 24.
Due to restrictions put in place by the state of Washington's governors office for COVID-19 safety protocols, Borleske stadium will be at 25% fan capacity to start the season.  As a result, 550 tickets will be made available per game for fans and spectators.
"Under phase 3 guidelines, we will have to start the season with a limited seating capacity," said Sweets general manager Cody Miller.  "Our hope is that restrictions will ease as the summer goes along and we can allow more fans into Borleske at some point this season."
Tickets will be made available online at SweetsTickets.com beginning at 10am on Monday, May 24.  Tickets will also be able to be purchased over the phone at 509-522-2255, or at the Sweets downtown store at 109 E. Main Street in Walla Walla.
Due to social distancing protocols, all available seats will be available in pods of 2, 4, and 6 seats.  Ticket buyers must purchase all tickets in a pod when selecting their seats.
With such a limited number of seats available, Miller suggests buying seats early.
"I don't anticipate many tickets being available If you wait too long," he said.  "With such a limited number of seats available, games could get sold out faster than some might anticipate."
Miller also said that season ticket holders, host families, and voucher plan buyers would be given first priority for their seats.
Borleske Stadium will be a cashless facility to start the season for all concession and merchandise purchases.
"We're trying to eliminate as many situations as possible for transmission," said Miller.  "Many other baseball facilities across the state have done the same."
Miller also added that some concession stands will not open to begin the season due to the limited fan capacity.  The Sweets are currently looking at options for offering mobile ordering and pickup for concession orders.
Tickets for future games after opening weekend will be released at a later date.
The Sweets continue to look for host families for the 2021 season.  Those interested are strongly encouraged to apply at wallawallasweets.com/host-families/  or call 509-522-2255.