Sweets unveil revised 2021 schedule, add three additional home games
Walla Walla will now have 35 games at Borleske this summer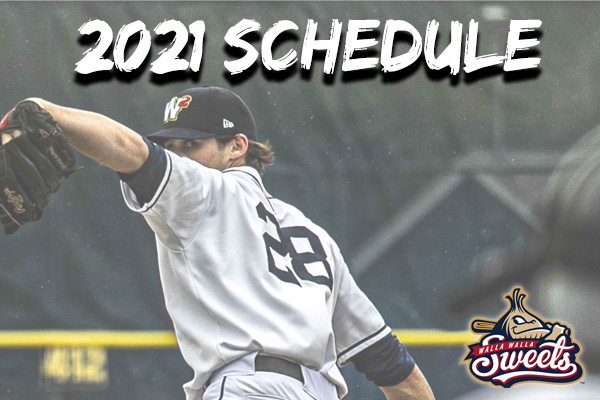 Walla Walla, WA – A new schedule is here for the 2021 season.
On the heels of Thursday's announcement from the West Coast League of a revised schedule coming for 2021, the Walla Walla Sweets released their new slate of games for the summer.  The schedule change comes with a separated U.S. and Canadian schedules for this summer due to the travel issues with the U.S.-Canadian border caused by the ongoing COVID-19 pandemic.
The Sweets will keep their original 32 home dates, while also adding an additional three home games in June. (CLICK HERE for printable schedule).
"Keeping our current home dates and adding three additional games is a great outcome for us and our fans," said Sweets general manager Cody Miller.  "Providing as many opportunities as possible for our fans to come out to Borleske Stadium this summer to watch Sweets baseball is a big thing for us after missing all of last summer."
While the home dates were kept the same, the Sweets opponents did shuffle for several series.  Originally slated to have their home opener against the Corvallis Knights, Walla Walla will now host the Port Angeles Lefties for their first three game home series.  The Sweets' three additional home games come on June 22-24 against non-league opponent CCL All-Stars.
The changes will now have the Sweets at home for 23 of 26 games during a stretch from Friday, June 11 to Sunday, July 11.  Walla Walla will conclude its regular season on Thursday, August 12 at home against the Ridgefield Raptors.
Under the current statewide guidelines, outdoor venues are permitted to operate at 25% fan capacity or 9,000 fans, whichever is fewer.  Borleske Stadium has a capacity of 2,200, which under the current guidelines would mean 550 fans a night.
Miller doesn't believe that will be the case for the entire 2021 season.
"It's a fluid situation," he said.  "Working with our local county health officials, we understand that these guidelines could change at any time before the season starts.  We don't anticipate the restrictions to be in place all summer long, but we have to be ready for any changes that come our way this year."
The capacity limits will have an impact on the number of tickets available for purchase, says Miller.
"It's going to be limited to start," he said.
Fans who have already purchased voucher plans will be given priority to pick their games they would like to attend before single game tickets go on sale.
Season tickets and mini-plans are now on sale for the season.  Single game tickets will go on sale later this spring.  Call 509-522-BALL for more information.
The Sweets are also continuing to look for host families for the season.  As an added benefit, host families receive season tickets for the season.
The Sweets' revised schedule for this summer (home games in bold)
June 4,5,6: Cowlitz Black Bears
June 8,9,10: Wenatchee AppleSox
June 11,12,13: Port Angeles Lefties
June 15,16,17: Corvallis Knights
June 18,19,20: Highline Bears
June 22,23,24: CCL All-Stars
June 25,26,27: Yakima Valley Pippins
June 29,30: Cowlitz Black Bears
July 1: Cowlitz Black Bears
July 2,3: Northwest Star NightHawks
July 5,6,7: Yakima Valley Pippins
July 9,10,11: Portland Pickles
July 13,14,15: Portland Pickles
July 16,17,18: Port Angeles Lefties
July 20,21,22: Wenatchee AppleSox
July 23,24,25: Bend Elks
July 27,28,29: Corvallis Knights
July 30,31: Ridgefield Raptors
August 1: Ridgefield Raptors
August 3,4,5: Bend Elks
August 6: CCL All-Stars
August 7,8: Highline Bears
August 10,11,12: Ridgefield Raptors