College Baseball Weekend Wrap Up: Week Four
A look around the college baseball world of current and former Sweets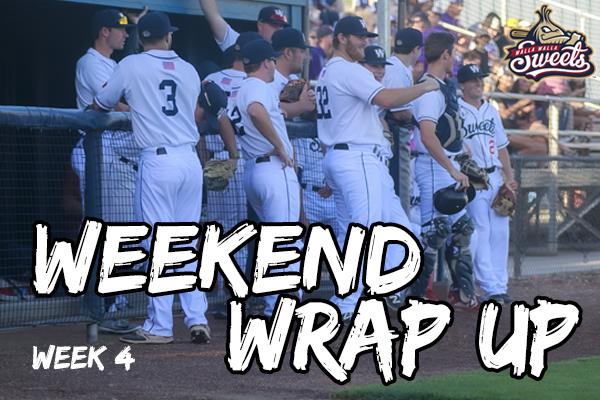 While college basketball's March Madness is set to begin later this week in Indiana, college baseball's regular season rolls on for teams all across the country.  It was an impressive showing for several former and current Sweets pitchers this week on the mound after taking a back seat last week to the hitters strong performance.
So take a timeout from filling out your bracket and check in with this week's edition of the Wrap Up.
Wood You Look at That
Dimick Wood was on his game Saturday.
The junior right hander and 2018 Sweets alum was fantastic in his outing for the College of Idaho against Oregon Tech.  Wood would go 7 innings and allow just 1 run on 4 hits while striking out 9 batters.  His lone mistake was a balk in the 2nd inning that allowed a run to score.
Wood left the game with the Yotes up 2-1 going to the 8th inning.  He would ultimately pick up a no-decision, as Oregon Tech would pick up a 2 run home run in the eighth inning to take the lead for good, winning 3-2 in a hard fought pitchers duel on the day.
Wood is having a solid start to the season for the Yotes.  He is just 1-2, but has struck out 33 hitters in 30 ⅔ innings pitched this season and holds an impressive 2.93 ERA.  Wood also has recorded a save this season.
Mosiello Shuts Down the Beavers
Last week, Andrew Mosiello picked up his first career collegiate win.  This weekend, he picked up his first collegiate save.
And what a team to do it against.
The Oregon Ducks were on the road playing their in state rival Oregon State Beavers.  The Beavers came into the game ranked 17th in the country in Division I, sporting a 10-1 record and carrying a 10 game winning streak.
Mosiello and the Ducks were unfazed.
Coming on in the 6th inning with a 3-0 lead, the 2019 Sweets alum was looking to keep the Beavers off the scoreboard.  He did that and more, as the freshman right hander finished out the game and picked up the save, going 4 innings and allowing just 2 hits, walking none, and striking out 3 hitters as the Ducks shut out the Beavers 3-0.  It was the second time in as many days Oregon State was kept scoreless by the Ducks.
Mosiello is gaining confidence on the mound with every game he pitches.  He hasn't allowed a run in his last two appearances, going 6 ⅔ innings and allowing just 4 hits while striking out 8 and allowing just 1 walk in that time frame.
Esqueda Does It Again
If it feels like we feature Isaac Esqueda every week….well it's because we do.
But that's a testament to just how well the junior left hander has pitched for USC this season.  And Friday was no different for the 2017 Sweets alum.
The Trojans were up against the University of Nevada, giving the ball to Esqueda to start the weekend series against the Wolf Pack.  The lefty would surrender his only run to the third batter he faced, a solo home run in the top of the first inning.  After that, Esqueda was his usual dominant self.
Esqueda went 7 innings, giving up just the one run on 3 hits, striking out 4 and walking 3.  The Trojans would provide some run support for the left hander, winning 3-1 on the night.  Esqueda notched his first win of the season, and is now 1-1 on the year with 25 strikeouts and a 2.28 ERA.
Across the Diamond
Other notable performances from across the college baseball world:
Sophomore Jacob Blas (Sweets 2017 alum) had a big Sunday at the plate, going 3 for 5 while scoring 4 runs and driving in two more for the Arizona Wildcats in their 14-5 win against Air Force.
Cal Baptist first baseman John Glenn ('17) was 3 for 9 with 3 RBI's at the plate over the weekend, including a bases clearing double in Friday's come from behind win over Northern Colorado.
Junior Sean Sullivan ('18) picked up his first win on the season Saturday.  The right hander went 6 innings for the University of California, allowing 2 runs on 4 hits while striking out 3 in the Bears 11-5 win against LMU.
Central Washington left hander Brayde Hirai  went 5 ⅔ innings in his start Sunday, allowing 2 runs on 4 hits and striking out 4.  The Sweets signee would get a no decision in the Wildcats 4-3 loss to Western Oregon.
Western Oregon pitcher Mike Peterson ('18-'19) picked up his first win of the season on Saturday.  The right hander went 6 innings, allowing just 2 runs on 6 hits while striking out 6 in the Wolves 5-2 win against Central Washington.
It was another big weekend for the Colorado Mesa and current Sweet signees Caleb Farmer and Jordan Stubbings.
Farmer was 5-12 on the weekend, including a 3 for 4 showing in game two of the Mavericks double header against Colorado School of Mines.  Farmer would add 5 RBI's and score twice in the 22-5 win for Colorado Mesa.
Stubbings was 3 for 10 in the series, with his best game coming Sunday.  The power hitting infielder went 2 for 3, with a double and a home run while driving in 4 runs in the Mavericks 25-0 route to finish a 4-0 series sweep.
Sweets signee Mason Kokodynski closed out the game for LMU in Saturday's game against California.  The freshman right hander held his own, going 3 ⅓ innings while allowing 2 runs on 4 hits and striking out 3.
Northwest Nazarene senior Ben Johnson ('19) did a little bit of everything this week.  He played in three of the Nighthawks four games over the weekend against Montana State Billings, and was the starting pitcher for Saturday's game two of the double header.  He would go 2 ⅔ scoreless innings of work, allowing just 2 hits and 1 walk.
Johnson also had a successful weekend at the plate, going 4 for 10 in the series.  His best outing was in the second game of the Friday double header, going 3 for 5 with a double and a home run and 4 RBI's in the Nighthawks 22-10 win.
Also for NNU, left hander Spencer Schwehr got in on the action this weekend as well.  The Sweets signee picked up his first win on the season, coming on in relief of Johnson in Saturday's game.  Schwehr would go 1 ⅓ innings allowing just 1 run on 1 hit while walking 2 and striking out 3.
Oregon State junior Reid Sebby ('19) pitched in the Beavers 7-0 loss to Oregon on Friday.  Sebby was again solid, with 1 inning of scoreless work and striking out a batter.
Pepperdine freshman Dylan Schwartz made his second appearance on the season Friday against UC Davis.  The right hander pitched a scoreless inning for Pepperdine, retiring all three hitters he faced in the 10-5 loss.
St. John's infielder and Sweets signee Justin Folz was 2 for 4 with a double and an RBI for the Red Storm on Saturday in their loss against Western Carolina.
UCLA freshman Emanuel Dean ('19) made his second start for the Bruins this year in Sunday's game against Cal Poly.  The power hitting outfielder was 2 for 3 with an RBI in the Bruins 8-5 loss.
In the same game for UCLA, junior Jack Filby ('18) made his first pitching appearance for the Bruins  The right hander went 1 inning allowing 1 run on 1 hit while striking out 1 batter.
Sweets signee Travis Craven was on the mound twice this weekend for Whitman College against Lewis and Clark.  The veteran left hander had his best outing Sunday, going 1 ⅔ innings allowing no hits and striking out 4 as he closed out the game for the Blues to secure a 14-8 win.