College Baseball Weekend Wrap Up: Week Two
A look around the college baseball world of current and former Sweets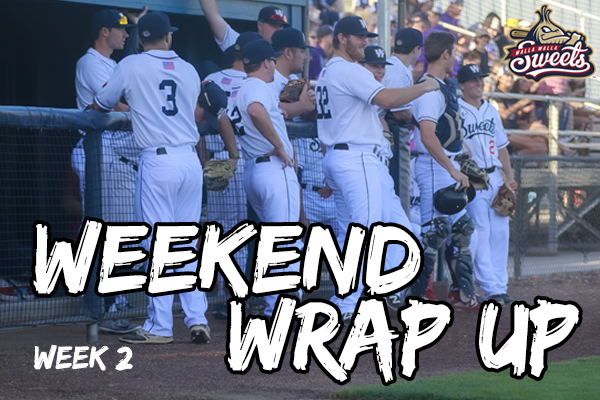 Week two of the weekend wrap is here, and Sweets players past and present made plays all across the diamond this past weekend.  We also saw the debut of several more Sweets players for the 2021 season.  
So as we flip the calendar from February to March, let's dive into the week that was in college baseball.  
Touch 'em all, Folz
Starting on the east coast, St. John's was getting its season started with a 3 game home series vs. UMASS Lowell.  St. John's junior infielder and Sweets signee Justin Folz started all three games and played third base for the Red Storm, and made his presence felt all weekend at the plate.
Folz went 5 for 11 in the series, scoring 3 runs and driving in another 3, while also adding 2 doubles and a home run as St. John's swept the weekend series and are a perfect 3-0 to start the season.
The home run for Folz was not your conventional over the fence shot, however.  Folz had to earn it the hard way, as he raced around the bases for an inside the park home run after the UMASS Lowell center fielder lost the ball in the sun on the play.  Folz, running hard out of the box on the hit, put his head down and never looked back as he slid home safely just ahead of the throw home.  The home run would extend the Red Storm's lead to 7-0, and they would go on to win 11-3 on the day.
Sullivan racks up the strikeouts
Back on the west coast, California Bears junior pitcher and Sweets 2018 alum Sean Sullivan was on the mound and starting Saturday's game for the Bears against the University of San Francisco Dons.
Starting on the road, Sullivan was looking to bounce back from a rough outing the previous weekend vs. Pacific University.  Safe to say, he did just that.
Sullivan was on his game, as the right hander went 6 ⅓ innings, striking out 10 Dons on the day and allowing just 3 runs on 5 hits while only walking 2.  Sullivan was cruising through 6 innings, but ran into some trouble in the 7th.  He would give up a home run and a double to the first two hitters he faced, before getting his 10th strikeout on the day on the following batter.
Sullivan would end up not getting the win on the day however, as USF rallied for a total of 4 runs in the 7th and 5 more in the 8th to ultimately take the game out of reach for Cal, who would go on to drop the game 10-6 to the Dons.  
Esqueda Impresses Again
Another day, another strong performance from 2017 Sweets alum Isaac Esqueda.
The junior lefty from USC took the ball for the Trojans series opener Friday against Cal Poly and went to work.  Esqueda would go 6 innings, allowing just 5 hits and 1 walk while striking out 8 Mustangs.  
Esqueda would allow an unearned run to score in the 4th, which proved pivotal in a game that saw just 3 total runs scored.  The Trojans would lose a close one to the Mustangs, falling 2-1 in a pitchers duel. 
Esqueda continues to show why he is at the top of the USC rotation this season, as he now has a team leading 15 strikeouts while allowing just 3 walks in 11 innings pitched in the young season.  The Trojans continue play this Friday, March 5 at home against Cal State Fullerton.
Across the Diamond
Other notable performances from across the college baseball world:
Junior infielder Jacob Blas (Sweets 2017 Alum) started in all five of University of Arizona's games this past week, going 5 for 18 and scoring 5 runs with 1 RBI in the Wildcats 5 game winning streak last week.  He also turned in this fantastic defensive gem: 
Junior pitcher Dimick Wood ('18) started and threw 6 scoreless innings for the College of Idaho, allowing just 1 hit and 2 walks while striking out 6 for the Yotes in their 5-4 win over Northwest Nazarene University this past Monday.
Sweets Signees and junior infielders Caleb Farmer and Jordan Stubbings made their season debuts this past weekend.  The duo went a combined 7 for 22 on the weekend, driving in 3 and 4 runs, respectfully, as they helped Colorado Mesa start 3-1 on the season.
Senior infielder Brock Ephan ('19) went 2 for 4 with 2 RBIs and a home run in Saturday's 4-3 win for Lewis-Clark State College over Oregon Tech.  Sophomore pitcher Bryson Spagnuolo ('19) came on in relief during the game and pitched 1 inning, allowing 1 run on 1 hit and striking out 2 batters.
Freshman pitcher and Sweets signee Mason Kokodynski made his season debut for Loyola Marymount University in their 5-2 loss to the UCLA Bruins this past Tuesday.  "Koko" faced 3 batters and did not surrender a run in his ⅓ inning of work.
Junior infielder Carson Green ('19) made his season debut for Montana State Billings over the weekend.  Green was hitless in his three games, but did have a run scored for the Yellowjackets.  Sweets pitching coach Jarrod Molnaa also made his debut on the MSB staff over the weekend.  Molnaa is in the same role with the Yellowjackets.
Northwest Nazarene University beat New Mexico Highlands 18-4 Friday, in a game that saw the NNU use pitchers who are all current or alums of the Sweets.  Senior right hander Ben Johnson ('19)  picked up the win, going 5 innings and allowing only 2 unearned runs on 3 hits while striking out 7.  Sophomore left hander Spencer Schwehr went 3 ⅓ innings in relief of Johnson, allowing 3 hits and 2 runs while striking out 4.  Sophomore right hander Nick Irwin closed out the game, throwing ⅔ of an inning of scoreless work.  Senior right hander Ty Hueckman ('18) had 1 inning of work in the Nighthawks earlier game in which they won 11-5.  Hueckman allowed 1 run on 2 hits in an inning of work, striking out 2 to close out the game for NNU.
Junior pitcher Reid Sebby ('19) picked up the win for Oregon State University this past Friday against Grand Canyon University.  The right hander threw a scoreless inning, striking out 1 in the Beavers 3-1 win.
Washington State university pitchers Bryce Moyle ('18) and Sweets signee Caden Kaelber both saw action in the Cougars 10-3 win Sunday vs Dixie State.  Moyle was up first on the day, as he pitched 1 ⅔ innings of scoreless ball, allowing just 1 hit and 1 walk and striking out a hitter.  Kaelber would come on in relief of Moyle, as the lanky right hander would walk one and strike out another in his ⅓ inning of work.
Central Washington University junior pitcher Brayde Hirai made his season debut Saturday for the Wildcats.  The Sweets signee got the start for game one of the double header against St. Martins University.  The lefty turned in a solid start, going 5 2/3 innings while allowing just 3 runs on 3 hits while striking out 4 in the Wildcats 4-3 win.